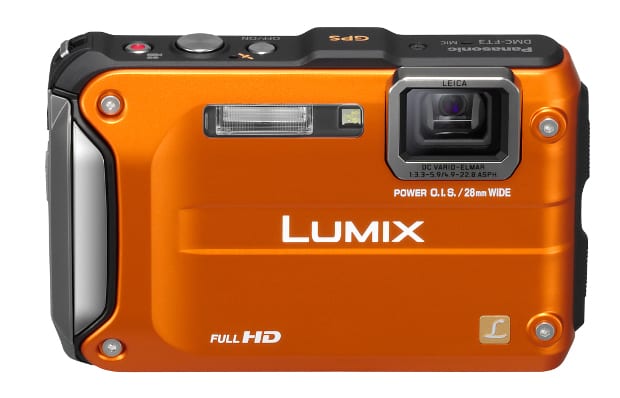 We're pleased to  introduce the new LUMIX DMC-FT3 – the next generation in tough digital cameras designed with the active user in mind. The new 12.1-megapixel DMC-FT3 boasts enhanced ruggedness and is waterproof to 12m, shockproof to 2m, freezeproof to -10 degrees Celcius, dustproof and sandproof. Now with built-in GPS function, compass, altimeter and barometer, the DMC-FT3 can withstand even the toughest photography challenge.
Incorporating a LEICA DC VARIO-ELMAR lenswith folded optics, the DMC-FT3 does not compromise on image quality. Starting at the 28mm wide-angle and zooming up to 4.6x in telephoto, this camera offers flexibility for virtually any shooting situation and is particularly useful underwater, where movement is often restricted and the angle of view becomes important for composing shots.
"Our new look, tough DMC-FT3 can really be taken anywhere and is the perfect match for outdoor adventurers and holiday makers that are not only looking for rugged features but also outstanding image quality.  With a host of improved features such as GPS, compass, altimeter and barometer, this camera is built tough to accompany any outdoor activity, whether it be diving, snorkeling, surfing, climbing, skiing or snowboarding – users can be sure they won't miss a moment."
Richard Philips, Product Marketing Manager – LUMIX, Panasonic Australia
httpv://www.youtube.com/watch?v=SDjnyqf-Aw8
Powered by a newly developed 12.1-megapixel Hi-Speed CCD sensor, the DMC-FT3 supports the high-speed, large-capacity signal processing required for 1920 x 1080 Full HD movie recording in AVCHD and high speed continuous shooting.  The advanced image processing LSI, Venus Engine FHD, assures high picture quality in both photo and movie recording.
The powerful 4.6x optical zoom increases its power to 6x equivalent with the Intelligent Zoom function, taking advantage of the Intelligent Resolution technology which maintains picture quality even when using a digital zoom. The Sonic Speed AF and a quick start-up time give the DMC-FT3 a super high speed response that helps to catch even the most fleeting photo opportunities.
Panasonic's popular iA (Intelligent Auto) has also been improved to make taking those hard to get shots even easier.  Active Mode has been added to the conventional POWER O.I.S which prevents blur in both photo and movie recording.  The Motion Deblur[v] mode updates motion detection (Intelligent ISO Control) and brightness control (Intelligent Exposure) to gain as high a shutter speed as possible.
Richard Phillips continued: "With features such as Active Mode and Motion Deblur, users can be confident that their images and video will be clear and blur-free, when captured on the go or with moving subjects."
The newly added LUMIX Image Uploader allows for instant image and movie sharing via Facebook© or YouTube™ with any PC. The new 3D Photo mode produces realistic 3D images. Take 20 panning shots and the camera automatically selects the two most suitable images – one for the right eye and one for the left eye – to produce a 3D composite. The 3D images can be viewed on a VIERA 3D HDTV or played back on other MPO-compatible 3D equipment such as TVs, digital photo frames or printers.
Pricing and Availability
LUMIX DMC-FT3 –  $599 RRP – Available March 2011
Silver, Orange, Red, Blue
Product Features
Tough body, rugged design and a host of advanced functions
With enhanced toughness, the DMC-FT3 is now waterproof to a depth of 12 metres and dustproof equivalent to the "IPX8" and "IPX6" standard. Incorporating rubber padding and reinforced glass inside the camera, the DMC-FT3 features an airtight body protected against water immersion, dust and sand.
Previously, there were two separate terminal covers for battery/memory card and for connection cables – now these have been relocated to one area covered by a single door. With this minimum apertural area, the DMC-FT3 boasts even tighter sealing strength to withstand underwater pressure as deep as 12 metres. An optional marine case, the DMW-MCFT3, is available for underwater photography down to 40 metres.
The DMC-FT3 is drop proof from a height up to 2 metres in accordance with the "MIL-STD 810F Method 516.5-Shock" test standard. The DMC-FT3 is reinforced with shock-resistant material and also uses folded optics to prevent damage to the lens unit when dropped during operation. The lens unit is protected by a supplementary damper to absorb the force from shock impact.
All components, including the lens unit, are designed so the DMC-FT3 is freezeproof to temperatures as low as -10 degrees Celsius.
The DMC-FT3 has a newly integrated GPS function which shows the name of the country, state, city and key landmarks using the internal data library, giving users real-time information to locate where the photo is being taken.  Great for holiday makers, the area information covers 203 countries or regions for global users, plus more than 1,000,000 landmarks across 78 countries or regions are in the database. Photos and movies with location names are automatically sorted alphabetically in the camera so they can be accessed quickly. By using PHOTOfunSTUDIO 6.1 HD Lite Edition software, users can sort images by location name.  The internal clock of the camera automatically adjusts to reflect the local time where the image is being taken.
Advanced signal processing system with new 12.1-megapixel Hi-Speed CCD, high performance Venus Engine FHD and LEICA DC Lens
The newly developed 12.1-megapixel CCD with a 2-channel signal output structure boasts a higher signal transfer speed for operations that require high performance and speed such as 1920 x 1080 Full HD movie recording and high speed continuous shooting.
The Venus Engine FHD image processor features exceptionally advanced signal processing capabilities. By separating chromatic noise from luminance noise and applying the optimal noise reduction to each, users can capture clear and beautiful images even when shooting at high ISO sensitivity levels.
With the Intelligent Resolution technology, 3 areas — outlines, detailed texture areas and soft gradation areas – are automatically detected. Each area is enhanced effectively for greater definition, fine detail and superior noise reduction. As a result, images are naturally clear and crisp in both photo and movie recording.
Linking smoothly with the new Hi-Speed CCD sensor, the Venus Engine FHD processes a large number of signals at high speed, making it possible to record 1920 x 1080 Full HD movies and high resolution consecutive shots at 3.7 fps in 12.1-megapixel full resolution and max.10 fps in 3-megapixel recording.
The multi-task image-processing engine features a super-fast response time. The shutter release time lag is as short as approximately 0.005 of a second and the camera's quick response, together with the Sonic Speed AF (Auto Focus) which boasts an approximately 28 per cent faster speed compared with the DMC-FT2, makes it easier to capture sudden, spur-of-the-moment photo opportunities. The Venus Engine FHD also supports a High Sensitivity mode, letting the DMC-FT3 record at a setting of up to ISO 6400, sensitive enough to capture subjects in near-total darkness without using a flash.
The DMC-FT3 incorporates a high-quality LEICA DC VARIO-ELMAR 28mm wide-angle lens with a 4.6x optical zoom (35mm equivalent:28-128mm) and comprising 10 elements and a prism unit in eight groups – including one ED lens and five aspherical lenses with six aspherical surfaces.
Enjoy Full-HD movie recording in AVCHD with Advanced iA featuring O.I.S. Active Mode
The DMC-FT3 records AVCHD movies in 1920 x 1080 Full HD, and boasts Dolby Digital Creator for high quality audio.
The popular iA (Intelligent Auto) is also available in movie recording. Active Mode provides further image stabilisation in movie recording to decrease blur. In addition to the conventional POWER O.I.S., Active Mode is especially effective in wide-angle movie recording, such as when you are shooting while walking.
POWER O.I.S. (Optical Image Stabiliser), Face Detection, Intelligent Scene Selector, and Intelligent Exposure also make it easier to shoot beautiful movies. Intelligent Scene Selector automatically switches between Normal, Portrait, Macro, Scenery, and Low Light modes according to the situation to optimise results.
The 4.6x optical zoom is also available in movie recording. With the Video Divide function, users can divide the video into two sections to shorten or delete the unwanted part instantly in the camera. Users can cut out a clear still image from a movie on the camera thanks to the Intelligent Resolution technology. A Wind Cut function is also available to block out most of the noise from background wind.
The Evolving iA (Intelligent Auto) Mode
In iA mode, the camera does all the work, leaving the user free to compose shots and capture moments. Just press, aim and shoot.
With the DMC-FT3, Motion Deblur mode is also incorporated to prevent blur in both photo and movie recording. This setting is an integration of Intelligent ISO Control which automatically adjusts the ISO setting and shutter speed according to the subject's movement; and the advanced contrast control system of Intelligent Exposure. The camera judges the appropriate shutter speed to suppress motion blur according to the movement of the subject. The shutter speed rises as high as possible, activating high sensitivity recording.
With the Face Recognition function, your favourite people will be captured with the best possible focus and exposure settings, while also removing unwanted red-eye. The Intelligent Scene Selector automatically selects whichever of the six Scene modes – Macro, Portrait, Scenery, Night Portrait, Night Scenery and Sunset – best suits the shooting situation.
In addition, Intelligent Resolution technology is always activated in iA mode, for clearer shots using extended zoom, and flash is optimised more precisely according to the scene, so that, for example, portrait shots using flash are not overexposed.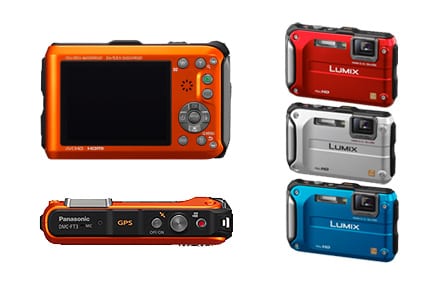 Additional Features
The new LUMIX Image Uploader is designed for seamless and instant sharing via Facebook© (for photos) or YouTube™ (for movies). Simply checkmark the photos and movies you want to share, connect the camera to a PC with the included USB cable or by inserting the SD Memory Card to a PC.  Users can add comments and let friends know of album updates via e-mail.
The DMC-FT3 features a 2.7-inch, 230,000-dot Intelligent LCD with a wide viewing angle and AR (Anti-Reflection) coating. The screen brightness automatically adjusts in 11 steps as the surrounding brightness level changes, ensuring easy visibility at all times. The big screen shows fine details, making it easy to check the focus before shooting.
Scene modes, which are optimised for a variety of still image shooting situations, are now available for motion images as well.  The most commonly used scene modes for outdoor photography including Sports, Snow, Beach and Snorkeling, and Underwater, can be accessed directly via the mode button.
Photos and movies taken with the DMC-FT3 can be easily displayed on a HDTV via a micro HDMI cable, or by inserting the SD Card into the SD Card slot on a compatible Panasonic VIERA TV. The built-in LED light supports shooting in dark situations.
Included software PHOTOfunSTUDIO 6.1 HD Lite Edition
The PHOTOfunSTUDIO 6.1 HD Lite Edition makes it easy to sort and organise photos on your PC. Images recorded with GPS information are automatically sorted by the place name, while Face Recognition automatically sorts photos by the registered faces.
Recorded movies can be edited with the Short Movie Story function and saved as MPEG2 files to burn onto a DVD disc. Users can also enjoy making photo and movie slideshows with a variety of effects and use an iTunes music library as background music.  It is also possible to add a title or comments to a scene using the information from the place names recorded with GPS, and from people's names registered in Face Recognition. In addition to the direct connection of the camera, users can upload photos to Facebook© and movies to YouTube™ via this software.
Included Accessories: Li-ion battery, battery charger, brush, USB connection cable, AV cable, USB cable, software CD, strap and protective silicon jacket.
Optional Accessories: Marine Case (DMW-MCFT3E: $449 RRP), Battery Pack (DMW-BCF10) and Micro HDMI.
The new LUMIX DMC-FT3 will be available from consumer electronics retailers and photographic specialists. For more information about the LUMIX camera range, visit www.panasonic.com.au/LUMIX or phone 132 600.