We're pleased to announce a variety of new camcorder models for 2011

It's been a big day for announcements here at Panasonic HQ, and we've got more! We're proud to announce a variety of new camcorders across a number of ranges including the versatile SDR Range, the FULL HD 3MOS range and the flexible 1MOS range. We will be looking at each new model in detail on the blog in the coming weeks..
 To start off with here are the latest 3MOS Camcorder models: the HDC-HS900 and the HDC-SD900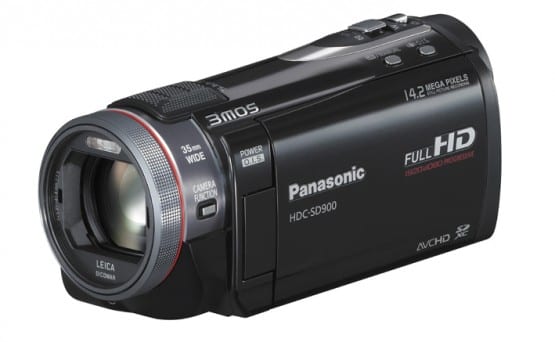 The two new 3MOS Full High Definition camcorders – are our most advanced consumer camcorders yet. These new models offer the company's flagship technologies, including touch screen operation, outstanding imaging via Full HD AVCHD recording and the 3MOS system, and 3D shooting via an optional 3D conversion lens
"With these new models, Panasonic provides camcorders that allow you to capture outstanding images and enjoy them with others on your Full HD TV or 3DTV. The Full HD and 3DTV markets are growing, and the HDC-HS900 and HDC-SD900 take full advantage of the excitement of these technologies."
Aurelie Hayon, Product Marketing Manager, Camcorders, Panasonic Australia
The new Full HD camcorders feature 1920 x 1080/50p AVCHD recording to create crisp, detailed videos. The combination of 3MOS recording, a large-diameter F1.5 Leica Dicomar lens and Crystal Engine Pro ensures rich image quality, outstanding light gathering, increased sensitivity and reduced noise when shooting, even in dim lighting.
For shooting convenience, the camcorders offer large 3.5-inch LCD screens with advanced touch operation that allows for extremely smooth shooting and playback – including touch zoom, to swiftly move in and out at the touch of a finger; and touch shutter, where you can automatically focus and take a photo by touching the subject on the screen.Both models can record to SDXC/SDHC/SD Memory Cards, while the HDC-HS900 has a 220GB hard disk drive for additional memory storage.
Key features
Advanced Imaging
At the heart of Panasonic's advanced processing system is the high-sensitivity 3MOS sensor with 7.9 million effective motion image pixels (2.53 megapixels x 3). The 3MOS sensor separates light received through the lens into the three primary colours – red, green and blue – processing each independently for rich colour quality, detail and gradation.
The 1080/50p recording (Full HD 1920 x 1080, 50 progressive recording), produces richly expressive images with twice the information of 1080i (interlace) recording. It minimises the after- images and flickering caused by subject motion and renders crisp, detailed images.
Crystal Engine PRO instantly processes the large amount of data that goes into Full HD quality for extremely clear, crisp motion images. The improved Crystal Engine PRO increases sensitivity and reduces noise by 45 per cent compared to 2010 Panasonic models, resulting in brighter images with minimal noise when shooting under low-light conditions. This maximises the 3MOS features of excellent colour reproduction, high resolution and rich gradation, and lets the user capture vividly coloured images in either bright or dark places.
The camcorders also feature the large-diameter 46mm F1.5 Leica Dicomar lens which produces brighter images and helps suppress ghosting and flare, while also minimising distortion and degradation of contrast and resolution. In addition, its 35mm wide-angle capability makes it ideal for many different shooting situations, such as self-portraits and group photos indoors and landscape shots outdoors.
Large 3.5-inch LCD with touch operation
The camcorders offer easy touch operation functions. In addition to the single handed variable speed zooming of previous models, the new 'Touch Zoom' provides stable zooming while recording. The user simply touches the LCD to activate slow zooming, for smooth adjustment of the angle of view. 'Touch Shutter' automatically focuses and takes a still picture when the user touches the subject on the screen. The user can also change thumbnail pages by sliding a fingertip across the screen. This kind of advanced touch operation provides much smoother shooting and playback than in previous models.
Hybrid OIS (Optical Image Stabiliser)
The HYBRID OIS is a hybrid optical and electrical image stabilisation system which achieves powerful correction during zooming or when shooting on the move. In addition to the blurring caused by vertical or horizontal wrist movements, the camcorders can also detect the subtle blurring that occurs when the entire arm moves vertically or horizontally, and correct it using a lens in the optical system and a sensor in the electrical system.
3D image shooting with the 3D conversion lens
Dynamic 3D content can now be created and experienced firsthand using Panasonic's optional 3D conversion lens, the VW-CLT1.
In natural vision, people see slightly different images with their right and left eyes. This difference is called 'visual disparity'. The brain processes these images with visual disparity to reconstruct spatial conditions, enabling us to see things with three-dimensional depth and solidity. This visual disparity is artificially produced for 3D images so that the brain will interpret it as depth and solid-appearing objects.
The VW-CLT1 records right-eye and left-eye images simultaneously through its two lenses. The right and left images (each with 960 x 1080 pixels) that enter through the lenses are recorded using the side-by-side method.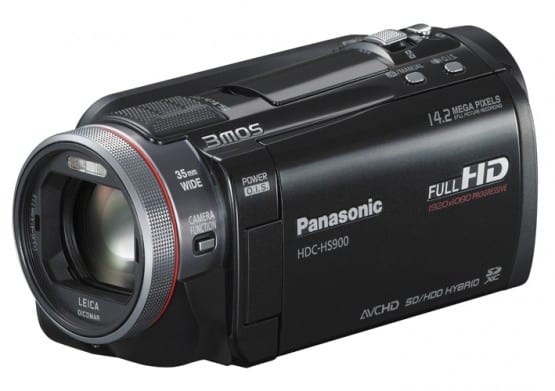 Other features of the camcorders include:
Panasonic's highly popular iA (Intelligent Auto) mode makes it easy for anyone to take beautiful videos. When iA is engaged, the camcorder automatically selects the most suitable shooting mode at the press of a button. The camcorder offers six iA functions: AF/AE Tracking, Intelligent Contrast Control, Intelligent Scene Selector, HYBRID OIS, Face Detection and Face Recognition.
35mm wide-angle lens that captures beautiful images of wide landscapes and allows large groups of people to fit into the frame, making it highly versatile for use in all kinds of situations.
A manual ring provides easy, fingertip control over the focus, zoom, exposure, shutter speed and white balance settings.
An Eye Viewfinder provides greater precision when shooting.
5.1-channel surround sound system: Uses five microphones so when sounds recorded from front, left, right and back are played on a 5.1-channel home theatre system, viewers are surrounded by crisp, detailed sound that makes them feel as if they are right in the middle of the action.
Zoom Microphone, which links the microphone's zoom action to the camera's action, reducing surrounding noise and making it possible to record target sounds with superb clarity.
The Wind Noise Canceller automatically detects and suppresses only wind noise to ensure natural sounds with lifelike ambience.
In addition to the HYBRID OIS system, the camcorders provide even more powerful hand-shake correction with OIS Lock. By pressing the OIS Lock button on the LCD monitor, the blur detection sensitivity is maximised, and all kinds of camera movements are detected as hand shake and corrected. OIS Lock is ideal for applications like bird watching, which call for zooming at a fixed angle.

The Highlight Playback function is designed for users who want to view recorded images as quickly as possible. It detects zooming, panning, scene changes, faces and so on in recorded images as 'highlights' and automatically plays back the detected highlight scenes according to a set time interval. Playback effects include Slow, Fading Still Image and Flash Playback. There are also four special effect modes: Natural, Pop, Dynamic and Classical.
The Auto Power LCD automatically adjusts the LCD screen brightness according to the shooting environment so it is always easy to view
Time Lapse recording is a convenient function that plays a scene such as a sunset at an accelerated speed. By setting the recording interval to 1 sec, 10 sec, 30 sec, 1 min or 2 min, the user can view an otherwise long recording in a reduced time period – for example a 10 minute scene can be played back in around 12 seconds.
Interval recording with lifelike 3D images is also possible by attaching the 3D conversion lens to the camcorder – for example showing a blooming flower as it gradually opens.
Intelligent Zoom, which allows telephoto shots at up to 20x magnification
1.9-sec quick power on also helps capture sudden shooting opportunities, and when combined with Quick Start mode, the camcorder can start in just 0.8 second.
Pre Rec – continually records three seconds of buffer memory so you don't miss those spontaneous moments.
50 frames/sec High Speed Burst Shooting is designed for fast motion subjects and lets the camcorder snap up to 50 consecutive 2.1-megapixel still images per second for a total of 180 consecutive images in about three seconds.
Optional Accessories – including the VW-CLT1 3D conversion lens; a Video DC Light (VW-LDC103) for illuminating dark scenes, with a switchable Spot/Wide function that allows the lighting range to be selected according to the scene; a Shoe Adaptor (VW-SK12) for attaching multiple accessories; Stereo Microphone (VW-VMS2); and DVD Burner (VW-BN01E).
2D Playback
For playback, insert the SD card into the slot of a compatible VIERA TV or AVCHD-compatible player/recorder. VIERA Link compatibility allows the user to simply connect a camcorder to a compatible VIERA TV via a Mini HDMI cable, and operate it using the TV remote control and following on-screen prompts.
3D Playback
By attaching the 3D lens to the HDC-HS900 or HDC-SD900 and connecting it to a 3DTV, vivid and immersive 3D images can be viewed at home.Users can play back 3D videos recorded using the 3D lens on 3DTVs, including Panasonic VIERA 3DTVs – either by connecting the Camcorder to the TV via the optional 3D-compatible Mini HDMI cable, or via the SD card slot of any AVCHD-compatible player/recorder.
PC Editing/Archiving
The camcorders are supplied with HD Writer AE 3.0 PC editing software for 2D and 3D editing (Windows OS). Import your recorded 3D footage to your PC via SD Card slot or HDMI cable. 3D footage can be viewed or edited on your PC and archived to SD Card, or Blu-ray disc.
The software allows easy uploading of video clips to YouTube and Facebook, so even inexperienced users can post video clips on the Web. For added convenience, the iFrame (960 x 540/30p) video recording format, which is optimal for Mac users to import quickly and maintain small file sizes, is also supported.
Also, the ordinarily time-consuming task of converting and archiving data from 50p to AVCHD or MPEG-2 format can be easily done at high speed by connecting the 3MOS camera to a PC with a USB cable and using the camcorder's Conversion Assist function.
Included accessories: Li-ion battery, AC Adaptor, AC Cable, DC Cable, Stylus pen, lens hood, IR Remote Control, Video Component Cable, USB Cable, AV Multi Cable, HD Writer AE 3.0 PC editing software.
Pricing and Availability
HDC-HS900 $2099 RRP Available March
HDC-SD900 $1499 RRP Available end February
VW-CLT1 optional 3D lens $449 RRP Available March
The HDC-HS900 and the HDC-SD900 will be available from consumer electronics and photographic retailers. For more information visit the official site here or contact Panasonic on 132 600.