Panasonic Australia is proud to unveil its next generation in Home Entertainment! Keep reading for an overview of all the products that'll be available at a retailer near you very soon.
VIERA LCD TV
Panasonic has enhanced its VIERA LCD offering with the addition of seven new LED LCD TVs and three new LCD TVs. For the first time, the range includes FHD 3DTV models – the DT30 Series of IPS LED LCD TVs, featuring Panasonic's immersive 3D technology.
The new models are designed for the connected home, with a suite of 'SMART VIERA' functionalities. The DT30 and E30 LED LCD Series include VIERA Connect, which allows users to experience a host of exciting new features including catch-up TV, videos, music and internet radio, interactive games, and social networking. A VIERA Remote App allows the VIERA Connect TV models to be operated via an iPhone, iPod touch or iPad.
All models feature optional Wi-Fi and DLNA networking, so users can stream content that is stored on other DLNA-enabled products in the home network, to their VIERA TV. USB capability allows viewing of movies stored on USB or HDD, simply by plugging directly into your VIERA TV.
"The new range not only boasts excellent image quality and a slim, sleek design, but also has a range of smart new IPTV features that add a new dimension to how consumers use their TV." Maetham Roomi, Product Marketing Manager – LCD TV, Panasonic Australia:
VIERA Plasma TV
In addition, Panasonic, the industry leader in Plasma, has revealed a suite of VIERA Plasma TVs, featuring SMART TV technologies including IPTV and exciting new media playback capabilities that open up new possibilities in family entertainment throughout the home. Highlighting Panasonic's commitment to Plasma technology, the range offers the best in picture quality. The new line-up includes 16 new models.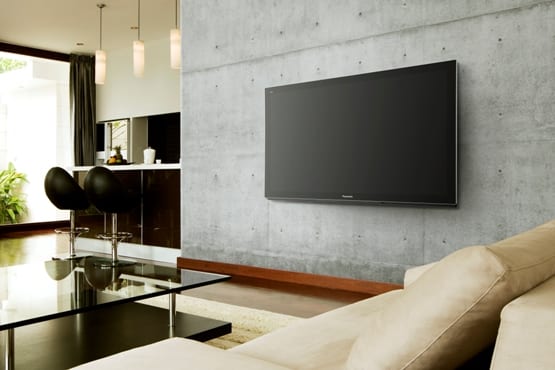 VT30 Plasma Series (VT-P50VT30A)
Real life 3D with breathtaking depth. Our best ever 3D TV is also our best 2D TV.
Blu-ray Disc Player
Today, Panasonic Australia introduced an expanded Blu-ray Disc player line-up with two new Full HD 3D models – the DMP-BDT310 and DMP-BDT110 – and a new 2D model – the ultra-fast booting DMP-BD75. All feature DLNA® capability for expanded connectivity so users can enjoy content on their Blu-ray Disc player from a DLNA-compatible device.
Blu-ray Disc Recorder
Panasonic has also added to its Blu-ray range with the versatile DMR-PWT500, a 3D Blu-ray Disc player that records onto a 320GB Hard Disc Drive . The DMR-PWT500 features Full-HD 3D Blu-ray Disc playback, Wireless LAN, DLNA® server/client functionality, VIERA CAST™ and twin HD tuners so users can record two 3D or high definition broadcasts simultaneously.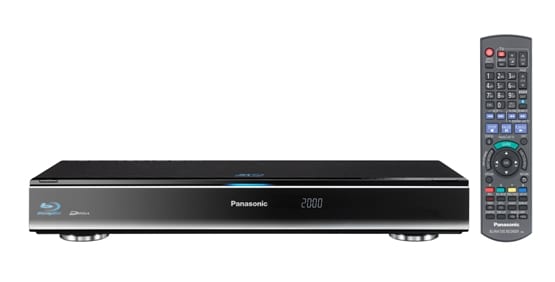 3D Blu-ray Disc Recorder (DMP-BWT800)
Introducing the world's first 3D Blu-ray recorder with a massive 1 TB capacity.
DVD Recorder
The latest High Definition DVD Recorder feaures twin High Definition tuners. The DMR-XW385 allows customers to record two digital broadcasts in stunning HD quality simultaneously. DLNA® server functionality means that with a LAN connection users can enjoy recorded programs and other content archived on the hard disc drive in a separate room via a compatible DLNA client device.
DVD Player
The company also announced the arrival of four new DVD players, the DVD-S68 and the DVD-S48, and the portable DVD-LS92 and DVD-LS70, to further bolster its DVD offering.
Further announcements reveal three new Full HD 3D Blu-ray Disc™ Home Theatre Systems with advanced technologies.  The new models reproduce immersive 3D with superb picture quality, offer cinema-like surround sound and boast built-in Wi-Fi, Skype™  compatibility, DLNA® and 2D-3D conversion. Equipped with Panasonic's Full HD 3D Playback, the new systems – the SC-BTT775, SC-BTT370 and SC-BTT270 – deliver powerful 3D images with dramatic effects and enhanced depth.
DVD Home Theatre System
A new range of DVD Home Theatre, Mini and Micro Systems have been released including features such as iPod and iPhone compatibility, and versatile music playback for even greater connectivity and convenience at home.
The new line-up includes the SC-XH150 and SC-XH50 DVD Home Theatre Systems, the SC-AKX52 and SC-AKX12 Mini Systems and the SC-PM200 and SC-PM500 multimedia-friendly Micro Systems, as well as Panasonic's stylish HC Series of compact Micro Systems, the SC-HC55DB, SC-HC05, the SC-HC35 and the SC-HC25.
3D Blu-ray Home Theatre System
Today, three new Full HD 3D Blu-ray Disc™ Home Theatre Systems with advanced technologies were unveiled. The new models reproduce immersive 3D with superb picture quality, offer cinema-like surround sound and boast built-in Wi-Fi, Skype™[i] compatibility, DLNA® and 2D-3D conversion.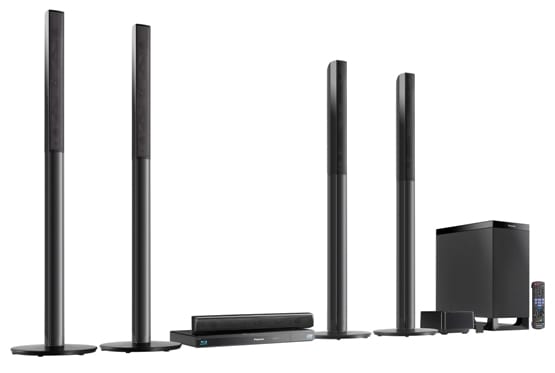 3D Blu-ray Disc Home Theatre System (SC-BTT775)
The surround sound cinema experience is even better with 3D Blu-ray.
Micro Stereo System
Introducing four sleek, new compact Micro Stereo Systems that offer amazing connectivity.  The flagship SC-HC55DB and SC-HC05 models play Internet radio via 'vTuner for Panasonic', and incorporate Bluetooth to play your favourite tunes wirelessly from a iPodTouch®, iPhone® , or iPad™. Both the SC-HC55DB and SC-HC05 boast wireless music streaming and Internet radio control.  Music lovers and talk radio enthusiasts can enjoy the hundreds of stations offered by Internet Radio and use the systems' convenient features to search for stations and program their favourites by simply installing the 'vTuner for Panasonic'  application onto an iPhone or iPodTouch.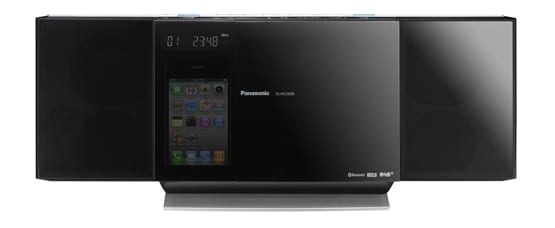 Micro Hi-Fi System (SC-HC55DB)
High quality sound, an iPod dock, CD player and internet radio in a stylish compact system.
As of next Wednesday (May 18), a new 2011 product range will be showcased every week for the next few weeks, with more in depth details about the product features, price (RRP's) and release dates.
We will also give you an exclusive opportunity to ask any questions you may have with a Panasonic Australia Product Manager. Stay tuned for confirmed dates and times of the Q&A sessions!