Panasonic, a leader in Full High Definition 3D technology, has unveiled three new Full HD 3D Blu-ray Disc™ Home Theatre Systems with advanced technologies. In addition to this, Panasonic has launched a new range of DVD Home Theatre, Mini and Micro Systems, all of which are iPod and iPhone compatible.
ANNOUNCEMENT (20th June 2011)
Exclusive Q&A with Anthony Smyth, Wednesday 21/06 @ 1:30pm!
Between 1:30pm-3:30pm (21/06/11), Panasonic Australia Product Manager for Audio products, Anthony Smyth will be answering all your questions around the new 2011 Home Theatre Systems, Mini and Micro Systems across our official Facebook and Twitter accounts. We will do our best to respond to all of your questions in the allocated time.
To ask Anthony a question about the new range, or for real time updates you can follow us:
Facebook – http://www.facebook.com/PanasonicAustralia
Twitter – http://twitter.com/PanasonicAU
Submission have now closed. Check out the questions along with answers here.
3D Blu-ray Home Theatre Systems
Equipped with Panasonic's Full HD 3D Playback, the new systems – the SC-BTT775, SC-BTT370 and SC-BTT270 – deliver powerful 3D images with dramatic effects and enhanced depth. The 3D Effect Controller allows the user to adjust depth for more expansive images and enables the viewer to enjoy 3D movies with their preferred level of 3D effect. 2D-3D Conversion also converts 2D Blu-ray Disc™ images or 2D DVD images into 3D images.
"The new Blu-ray Home Theatre range offers the best immersive 3D experience, and is our most connected yet, with exciting new Skype capabilities as well as VIERA CAST.  The 2011 range will build on the success of our industry-leading line-up.  Panasonic recently received the GfK No 1 Award for being the top selling brand in 2010 for Audio Home Systems."
Anthony Smyth, Product Marketing Manager, Audio, Panasonic

DVD Home Theatre, Mini and Micro Systems
The new line-up includes the SC-XH150 and SC-XH50 DVD Home Theatre Systems, the SC-AKX52 and SC-AKX12 Mini Systems and the SC-PM200 and SC-PM500 multimedia-friendly Micro Systems, as well as Panasonic's stylish HC Series of compact Micro Systems, the SC-HC55DB, SC-HC05, the SC-HC35 and the SC-HC25.
All of the new models support VIERA Link, a function which allows the user to operate interconnected Panasonic AV devices using only the remote control of a VIERA TV.
The SC-XH150 and SC-XH50 are satellite speaker systems.  Multi-format playback includes DVD-Video, DVD-RW, DVD-R, DVD-R (Dual Layer), +R, +R (Double Layer), +RW, CD, CD-R/RW, Video CD, SVCD, WMA, MP3 and JPEG.
Micro Stereo Systems
The flagship SC-HC55DB and SC-HC05 models play Internet radio via 'vTuner for Panasonic', and incorporate Bluetooth to play your favourite tunes wirelessly from a iPodTouch®, iPhone® , or iPad™.
Both the SC-HC55DB and SC-HC05 boast wireless music streaming and Internet radio control.  Music lovers and talk radio enthusiasts can enjoy the hundreds of stations offered by Internet Radio and use the systems' convenient features to search for stations and program their favourites by simply installing the 'vTuner for Panasonic'  application onto an iPhone or iPodTouch.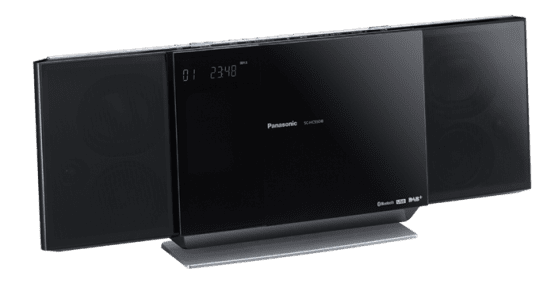 Prices and release dates
Click on the series name for product specifications.
3D Blu-ray Home Theatre Systems
SC-BTT775 – Available now RRP $999.
SC-BTT370 – Available now RRP $799.
SC-BTT270 – Available now RRP $599.
DVD Home Theatre, Mini and Micro Systems
SC-XH150 – Available now RRP $399.
SC-XH50 – Available now RRP $269.
Micro Stereo Systems
SC-HC55DB – Available now RRP $449.
SC-HC05 – Available June 2011 RRP $299.
SC-HC35 – Available now RRP $349.
SC-HC25 – Available now RRP $199