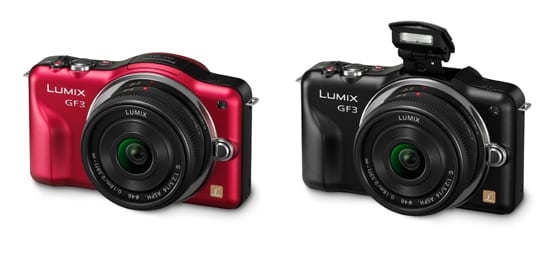 It's the world's smallest and lightest Interchangeable Lens System Camera*

*For an interchangeable lens system camera with a built-in flash as of June 13, 2011.
The Panasonic LUMIX DMC-GF3 Micro Four Thirds System camera weighs just 222 grams. That makes it the world's smallest and lightest digital interchangeable lens system camera with a built-in flash.
According to Alistair Robins, Group Marketing Manager, LUMIX – Panasonic Australia, "The small size, ease of use, capabilities, and appealing design of this camera give it significant appeal for compact users who want to step up to SLR image quality, but were previously put off by the weight, size and complexity of traditional SLR cameras.
"With the LUMIX DMC-GF3, you really can just pick it up, point and shoot, just like your compact camera. At the same time, the camera delivers amazing functionality in a small body, with all the hallmarks of Panasonic's LUMIX G Micro System range – including excellent image quality in still and video shooting; fast and accurate focusing; and tools designed for enhanced ease of use and creative control."
So what else do you need to know about the LUMIX DMC-GF3?
The Lumix DMC-GF3 has not compromised on features. Despite being small the body houses a built-in flash.
It boasts high image quality with the enhanced Venus Engine FHD image processor and the 12.1-megapixel Live MOS sensor. Low-light performance is outstanding, with clear, sharp images achieved when shooting at high ISO sensitivity settings.
The LUMIX DMC-GF3 features the Precision Contrast AF System with the world's fastest focus level of approximately 0.18 second *. Pinpoint AF combined with touch-control shooting ensures that focusing is faster and sharper than ever. A redesigned shutter in the new mount unit offers improved consecutive shooting up to 3.8 frames per second in full resolution.
Photographers can enjoy high-quality, easy video shooting with 1920 x 1080 Full HD AVCHD video recording. Panasonic's advanced AF system with full-time AF and tracking AF is also available so that every photographer can enjoy high quality video recording with ease.
iA Plus mode has been added to the renowned Intelligent Auto (iA), allowing photographers who want to increase their creative skills to also make manual adjustments to the defocusing area, exposure compensation and white balance. This mode is available in both photo and video recording.
The LUMIX DMC-GF3 also incorporates Full-area focusing which makes it possible to set focus on any point in the field of view.
The camera offers the intuitive touch-control shooting that is becoming a hallmark of the G Series. The new Pinpoint AF allows even more precise focus setting by further enlarging the focusing area – for example, setting the focus right on the pupil in an eye. The shutter can also be released at a touch.
Where can you see the LUMIX DMC-GF3 first?
You'll be able to get to grips with the DMC-GF3 for the first time at the upcoming PMA Imaging and Entertainment Expo in Sydney on the 25th and 26th of June from 10-5pm.
You can snag one for yourself in August, with pricing to be announced closer to the launch date.
For more information call Panasonic on 132 600 or visit www.panasonic.com.au/lumix.
iFour Thirds and Micro Four Thirds and Four Thirds and Micro Four Thirds Logo marks are trademarks or registered trademarks of Olympus Imaging Corporation, in Japan, the United States, the European Union and other countries.
iiFor an interchangeable lens system camera with a viewfinder as of June 13, 2011.
iiiThe time for focusing on the subject is measured with the DMC-GF3 attaching LUMIX G VARIO 14-42mm / F3.5-5.6 ASPH. / MEGA O.I.S. (H-FS014042) to move the lens position to "2m" from "infinity" position. The zoom position is in wide range. Panasonic measurement method.