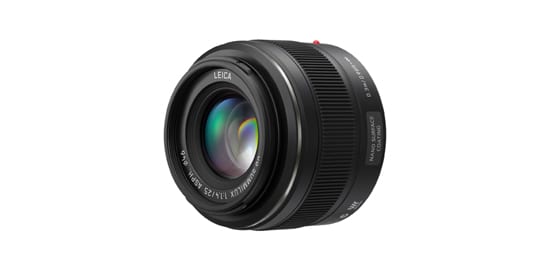 We're very excited to announce the arrival of the new LEICA DG SUMMILUX 25mm / F1.4 ASPH. (H-X025)
Panasonic has unveiled a new interchangeable lens. It's the LEICA DG SUMMILUX 25mm/F1.4 ASPH (35 mm camera equivalent: 50 mm) for the LUMIX G Micro System.
This compact and lightweight lens features an outstanding brightness of F1.4 allowing a beautiful soft focus when capturing photos and video, as well as improved performance in dimly-lit conditions without flash.
The LEICA DG SUMMILUX 25mm / F1.4 ASPH uses Panasonic's Nano Surface Coating technology. Reflection is dramatically minimised across the entire visual light range (380nm-780nm) by applying an extra-low refractive index coating with nano-sized structure on the surface of the lens. This results in an extremely clear picture with a dramatic reduction of ghosts and flare.
The flexible new lens system is comprised of nine elements in seven groups and uses two aspherical lenses and one UHR (Ultra High Refractive) index lens. The newly developed UHR index lens and glass mould aspherical lenses achieve a uniform construction from the centre to the edges.
The versatile 25 mm of focal distance (equivalent to 50 mm on a 35 mm camera) gives users greater freedom in composition, perspective and aperture control – from daily snapshots including scenery such as sunsets and dimly-lit indoor shots to creative shots taking advantage of the new lens' soft focus.
Seven blades give the aperture a rounded shape that produces an attractively smooth effect in out-of-focus areas when shooting at larger aperture settings. The highly reliable metal mount is designed for durability when changing the lens.
This brand new lens will be available in Australia later in 2011 – with pricing to be announced closer to the release date.
For more information call Panasonic on 132 600 or visit www.panasonic.com.au/lumix.