Whether you're a professional photographer who demands the very best from your equipment or simply someone who is passionate about taking great photos, when it comes to a camera you need to feel confident it won't let you down wherever the day takes you.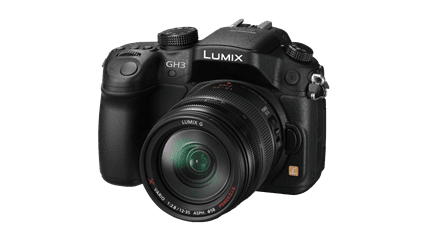 The new top-of-the-line Lumix GH3 digital single lens mirrorless camera will unleash your creative side without boundaries. Compact, mobile and rugged, the GH3 has a tough magnesium alloy full die-cast body and features an advanced splash and dust proof design. These features make it perfect for the demands of professional use, including remote shooting locations.
The ergonomic grip and intuitively laid out buttons and dials put you in complete control and allow your creative focus to remain on capturing high quality, true-to-life still images and high bit rate videos. Other advanced features include high-precision, high-speed dual OLED (Organic Light-Emitting Diode) displays for the LVF (Live View Finder) and rear monitor, along with Wi-Fi® connectivity to turn your smartphone or tablet into a remote control or monitor for the GH3.
For a high-performance, feature-rich camera that can shoot under extreme conditions while providing superb mobility, the Lumix GH3 is the natural choice.