[UPDATE] We have found the owner of the Lumix FT10 camera caught on the Hawkesbury River! Read more in this blog post, click here.
A Fairfield East fisherman hopes to reunite a missing camera with its owner after it spent a week at the bottom of one of Australia's largest rivers.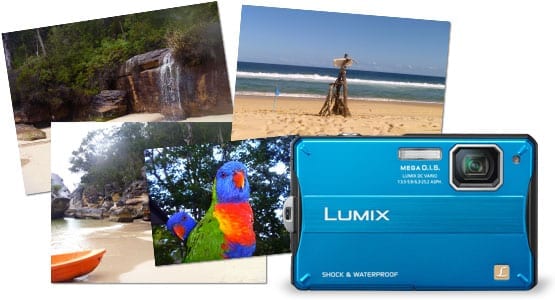 Adam Biro, a glazier from Fairfield East in NSW, snagged the Panasonic Tough Lumix FT10 Camera at Cottage Rock in Cowan Creek while fishing near an inlet on the Hawkesbury River (NSW) on October 15* – seven days after the last image had been captured on the camera.
Spending seven days submerged in 10 meters of murky water in the Hawkesbury River certainly put the Lumix FT10 to the test and we're happy to say the camera is still in working order!
There are approximately 750 images contained on the camera and Mr Biro now hopes to locate the owner. Photos found on the camera reveal a family on a houseboat and the last few shots were of the kids fooling around with the camera before it went overboard. See a selection of photos on Flickr in the gallery below**
"I was pretty shocked when I pulled in the line and there was a camera on the end of it. I've caught plenty of different things in the past – but this is pretty unusual by any stretch," Mr Biro said.

"There are obviously a lot of memories on that camera and I'd hate to think someone could have lost them all."
Adam took it upon himself to call our head office and turned it in, hoping we could track down the owner. We know it must seem like the story is almost too good to be true, but it definitely is.
To help Adam identify the rightful owner and reunite them with the camera, we're conducting an online search through our social media channels, including Facebook, Twitter (#LostFT10) and YouTube.
We're calling on our community members to help Adam find the Lumix FT10 rightful owner. Please share the YouTube video with your Facebook friends by posting it on your wall and tweet the video to your followers (using the hashtag #LostFT10) to help Adam find the camera's owner. If you are the owner of the FT10, or you know the owner, please email lostft10@panasonic.com.au
More information on the lost FT10
The camera was found here
Last photo taken: 8th October, 2011*
Camera found: 15th October, 2011*
*Due to the camera's time and date settings being set incorrectly, date stamps on the images do not reflect the actual dates the photographs were taken.
**To protect the privacy of the Lumix FT10's owner, we are unable to distribute images of people found on the camera. We ask you to share Adam's YouTube video with your friends and hope the camera's owner, or someone who knows them will view it.