Panasonic put a call out for baking enthusiasts to test (and keep) our new ZP2000 'crusty loaf' bread maker in return for telling us all about their experience creating freshly baked goodies with this fancy little machine.
Want to review & keep our fancy new bread maker? If this sounds like a delicious job you can handle, ENTER NOW > bit.ly/Review-Keep-Panasonic-ZP2000*T&Cs apply

Posted by Panasonic Australia on Wednesday, 27 March 2019
The response was jaw-dropping and after much deliberation, our judges selected the'25 words or less' winning entries from two clever contestants.
"I am currently on a quest to make the perfect bread; searching, trialing, rating recipes from YouTube, cookbooks and packets. ZP2000 may be the answer!"

– Evelyn from Burrum Heads, Queensland
"From rye to pumpernickel, multigrain to corn: my passion knows no bounds. I know I can rise to the occasion. Put simply: I loaf bread."

– Patsy from Coburg, Victoria
Clearly testing our bread maker was a delicious job they could handle. But did they rise to the occasion and were they successful in their quest to make the perfect bread? Let's find out!
Evelyn | Burrum Heads, QLD
Best Bread maker!

"I had been on a quest to find the perfect hand-kneaded bread recipe. This is the first bread maker I have used that produces an outstanding loaf of bread!

"The crust is super crunchy on the white bread setting – a true artisan bread result. Brioche has a luxury texture and the raisin bread is superb! Pizza dough is fantastic as well! Some instructions could be clearer.

"The ZP2000 fits into my kitchen décor beautifully, with its stylish finish. I am thrilled with this product and am more than happy to recommend it!"
Patsy| Coburg, VIC
Easy to use, yummy, and looks great on the bench

"I don't have many uni-tasker appliances in my small kitchen. To make the cut, the product has to look good and work exceptionally well – and thankfully the ZP2000 does both.

"This bread maker was easy to use right out of the box, with a variety of simple preset modes. The self-timer function was particularly useful, allowing me to wake up to the smell of baking bread and enjoy my first loaf of white bread at 6am the next morning. I was concerned that the sound of kneading might wake me up, but I was able to run the device overnight with minimal noise.

"In addition to the bread settings, I have found the pizza dough function to be quite handy. It's great to be able to let the SD-ZP2000 worry about the kneading and rising while I ready the toppings. It means we can enjoy homemade pizza on a weeknight.

"One thing to be aware of is that this bread maker, like most, is fairly large. Lucky the sleek black color makes it not too noticeable on my benchtop."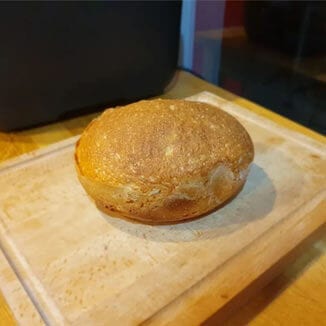 My first loaf!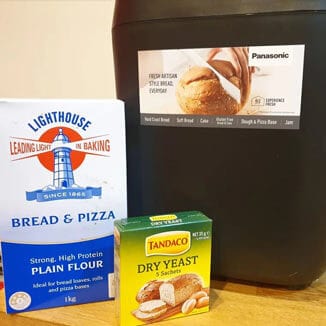 Got great results with ingredients from
the supermarket
Panasonic SD-ZP2000 Crusty Loaf Artisan Bread Maker
Culinary creativity has never been easier, with the SD-ZP2000 to create authentic oval-shaped crusty loaves, as if fresh from the local bakery. Gourmands can also use this bread maker to effortlessly craft a versatile selection of cakes, specialty doughs, jams, and more.
READ MORE
Panasonic's new 'crusty loaf' bread maker
SD-ZP2000