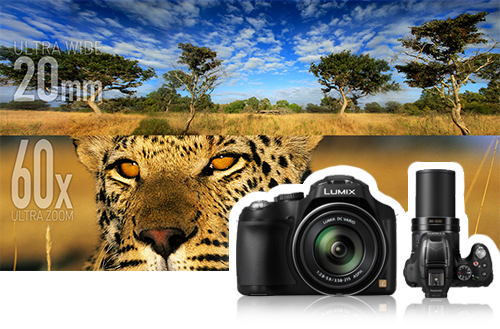 Parents with young children have really been snapping up the FZ70. It's great for families.
The LUMIX FZ super zoom series is renowned for pushing the boundaries of photography and the remarkable DMC-FZ70 has certainly carried that reputation forward. Popular with consumers and tech reviewers alike, this terrific camera features a LUMIX DC Vario 20mm ultra wide-angle lens with a powerful 60x optical zoom that can be boosted to a 120x equivalent with the Intelligent Zoom function. And that's just the beginning!
We decided to have a chat with Doug Campbell, the Product Marketing Manager for LUMIX for Panasonic Australia, to find what he loves about the FZ70.
The powerful ultra-wide 20mm lens with 60x optical zoom makes it extremely adaptable to any shooting situation. It also boasts Full HD video recording, Panorama shot and 15 creative filters.
What do you consider the standout features of the FZ70 and why do you like them?
"The stand out feature is the lens. Starting at an ultra-wide 20mm, you can capture incredible landscapes or fit more in when shooting indoors. Then with 60x optical zoom you get incredible power to zoom in on even the smallest detail. The lens also has optical image stabilisation to reduce the effect of handshake even when shooting at max zoom," Doug said.
What has been the most popular market for this camera?
"Parents with young children have really been snapping up the FZ70. It's great for families. The wide angle is perfect for capturing group photographs at family celebrations like birthday parties and the zoom makes it perfect to get close-up footage of family members playing sports or performing in school concerts," Doug said.
A quick online search turns up so many great reviews of the FZ70. Why do you think it strikes such a chord even with the tech geeks?
"I would say the sheer versatility of this camera is the main thing that impresses reviewers, not to mention why it so popular with both amateurs and enthusiasts," Doug said.
"Of course, the powerful zoom makes it extremely adaptable to any shooting situation and that's a major benefit. But this camera also boasts a raft of other desirable features, such as Full HD video recording, Panorama shot and 15 creative filters to add artistic effects to name a few."