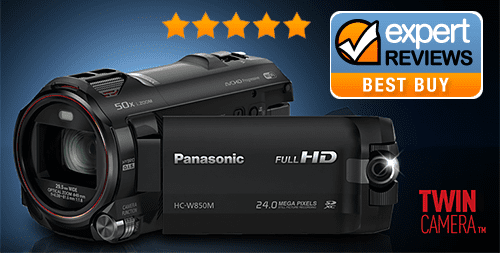 "The killer feature of the HC-W850 is something you might not expect: a second sensor built into the HC-W850's touchscreen that lets you video yourself as you video other people." – Expert Review 5 Stars Best Buy
A still selfie is one thing but our new camcorder, the flagship HC-W850M, takes self portraits to a whole new level with the unique ability to capture two scenes simultaneously using a secondary camera located on the side of the LCD screen. The folks at Expert Review were captivated by the possibilities this lends to videos posted on social media, such as filming everyone gathered around a birthday cake with the main sensor and videoing the birthday boy or girl's reaction on the sub-sensor while they blow out the candles.
"The HC-W850 also lets you record in the MP4 format at a whopping 50Mbit/s. That's almost twice as much as the 17Mbit/s bit rate we typically expect when recording in the MP4 format at the highest quality." – Expert Review 5 Stars Best Buy

The reviewer was also impressed with the HC-W850M's excellent image quality, which isn't surprising when you consider that it boasts an all-new lens, sensor and engine that allows for powerful zooming and high sensitivity. What's more, a four-drive lens system controlled by individual motors offers high-resolution and high-magnification zoom operation, and all of this is packed into a very compact body size.
These qualities are all well complemented by standout features such as Full HD Slow Motion Video, a Baby Monitor functionality and built-in Wi-Fi/NFC for easy smartphone remote use and uploading to social media.
MORE
Read the full review.
Visit the HC-W850M Australian webpage.
Home monitoring: Now you can always keep an eye on things at home.
We've worked out how to make our cameras and camcorders even smarter.