Capturing life's most memorable moments – whether it's a holiday, your growing family, a big celebration – is simple and fun when you have one of Panasonic's feature-rich camcorders to hand. And now, by simply purchasing a participating Full-HD Panasonic Wi-Fi® camcorder you have a chance to win a Panasonic VIERA TV.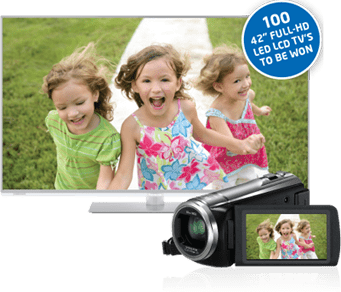 With a Panasonic camcorder you can capture Full High Definition footage in 1920 x 1080p and enjoy exceptional zoom, all in a compact, easy to hold body. Camcorders that feature built-in Wi-Fi® allow for Real Time Broadcasting of important events via Ustream as you record images in Full High Definition, Remote Shooting and control of camera functions by using the dedicated Panasonic image app, among other handy features.
Panasonic's VIERA TVs, should you be lucky enough to win one, offer Full-HD picture quality along with a range of advanced features that deliver a next-generation television experience.
For your chance to win, purchase a participating Full-HD Panasonic Wi-Fi® camcorder before 14 August, 2013 and before 100 LED VIERA TVs have been won.
Find out more here.