SECAUCUS, NJ (March 29, 2011) – New York-based, full-scale production company Leftfield Pictures is currently shooting the fourth season of Pawn Stars, the History network's highest-rated series—ever—with a pair of Panasonic AG-HVX200A P2 HD handheld camcorders. Leftfield Rentals, the company's rental and production services arm, owns dozens of Panasonic camcorders, including AG-HPX170 P2 HD handhelds and tape-based HD models like the HDX900, which along with the HVX200As are utilized on other prominent productions such as Oddities on Discovery Channel and American Restoration, a Pawn Stars spin-off that's set to air at 10P EST on April 15th on History.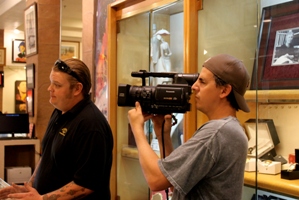 Pawn Stars, which often vies for the position of cable's top-rated show, is set in the Gold and Silver Pawn Shop in Las Vegas. Having been described as a cross between Antiques Roadshow and American Chopper, the series serves up high-stakes buying and selling as well as domestic byplay among the three generations of the Harrison family, the store's owners. Pawn Stars is known for its close-up beauty shots of its coveted wares, which on any given day range from Rolexes to Super Bowl rings to Confederate currency.
Colby Gaines, the co-founder and owner of Leftfield Pictures, executive produces current Leftfield Pictures programming including American Restoration, Oddities and Pawn Stars. "We've ridden the wave of distinctive Panasonic professional camera quality since our original investment in DVX100s close to a decade ago," Gaines said. "Now the P2 HD handhelds are delivering the mobility, ease of use and, above all, superb image production that our signature style programming requires."
Pawn Stars is shot entirely on location at the Gold and Silver shop. The production team typically shoots 50 hours per week, working around the 5,000+ customers the store sees on a daily basis. Several 25-40 minute scenes of staff interplay with customers are shot, as well as up to five different objects a day. For these beauty shots, the production outfits one of the HVX200As with a Letus 35mm depth of field adapter.
The History series is shot in Las Vegas where an on-site media manager ingests, synchronizes A and B camera footage, and does a simple cut-down of material. Leftfield Pictures supervises the full edit and delivery at its production headquarters in New York; Pawn Stars is edited in Final Cut Pro.
Leftfield Pictures is currently producing a new intervention-style reality show for A&E, a fashion-based show for the Bravo Channel, and new series for The Science channel and the HGTV network, all shot on Panasonic HD camcorders.
For more information about Leftfield Pictures and Leftfield Rentals, visit www.leftfieldpictures.com and www.leftfieldrentals.com; for more information about Pawn Stars, visit http://www.history.com/shows/pawn-stars.
About the AG-HVX200A
The AG-HVX200A 1/3" 3-CCD handheld P2 HD/DV camcorder (successor to the HVX200 and known as the AG-HVX202AEN in Australia)  features improved progressive 3-CCD imagers, a DSP that increases sensitivity while lowering noise and smear, and a new 13X zoom lens. The ultra-versatile HVX200A records in 1080i and 720p in production-proven 100 Mbps DVCPRO HD quality, with the ability to capture images in 21 record modes. For more information on the P2HD family of cameras go to www.panasonic-broadcast.com.au
---
Contact us
Contact us for more information on Panasonic Business products:.