The Panasonic Toughbook Van
Panasonic Toughbook has accelerated into 2012 by launching a specially designed vehicle – fitted out with the company's world-leading, purpose-built ruggedised mobile computing solutions – to offer sales support to Toughbook dealers in the coming months.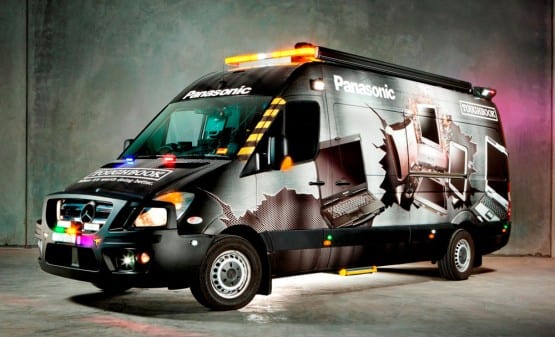 Damien Lee, Business Development Manager – Toughbook, Panasonic Australia, said the vehicle will showcase Toughbook's full range of applications for local businesses.
"With current customers across a range of industries including corporate, retail and government to health and hospitality to name just a few, we continue to see new and exciting ways in which our customers are harnessing this technology – it's certainly not limited to heavy industry anymore," Mr Lee explained.
The vehicle has already made an appearance at several industry trade shows and visited a number of customers.  It will continue to be used throughout the year to visit further Toughbook customers and dealers as well as upcoming industry trade shows in New South Wales, the ACT and Queensland.
In addition to the Toughbook models, the vehicle is installed with solutions from within Panasonic's security surveillance line-up and equipped with display screens, vehicle docking stations and a GPS tracking system.
The vehicle also features a fully operational Panasonic Arbitrator 360° mobile digital video recording system – a rugged, durable in-vehicle recording system used by law enforcement agencies both here and around the world.
The vehicle, which took approximately 13 months to deliver from concept to completion, has been designed to use either mains, generator or battery operation so it can be taken to virtually any location – a reflection of the Toughbook's "go anywhere" reputation.
See the full Toughbook Range on Panasonic.com.au
---
Contact us
Contact us for more information on Panasonic Business products:.