We might be famous for some big things here in Australia; the Big Pineapple, the Big Prawn, the Big Merino, that giant potato in Robertson and salt water crocodiles to name a few, but in when folks in the US pursue 'big things', it seems they adore mammoth display screens.
Just recently we brought you the news that the Texas Motor Speedway had utilised Panasonic's technology to install the world's largest HD display screen and now they've got some competition a few states over in Louisville, Kentucky.
Churchill Downs Racetrack has set a new standard to beat by teaming up with Panasonic (and laying down a whopping $12 million) to install a 15,224-square-foot, high-definition 4K LED video board. The project finished just in time for the thousands of fans attending the 2014 Longines Kentucky Oaks and Kentucky Derby to enjoy.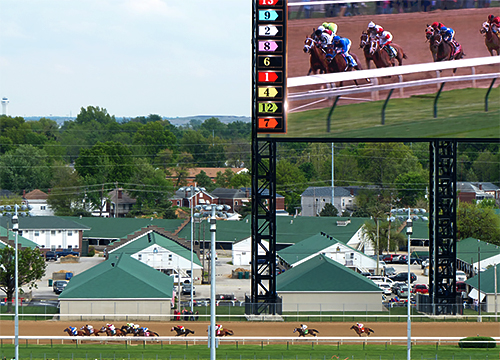 It's the world's largest 4K video board, with the bottom edge of this 171-foot wide behemoth sits 80 feet above the ground and the entire construction tops out at 170 feet in height.
Operating with full-1080i fixed and mobile HD cameras and a new audio system to deliver state-of-the-art picture and sound quality to its fans, the Churchill Downs monster screen certainly has thrown down the gauntlet for any future challengers!
How big is the "Big Board"?
Bigger than:
3 NBA basketball courts,
5 average size U.S. homes,
2,200 46-inch flat-screen TVs, and
320,000 Apple iPhone 5 screens
---
Contact us
Contact us for more information on Panasonic Business products:.