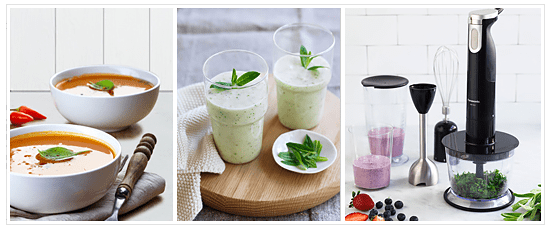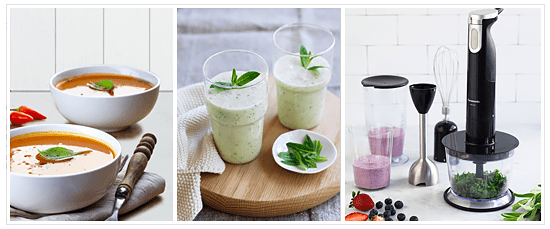 Our brand new stick blenders (MX–SS1BST and MX-GS1WST) let you whip up everything from smoothies, to dips, sauces and soups at the touch of the button. The new models feature a powerful 600-watt motor for quick, efficient blending of everything from smoothies to soups.
Available in black and white models, both designs feature two straight and two blending blades, and a stainless steel shaft that can be used directly in a hot pan for soups and sauces. In stores in October.
 "These stylish new additions to our small kitchen appliances range make it easy to whip up a range of treats from that post-workout smoothie to hollandaise sauce. We've developed a suite of new smoothie recipes to accompany the new models, for our customers to enjoy." – Belinda Toner, Product Marketing Manager, Small Appliances, Panasonic Australia.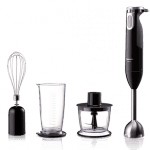 MX-SS1BST – Includes three-in-one hand-blending capabilities to blend, whip, and chop, and variable speeds, providing a range of solutions for cooking needs. Powerful and reliable, the 600-watt motor drives the two straight and two blending blades, perfect for making dips and smoothies. The stainless steel shaft can be used directly in pans when creating soups and sauces. The MX-SS1BST also comes with a whisking attachment for creating fluffy meringues and a chopping attachment and bowl for dicing fine ingredients.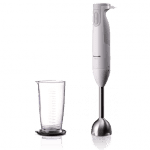 MX-GS1WST – Features two straight and two blending blades and a stainless steel shaft, powered by a 600-watt motor, perfect for blending straight in the pan. One-touch operation allows for bursts of power to create smooth dips and smoothies quickly, while the measuring beaker is ideal for precise cooking. The wall mount allows for uncluttered kitchen surfaces, while keeping the stick blender to hand.
RECIPE BY

Chia Berry Smoothie
These tiny little chia seeds pack a huge superfood punch; they're bursting with Omega 3 and fibre and make a delicious addition to any smoothie.
Ingredients
I cup of frozen mixed berries
1tbsp chia seeds
½ cup of yoghurt
½ cup of skim milk
Method
Blend ingredients together.
Visit The Ideas Kitchen website for more recipes.
Blender 101 #foodhack
Use small freezer bags to prepare your smoothie ingredients for the week ahead and then pop in the freezer. Each morning, all you'll have to do is pour, blend and go. Bonus points for the fact that the frozen fruit and veg will make your smoothie icy cold!
Visit The Ideas Kitchen website for more #foodhacks.
RELATED PAGES
The Ideas Kitchen – a website of recipes, features and health tips.
MX-SS1BST product page.
MX-GS1WST product page.