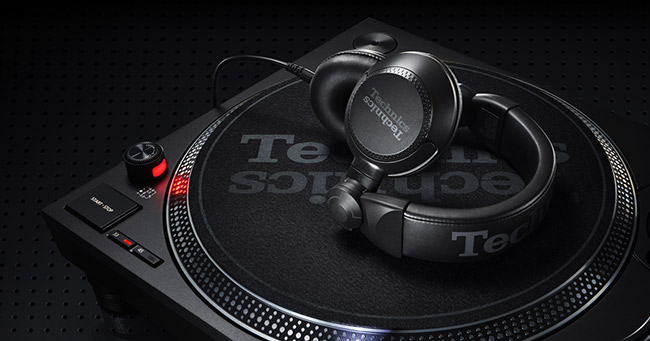 The iconic Technics SL-1200 turntable (launched in 1972) started out life as a consumer record player but quickly became a cult club rig and DJ tool, as the direct drive high torque motor design made it perfect for pushbutton cueing, beat-mixing and scratching.
DJ Neil Hume, whose roots are in the underground clubs of Oxford St and Kings Cross when dance music was just beginning to capture the Australian scene, says there is a good reason Technics enjoyed such a slavish following.
"Things that DJs value in a turntable are the strength of the motor so records can be launched in beat matching time, the smooth and seamless control of pitch with a fader and the ability for the casing to eliminate interference from vibrations coming from speakers. While many manufacturers have tried to make a reliable turntable for DJ'ing, only Technics have ever made one that is the total package."

– DJ Neil Hume
The cool kids called them the 'the wheels of steel,' a term made popular by Grandmaster Flash in the seminal recording of Grandmaster Flash and His Adventures on the Wheels of Steel, and it's with this Maestro that we begin our own adventure in unravelling the underground history of Technics.
An innovator who paved the way for a musical revolution, Grandmaster Flash created a new method of turntablism because he wanted to get to the break – the drum solos and breakout segments of a record that got people dancing. His vision was to pull those euphoria moments together to create one long track for the dance floor, and since nothing available in current technology was capable of doing the job, he developed his own tools and techniques.
In his quest to stitch together the most climactic parts of records, Flash went into full geek mode. He studied needles that could stand up to the pressure of counter-clockwise vinyl movement and he developed what is now known as a slip mat by starching felt into record-sized wafers to replace rubber matting on the steel platters.
Our part in his story came when it was time to find the right turntable; Grandmaster Flash has said he tested everything from Fisher Price to Magnavox as he searched for one that met a standard he dubbed Torque Theory. He finally happened upon what he called "an extremely ugly turntable" in a shop window that was so powerful, it came to full speed before even a quarter of a turn. That was the Technics SL-23, the Grandaddy to the 1200. Flash saved up and got two at $75 a piece, which he credits with playing a major role in this music history because it allowed him to create a "bed so that the speakers could tell their stories."
"Flash, he doesn't play games." Hip hop pioneer Grandmaster Flash and his on-screen counterpart Mamoudou Athie go behind the scenes of Baz Luhrmann's The Get Down"
With the tools in place, it was time for the technique. Grandmaster Flash's Quick Mix Theory involved putting his hands all over the records, marking them with crayon, dragging them counter-clockwise and basically treating vinyl with a kind of reckless abandon that had never before been imagined. In his memoir, Flash said this technique was considered blasphemous in the eyes of other DJs.
"Actually putting your greasy fingertips on a record back in the day was a cardinal sin."
– The Adventures of Grandmaster Flash: My Life, My Beats
But it worked. That technique, those Technics record players, that mad-scientist DJ… it was a combination that ushered in a new form of musical expression. The arrival of the Technics 1200 allowed DJs to push the mixing and sampling boundaries even further, with one of the earliest and most enduring examples coming in the form of The Adventures of Grandmaster Flash on the Wheels of Steel, released by Sugar Hill Records in 1981.
The Adventures of Grandmaster Flash on the Wheels of Steel (Sugar Hill Records, 1981) by Grandmaster Flash & The Furious Five
It's a glorious mashup of spoken word vocals ("You say one for the trouble, Two for the time, Come on girls let rock that" never loses its cool appeal) and samples of everything from Blondie's Rapture to Another One Bites The Dust by Queen and Rapper's Delight by the Sugarhill Gang. In fact, this very track is credited with creating the terms 'sampling' and 'turntablism.'
The wheels of steel ended up being the wheels that changed the musical deal, influencing genres across the board including hip-hop, house, disco, techno and more. The late (and eternally great) DJ Frankie Knuckles of Chicago House fame said Technics was a major part of growing up in the business.
"I believe I can honestly say that I've played on every professional turntable Technics produced for club DJs and, by the time they produced the 1200, there was only one thing to say: Revolution Complete! The ultimate DJ tool had been revolutionised."

– Frankie Knuckles, DJ Times Interview with Brian O'Connor
Technics also had a longstanding place as one of the tools of the hip-hop trade, from the earliest days of 'two turntables and microphone.' Their power and virtual indestructability made them the gold standard, with MCs frequently name-checking the brand in their tracks.
Make a migraine, hated yourself, start to melt

While the Technics spin, the wax is on the belt

Motivating clockwise the more you realize

Moe Love's moving steady, by most, with Everready

like a battery, charged, I'm worth the alkaline
Those despairing howls you may have heard from the music scene back in 2010 emanated from our announcement that Panasonic would be discontinuing the Technics line due to declining market conditions. And so it seemed that Technics turntables might become a relic from times gone by. But then in 2016 Technics returned to vinyl, releasing a new version of the famous 1200 and building on the range. Just last month, the latest Technics turntables, stereo and wireless speaker systems and high-end headphones were released in Australia ensuring that instead of being consigned to the halls of history, this iconic legend has plenty more years of joy to bring to original aficionados and the latest generation of vinyl lovers and audiophiles.
Watch as industry insiders, DJs and audio experts gathered to rediscover Technics at our VIP launch event.
See the new Technics range launched in Australia, below.
READ MORE
A new chapter begins with the relaunch of Technics in Australia