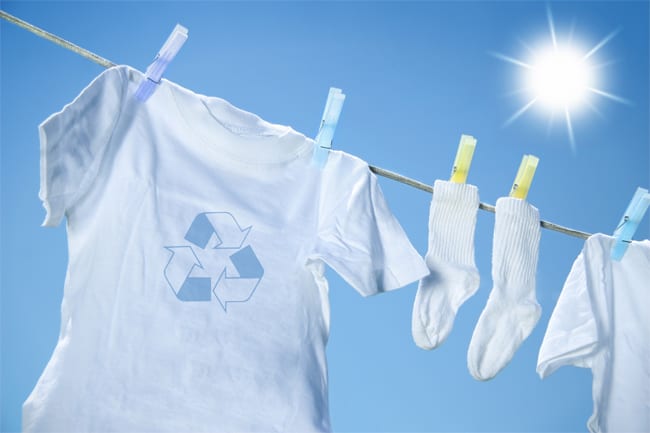 Washing machines are some of the most heavily used appliances, after all there's always another load waiting to be done! Here at Panasonic, while we work hard to bring you better technology to lighten your laundry load, we're also focused on helping you to cut down on wasted energy on water resources, with clever features built in to our products. We've also got a few laundry tips to help you make wash day even more eco-friendly.
What YOU can do to reduce wasted energy and water:
Use the coldest possible water to do your washing
Only do full loads of washing
Buy eco-friendly, phosphate free laundry detergent
Dry your clothes outside when it's good weather
Dry your clothes indoors when weather is bad
What PANASONIC can do to reduce wasted energy and water:
Build technology features into our washing machines that automatically detect load requirements and adjust the water and energy needed for each wash.
ECONAVI and Panasonic Washing Machines
Using ECONAVI* technology and an innovative 3D sensor, Panasonic washing machines can precisely measure the amount of clothing inside the drum and adapt the energy and water needed for each wash, reducing the total water used. Panasonic's Inverter technology also receives information from the 3D sensor to determine the amount of drum rotations needed. This enables the motor to work more efficiently according to the size of the load and ensures energy savings. The HydroActive+** water supply system then uses five multi-directional showers which rapidly deliver water to quickly dissolve the detergent into the wash and provide thorough rinsing, resulting in less time and energy used.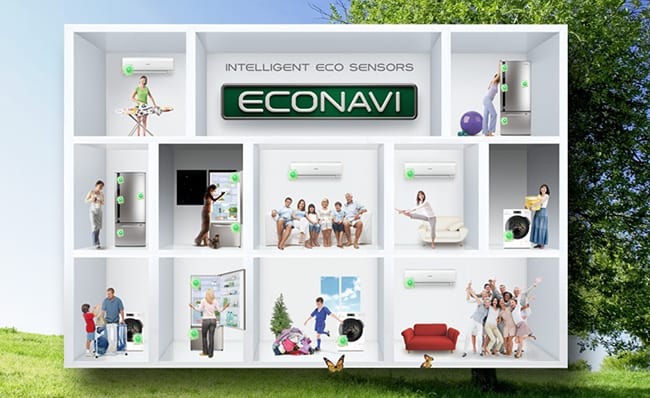 1. ECONAVI Water Temperature Sensor

When the water temperature is hotter, detergent dissolves quickly and clothes are more easily washed, so the water temperature sensor adjusts operation time for a shorter cycle.
2. ECONAVI Load Sensor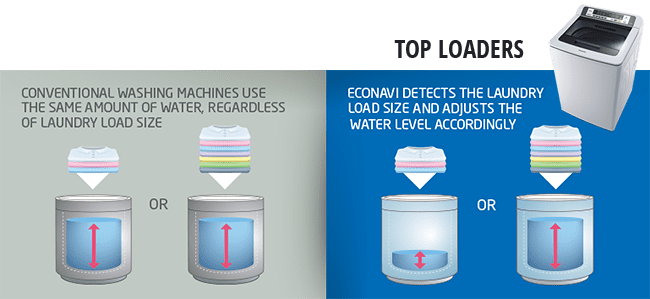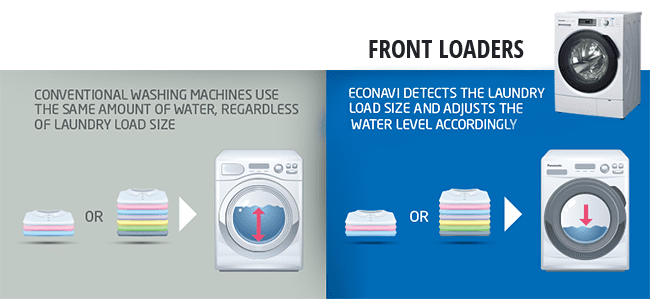 The load sensor adds water when the volume of laundry is large, to ensure clothes are thoroughly cleaned. When the volume of laundry is low, less water is used.
3. NEW ECONAVI Clothes Material Sensor*

Available on the latest models, ECONAVI has been updated to include a Clothes Material Sensor, which detects whether the wash is primarily composed of cotton or synthetics and adjusts accordingly; a heavier cotton wash will need more water and rinsing, while a synthetic wash can be completed more quickly.
*Clothes Material Sensor available only with selected Front Loaders.
Aqua Spin Rinse**
The Aqua Spin Rinse uses a wide angled shower to evenly penetrate clothes during rinsing (the cycle that usually wastes the most water), resulting in a more efficient rinse using less water.
**Available only with Panasonic Top Loaders.
Inverter Motor
To achieve perfectly clean clothes the Inverter changes the motor's rotation and output based on sensors inside the washing machine. This clever technology also ensures top marks in energy consumption and water efficiency ratings.
Panasonic washing machines' intelligent features will lighten your laundry load
Check out the Panasonic washing machine range.
*ECONAVI is available with selected Panasonic products.
**HydroActive feature available with Panasonic front load machines only.