There are many pretenders to the plastic container throne but after all these years, genuine Tupperware remains the cult item we must all keep in our kitchen cupboards and use to hoard our left-overs in the fridge.
Invented by Earl Tupper and introduced to consumers in 1946, Tupperware products – with their legendary airtight seals – really took off thanks to the rise of Tupperware Home Parties. Even if you aren't old enough to have been to a Tupperware Party, chances are your parents still have some plastic containers purchased at one of these 'sales demonstrations/great excuse to hang out with friends from the neighbourhood' nights.
Already hugely popular throughout the 50s and 60s, Tupperware had another major surge when the microwave oven entered consumer's kitchens and the brand introduced a fantastic line of microwave reheatable wares.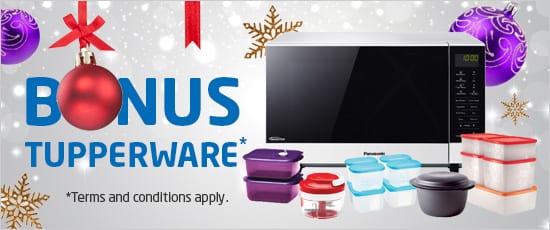 The microwave and Tupperware are still so closely linked that here at Panasonic, our bonus Tupperware (with the purchase of a Panasonic microwave) continues to be one of our most popular promotions. We like to think of it as our very own Tupperware party and we're holding another one just in time for Christmas.
When you purchase one of our selected convection microwaves during the promotion period*, you'll get to choose $145 worth of genuine Tupperware as your bonus, or $60 worth with the purchase of a selected Inverter microwave.
If you want to carry on the Tupperware tradition and invite your neighbours around for a glass of wine and a demonstration, that's totally up to you!
*1st November-31st December 2014. Terms and conditions apply.
RELATED LINKS
Panasonic BONUS Tupperware promotion.