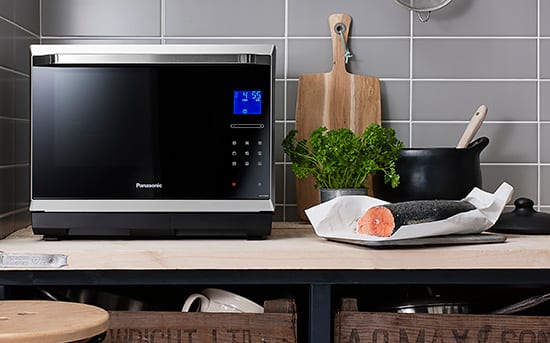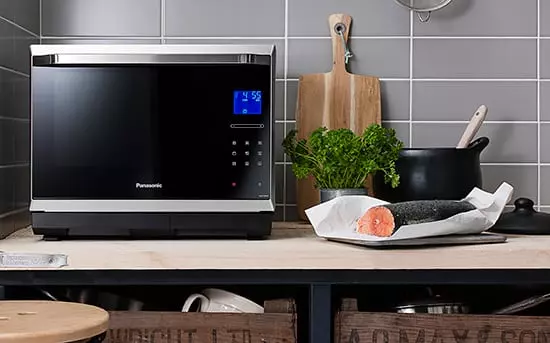 When you add the combined power to steam, bake and grill to your microwave, you've got a kitchen revolution! In addition to producing an endless variety of dishes, the NN-CS894S Panasonic Steam Combi Microwave also features in-built sensor technology to take the guesswork out of cooking and an 'easy swipe' control panel.
"Representing our 50 years of experience in microwave oven engineering, this latest model in our range offers ease of use and versatility. Whether you're looking to steam fish or vegetables, bake a cake, grill sausages or defrost meat, Panasonic's new microwave oven will provide outstanding results." – Nicolas Cauzac, Product Marketing Manager, Microwaves, Panasonic Australia.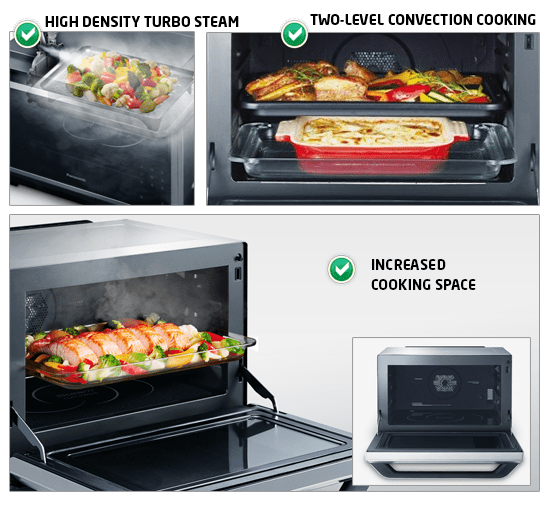 HIGH DENSITY TURBO STEAM
Steam is injected from a high-efficiency boiler unit directly into the upper area of the microwave, and a grill plate divides the oven in two, stopping steam from diffusing throughout the microwave. The result is powerful, high-density steam which enables a new and fast way to cook a wide range of meals, retaining flavour and keeping food moist.
TWO-LEVEL CONVECTION COOKING
The NN-CS894S features split-level convection cooking, which allows you to cook on two levels simultaneously, providing more space. An integrated fan circulates the hot air throughout the entire oven producing a quicker, more even cooking result – ideal for roasting or baking larger meals.
INCREASED COOKING SPACE
Panasonic's NN-CS894S microwave incorporates a flatbed design, removing the need for a turntable. This innovative design not only creates a larger cooking area compared to conventional models, it also allows you to place dishes of all shapes and sizes inside the oven. The flatbed design is even more practical to clean and the interior is covered in self-cleaning catalytic upper and back plates and a fluoric coating to prevent food from sticking.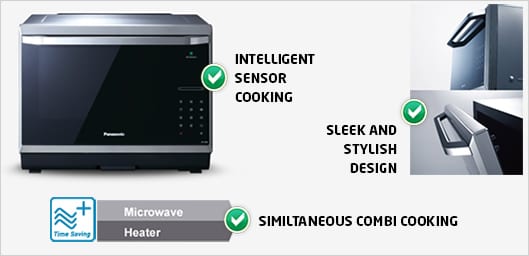 SIMILTANEOUS COMBINATION COOKING
Multiple cooking functions can be used simultaneously for faster results. The microwave power cooks food quickly whilst the oven and grill provides traditional browning and crispiness. This combination cooking is an exclusive feature that can only be achieved thanks to the Inverter technology. Similarly, with a simple press of the 'Turbo-Cook' button when using the convection or grilling settings, 300W of micro power will be added to the cooking process. This significantly speeds up cooking times without impacting on quality or taste.
SLEEK AND STYLISH DESIGN
The new combination microwave oven has a stylish look and features an ergonomically designed handle, while the convenient pull-down door provides conventional oven-style access. This microwave also boasts a stylishly simple control panel with blue LED display and 'Swipe & Touch' user interface. You can easily swipe to scroll through menus and options, tap for precise control and press and hold to easily increase and decrease settings.
Check out the NN-CS894S Panasonic Steam Combi Microwave.