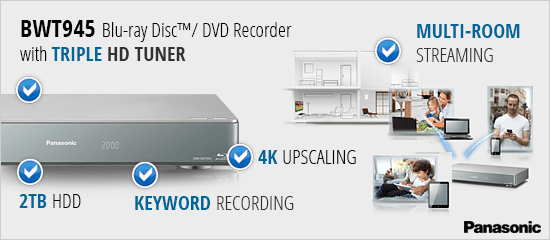 It is with great excitement that we introduce our flagship Blu-ray Recorder, the DMR-BWT945GL. Well, we call it a "Blu-ray Recorder" but in reality, this 4K compatible unit is so much more. Packed with a Triple tuner, a whopping 2 terabyte hard drive, multi-room streaming and even a sensational new Keyword Recording features, the DMR-BWT945GL is a magic box that offers a totally integrated home entertainment experience.
TRIPLE TUNER
With a Triple HD Tuner you have the flexibility of recording three programs in High Definition (HD) quality from different channels, or even recording two programs while watching another.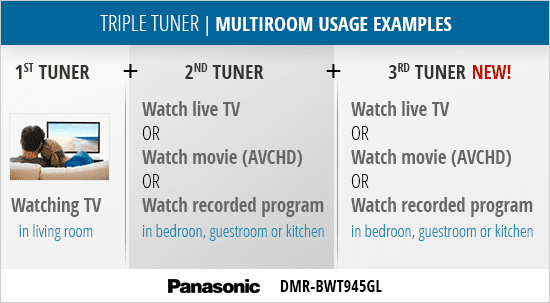 2TB HDD
If scrolling through your recorded content and deleting some to make room for more breaks your heart, you will absolutely love this Blu-ray Recorder's 2TB hard disk drive (HDD) because it provides you with up to 1,370 hours of HD recording.
KEYWORD RECORDING
'Keyword Recording' provides a convenient and quick way of automatically recording programs by selecting a keyword. For example, simply enter the name of your favourite TV show and the recorder will search the electronic program guide and record all programs with this keyword.
MULTI-ROOM STREAMING
You can view your content in comfort from any room in the house (yes, even the bathroom!) using Multiroom TV Streaming Plus. This feature has been enhanced with the triple tuner so you can simultaneously watch a program on your TV while recording another, and wirelessly send a recorded program or live broadcast to a smartphone or tablet for another member of the family to view. To make things even easier, recorded programs and live broadcasts can be controlled using the Panasonic DIGA Player App.
4K UPSCALING
built-in 4K up-scaling technology offers you an outstanding viewing experience. Our advanced image processing technology analyses the colour and luminance of every pixel, and then boosts the input signal to generate an ultra-high quality 4K video signal.
All these features sound impressive, right? What's even more impressive is that they are just the tip of the feature iceberg for the DMR-BWT945GL. Check out the full product page and you'll see what we mean!