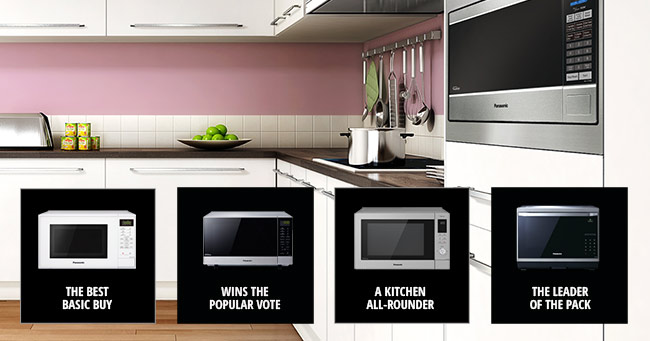 In the market for a new microwave but not sure where to start? We've put together a handy features chart to help you match your kitchen needs to our market-leading microwaves. Did you know Panasonic actually has microwaves that not only reheat food but also cook food in other ways such as steaming, crisping meats or baking cakes. Whether you are just looking for a popcorn maker/takeout reheater, or your new best friend in the kitchen, we have you totally covered.
COMPARISON CHART
For more information on each feature, please refer to the Reference Guide at the bottom of the page.
| | | | | |
| --- | --- | --- | --- | --- |
| | NN-ST25JW | NN-SF574 | NN-CD87KS | NN-CS894 |
| | | | | |
| | The best basic buy | Wins the popular vote | A kitchen all-rounder | The leader of the pack |
| Learn more: | Webpage | Webpage | Webpage | Webpage |
| Size: | 20L | 27L | 34L | 32L |
| Body: | Turntable | Flatbed | Turntable | Flatbed |
| Inverter: | No | Yes | Yes | Yes |
| Sensor: | No | No | Yes (Reheat) | Yes (Reheat & Menus) |
| Microwave: | 800W | 1000W | 1000W | 1000W |
| Grill: | No | No | 1300W | 1300W |
| Convection (Fan forced): | No | No | Yes | 1350W |
| Combination: | No | No | Yes | Yes |
| Steam: | No | No | No | Yes (Pure) |
| Cooking Menus: | 9 Auto | 14 Auto | 30 Auto | 10 Sensor, 16 Auto |
| Reheat: | Auto | Auto | Sensor | Sensor |
| Defrost: | Defrost | Inverter Turbo Defrost | Inverter Turbo Defrost | Inverter Turbo Defrost |
| Variable Power Levels: | 5 | 6 (Inverter) | 7 (Inverter) | 6 (Inverter) |
| Accessories: | Glass Turntable | No | Enamel Oven Tray/ Glass Tray/ Wire Rack | Enamel Oven Tray, Glass Tray, Wire Rack |
| Trim Kit (Optional): | No | NN-TK510FWQP | NN-TK81KCSP | No |
REFERENCE GUIDE
Microwave Size
As a general guide, a 23L will fit a soup bowl for heating, a 32L is our most popular size as it is good for a family of 4 and 42 L is so large it will fit a roast turkey.
Flatbed Body
Use dishes of any form and size thanks to the innovative Flatbed design, which gives you a cooking area that is 31% bigger when compared to conventional turntable models.
Inverter Technology
You may have found when cooking with microwaves that your food isn't cooked evenly, with both cold and overcooked patches. Panasonic's advanced Inverter technology does away with this problem by delivering continuous heating at modulated power resulting in evenly cooked food.
Sensor Cooking
Sensor Cooking technology intelligently monitors and adjusts cooking time and power levels to provide perfectly cooked meals, every time.
Grill Power
The grill feature allows you to achieve a crispiness not normally associated with microwave cooking. There are three levels of power, allowing you to perfectly grill everything from garlic bread, toast, seafood and even meat.
Convection Power
An integrated fan circulates the hot air throughout the entire oven producing a quicker, more even cooking result – ideal for roasting or baking larger meals.
Read more: Why would you get a convection microwave?
Combination Power
Multiple cooking functions can be used simultaneously for faster results. The microwave power cooks food quickly whilst the oven and grill provides traditional browning and crispiness. This combination cooking is an exclusive feature that can only be achieved thanks to the Inverter technology.
Turbo Steam
Just add water to create a powerful, high-density steam which enables a new and fast way to cook a wide range of meals, retaining flavour and keeping food moist.
Cooking Menus
For those days when you need someone to do the thinking for you, let Panasonic's auto cook programs do the hard work – simply select the type of food you want to cook and the microwave will automatically make adjustments to elements such as time and power for a perfectly cooked meal.
Turbo Defrost
This feature allows you to defrost meat, poultry and seafood automatically by just setting the weight of the food.
Trim Kits
Microwave trim kits allow you to integrate your microwave seamlessly into your kitchen cabinetry, freeing up space on the counter.
Read more
6 Easy Recipes for Lunch, Dinner and Snacks
Healthy Steam Cooking with Panasonic Microwaves
Panasonic's Must-have Kitchen Gadgets for Foodies
View the latest range of Panasonic Microwaves