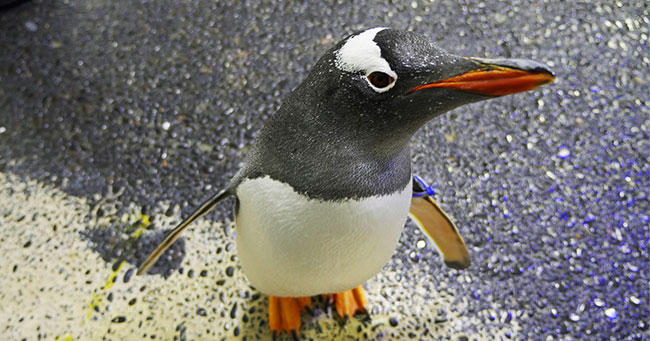 We love it when our products put a smile on people's faces. That's why we are delighted to continue our partnership with SEA LIFE Sydney Aquarium, helping them bring the livestream of their Sub-Antarctic Penguin exhibit to viewers all over the world.
Despite being allowed to reopen in June, SEA LIFE has maintained their commitment to deliver the aquarium experience to fans who can't attend in real life with a 24 hour live feed of their 'Penguin Expedition' display.
Our penguins are among the Aquarium's most popular animals. The species we have here are all native to Australia and its islands, and we put an important focus on understanding these birds and their habitats. Now the SEA LIFE fans at home can also enjoy studying the behaviour of these amazing creatures. – Richard Dilly, General Manager, SEA LIFE Sydney Aquarium.
The feed is captured using a Panasonic AW-UE4 pan-tilt-zoom 4K camera. In addition to its pin-sharp 4K picture quality, the cameras ultra-wide angle lens delivers a 111° viewing angle to ensure viewers are treated to the full view of all the action happening within the enclosure.
The exhibit features 34 penguins in total. The 7 King penguins and 27 Gentoo penguins are all native to Macquarie Island, a Tasmanian State Reserve that measures approximately 128 square kilometres. Listed as a UNESCO World Heritage Site, the island is located 1550km south east of Hobart and 1200km north of Antarctica.
Macquarie Island is a UNESCO World Heritage Site
The colony at Sydney Aquarium live comfortably in a controlled environment that mimics the temperature and even the seasons of their natural habitat. Lighting is also dynamically adjusted to sync with sunrise and sunset on Macquarie Island to ensure their breeding cycle and moulting process remains as close to real as possible.
Apart from being unbelievably adorable, penguins are also incredibly inquisitive and intelligent animals. To keep their minds stimulated, SEA LIFE staff regularly interact with the colony by playing games like soccer, blowing bubbles, building ice sculptures and giving them new interactive toys to play with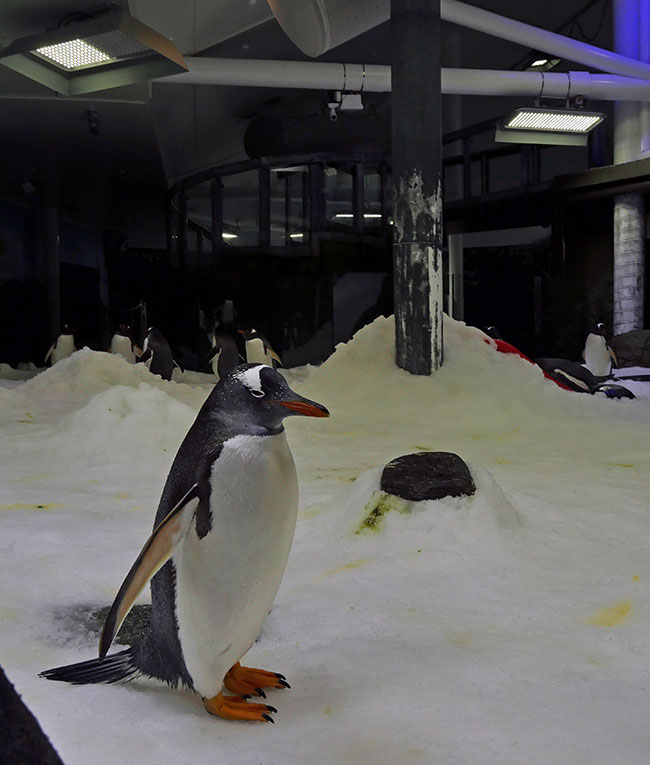 Fun fact: Did you know Penguins poop every 17 minutes on average? No joke! So despite appearances, taking care of penguins is not all fun and games and as part of the upkeep of their enclosure, up to 4 tonnes of fresh snow is added to the display each and every morning!
On top of all this activity, the penguins also receive 3 meals a day, giving you plenty of reasons to tune in to the livestream more than once to see something new! Here is a general timetable of activity to help make the most of your viewing experience.
| | |
| --- | --- |
| Time | Activity |
| 8:00am – 10:00am | Watch the Penguin keepers scrub the penguin exhibit clean and pump in fresh fluffy snow for the penguins to enjoy! |
| 2:30pm – 3:00pm | Lunchtime! Watch King Penguins gulp down a fishy feed and see the Gentoo Penguins march out to the penguin pool where they are fed separately. |
| 4:00pm | Bedtime! It is winter at Macquarie Island so it gets dark quick! The penguins all like to snuggle into bed early this time of year. |
| Other Times | Keep your eyes peeled throughout the day as the keepers carry out their enrichment sessions to help keep the penguins stimulated and entertained. |
Where in the aquarium would you like to see the live stream move to next? Hit us up on Twitter @PanasonicAU and we'll pass on your suggestions!