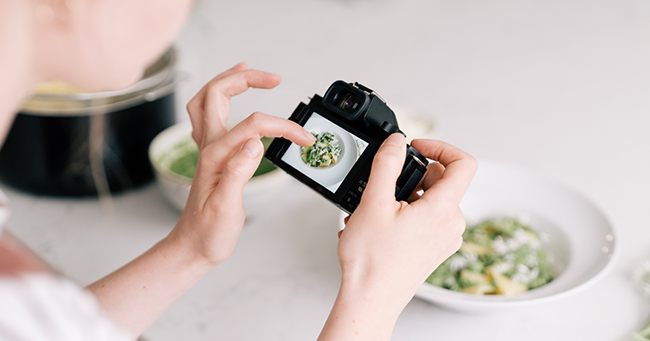 The Panasonic LUMIX G100 vlogging camera announced last month has been well received by journalists, industry professionals and YouTube influencers. Marketed as a unique all-in-one photo and video camera that delivers excellent quality images and high quality audio, it promises to solve a problem commonly faced by the growing vlogging market, a heavy camera and poor quality audio recording.
Digital Media World summed up the main focus of the G100 nicely: "The new Panasonic LUMIX G100, a Digital Single Lens Mirrorless camera designed and developed for vloggers and online video content creators, is able to control and record high quality audio directly in-camera using the OZO Audio system by Nokia."[1]
Rachel from popular YouTube vlogging channel 'Rachel and Jun'
noted just how compact and lightweight the G100 was.
"I love the size and weight of the G100 because it's so small and light. I'm looking forward to being able to carry this around in my purse for when I come across a situation where this would be an amazing video to film and I don't have to take out a smartphone that doesn't have a great camera."[3]
Touching on the demand for modern content creators looking for a versatile tool that allows them to spend more effort on storytelling and less worrying about the technical details video and filmmaker.com said:
"Newly-introduced on the G100 are content sharing via smartphone at the touch of a button, LUMIX Video Selfie via a free-angle monitor, and Frame Marker with a range of popular aspect ratios. Other capabilities include smooth 4K Video, Quick and Slow video modes, and V-Log L recording pre-installed for precise colour grading."[4]
Despite the vlogging segment being relatively new, creators and their audiences are realising the importance and benefits of better quality visuals and audio, to help their stories stand out from the crowd.
Tech Guide also points out:
"The sensor is a lot larger than the one you'd find on a smartphone camera so you can capture enhanced quality and achieve amazing results in low light. Photographers can shoot at burst speeds of up to 30 frames per second while Post Focus – as its name suggests – lets users chose a focal point in an image after it was taken."[5]
Meanwhile, Film, Video & Virtual Reality noted another product announcement from Panasonic that would equip vloggers with yet another handy tool in their arsenal.
"A new ergonomic Tripod Grip – both a lightweight handgrip and mini tripod – has also been released. The optional DMW-SHGR1 grip connects via USB to start/stop video recording, release the shutter and enable/disable Sleep mode. The camera battery can be recharged either via AC or USB."[6]
Tech Radar summed up the announcement, listing the key features of the LUMIX G100 that they liked best:
Things we liked about the Panasonic G100:

🤩 Same 20.3 MP Four Thirds sensor as its predecessor
🤩 Lots of video-centric features including 4K/30p recording
🤩 First mirrorless camera with Nokia Ozo Audio
🤩 Good number of controls and buttons
🤩 Fully articulating screen pic.twitter.com/rNfiHBX90S

— TechRadar (@techradar) June 28, 2020
The Panasonic LUMIX G100 is available as a body only, a single lens kit which includes the G VARIO 12-32mm MEGA OIS Lens, or the vlogging kit which includes a 12-32mm lens plus the SHGR1 tripod/grip. For full details, visit the Panasonic Lumix G-Series webpage.