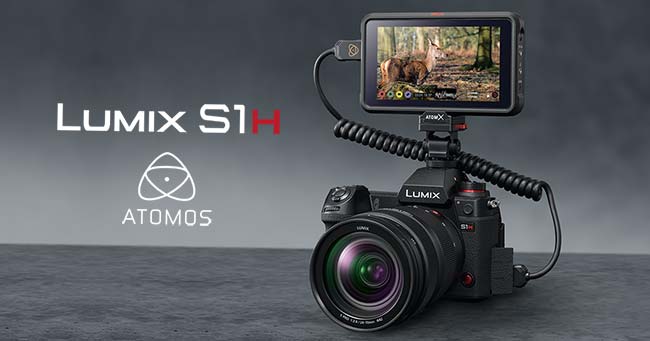 Around the world filmmakers, cinematographers, editors, YouTubers and tech enthusiasts have been raving about the version 2.1 firmware released for the Panasonic Lumix S1H.
It's already well-established that the Netflix approved S1H full-frame mirrorless camera is changing the game for how movies are being made and stories are being told, but what is it about this firmware update that has seasoned shooters and industry professionals excited?
The headline act is its new capability to output 5.9K RAW 30p 12-bit video data over HDMI, allowing users to save it in the workflow-friendly Apple ProRes RAW codec on an Atomos Ninja V video monitor/recorder. Captured footage is uncropped, using the entire sensor to deliver a 5888×3312 pixel, 16:9 aspect video file that offers producers and editors unparalleled versatility in post-production.
This video from the Lumix Team featuring Lumix ambassador PhotoJoseph is a thorough look at how to setup the camera for RAW output, how to expose for shooting RAW and how to edit your footage in Final Cut Pro X.
Other video sizes and frame rates are also compatible with the RAW output over HDMI, including 4K @60p and a 3.5K Anamorphic Super 35mm crop, giving directors and cinematographers the creative freedom to capture the scene however they need.
The other major advantage that allows existing S1H owners to breathe a collective sigh of relief is that the firmware is free and can be upgraded in your own home or office. This is a testament to Panasonic's ongoing commitment to add value and convenience for its busy, professional user base.
"Filmmakers will appreciate the production and editing potential that ProRes RAW from the S1H will provide. We've also further improved S1H functionality for filmmakers and still photographers with capabilities such as down conversion for output over 4K on HDMI; improved noise reduction when shooting in V-Log for greater control over the image; and enhanced stabilisation when using adapted lenses." – Scott Mellish, Senior Product Marketing Manager, Imaging, Panasonic
If you already own a S1H and want to take your hardware to the next level, check out the S1H firmware update page for a full rundown on everything this firmware provides, as well as a link to the download.
For a quick and easy guide on how to update the firmware on your S Series camera, see our instructional video below.
If you'd like to find out more about the Lumix S1H and its capabilities, head over to the Panasonic website.