Thank you this competition is now closed.
If you have an issue with your claim and would like to discuss your particular situation in person please contact us on 132 600.

We're happy to announce a new VIErA promotion helping you get the most out of your home viewing experience. It's an amazing offer – when you buy any Panasonic VIErA Full HD Plasma TV you get to claim a BONUS Blu-ray Player and 6 months Quickflix® Blu-ray and DVD rentals voucher valued at $418.70 RRP.
The VIErA Blu-Ray promotion will run from the 13th February 2010 up until 31st March 2010 with a limited amount of 20,000 bonus gift packs available.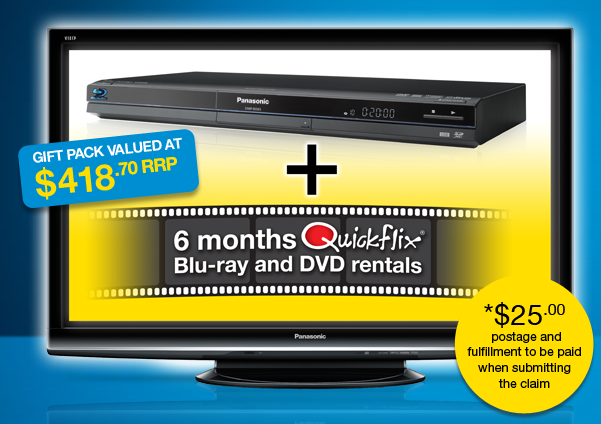 Only Blu-ray allows you to get the most from your Full High Definition TV. When you take a movie home on Blu-ray you're taking home the cinema-like image quality and sound that Hollywood intended. On any other format you're viewing lower quality standard definition – even if you have a Full High Definition TV. Blu-ray delivers the Full High Definition experience that brings movies to life.
Make sure you act fast as all claims must be lodged within 21 calendar days of your purchase. Once we receive your claim and receipt, we will validate your claim and then we'll do our best to rush your BONUS Blu-ray to you within 8 weeks.
Promotion Hotline
If you have any queries about this campaign or your claim, please contact the Panasonic Bonus Offer Hotline on 132 600 between 9.00 am – 5.30 pm (AEDST) from Monday to Friday (excluding public holidays).
Please visit the promotion website for more details and be sure to read the terms and conditions.
Panasonic Blu-Ray Player
Your bonus Blu-ray player will be the advanced Panasonic DMP-BD65.
Panasonic's multi-format Blu-ray players include VIErA Cast, allowing you to view YouTube™ and share photo albums using Picasa™.
Key Specifications
* Featuring new image enhancing technologies
* VIErA Link
* VIErA Cast
* BD Live
* Power saving standby mode
* AVCHD, JPEG Playback
Panasonic Blu-ray Disc™ players will play all of your existing DVDs and CDs.
QuickFlix
Quickflix® is Australia's leading independent online DVD rental service.
* Browse our online DVD library where you'll have access to over 38,000 titles (that's over 15 times more than your local video store) and create a 'Queue' of movies you want to watch.
* Delivery is FREE both ways! Movies are sent to you by Australia Post and include a reply paid envelope – totally hassle-free.
* Relax, take your time – you can keep your DVDs for as long as you want – there are NO LATE FEES!
* Return your DVDs in the reply paid envelopes provided and we'll send you more from your Queue. It's that simple.
To find out more, visit www.quickflix.com.au
The six month Quickflix® Blu-ray and DVD rentals voucher entitles you to take two DVDs out at any one time and a maximum of four DVDs out per month.