Food is such a central part of our lives and for many people it's not just about eating to live but indulging a passion for cooking and creating, and then sharing the results with friends and family. For people who have a passion for food, or even the casual cook, it's always fun to try new recipes. With Panasonic's great range of products, preparing memorable meals becomes simpler and you get better results. Here's a mouth-watering recipe you can try using the Panasonic rice cooker: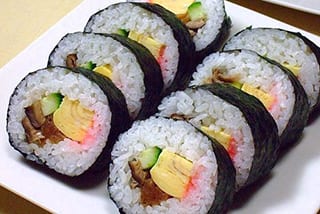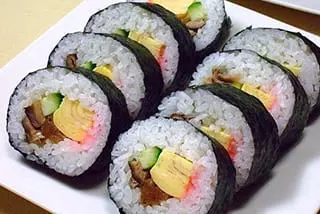 Futomaki sushi
Ingredients
2 1/2 measuring cups jasmine rice1/2 cup kiew ngoo sticky rice
1/4 cup + 2 tbsp vinegar
1/4 cup + 2 tbsp sugar
1 tsp salt
6 sheets Nori seaweed
12 sticks imitation crab meat
1/2 cup sliced omelet
1/2 carrot (horizontally sliced)
1/2 Japanese cucumber (horizontally sliced)
Mayonnaise
Rolling mat
Method
1. Mix vinegar, salt and sugar thoroughly.
2. Wash both types of rice by stirring with your hand in water, and then pour them into the inner pan.
3. Add water to the level 3 CUP and close the outer lid. Press Menu Select key to select White Rice mode. Afterwards, press Start key. Wait until you hear the beep sounds indicating that cooking is done. Open the outer lid and pour the mix of vinegar, salt and sugar you prepared into the rice. Then, blend them thoroughly. Afterwards, leave rice to cool down for 10 minutes.
4. Put Nori seaweed on the rolling mat. Thoroughly spread prepared rice onto the sheet of Nori seaweed and press rice on the sheet of Nori seaweed firmly. Spread mayonnaise thoroughly and put the imitation crab meat, sliced omelet, carrot, Japanese cucumber on the Nori seaweed layer. Then, roll them firmly and cut them into pieces (approximately 3 cm per piece).
5. Ready to be served with Japanese soy sauce, ginger preserves and wasabi.
Note : for 6-7 persons
Leave a comment and let us know how your futomaki sushi turned out.