The tinker toy sized Lumix GM1 makes the Australian Financial Review's John Davidson feel like a big man.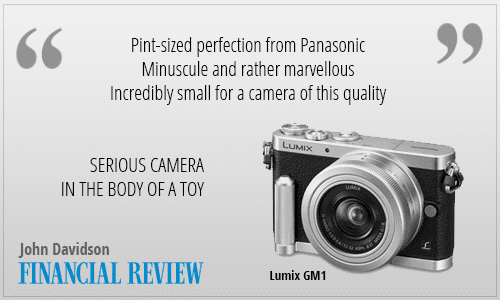 "Panasonic's new Lumix DMC-GM1 camera is minuscule and rather marvellous."
This witty review sees Davidson questioning whether his desire not to feel "small and hobbit-like" may have compromised his opinion of the GM1. After spending some time with our smallest-ever Compact System Camera, he came to the conclusion that a swag of other reviewers have reached; while GM1 diminutive size is a huge selling point, it also manages to produce the image quality of a much larger camera.
In addition to exceptional image quality, this highly-desirable camera offers a suite of innovative features, including a retractable interchangeable lens, built-in flash and Wi-Fi functionality.
Is it any wonder the GM1 is winning so many fans?
"It's a serious camera in the body of a toy. It's a remarkable feat of engineering, and with the right lens it could well be the best camera you ever slip into your pocket."