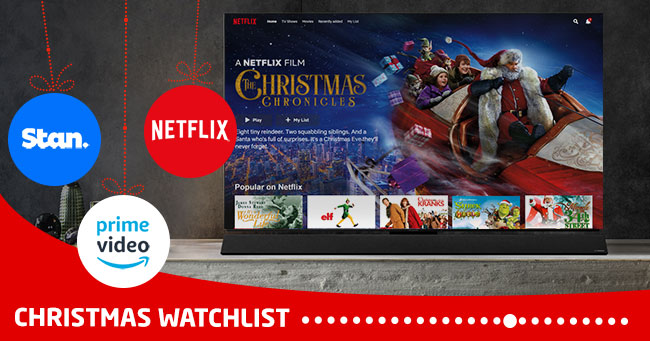 Some Christmas movies show us the real meaning of the season, some show us how to tap back into our childhoods, and some simply show us that it's never too late to be a better person. What they all have in common – and what makes them such a dependable pleasure – is the comforting message that love and hope will always triumph over hatred and greed. So we made a watchlist (checking it twice) filled with holiday content you can stream right now from Stan, Netflix or Amazon and they're ranked from naughty to nice.
THE NAUGHTY LIST
Netflix
DreamWorks Shrek the Halls
2008 | Animation, Comedy, Family | Starring Mike Myers, Eddie Murphy & Cameron Diaz
"It has some potty humor, but it still has a positive message about the importance of family and friends and that the true meaning of Christmas is being together with the people you love."
– Kid's Review, Common Sense Media
Just when Shrek thought he could finally sit back, relax and enjoy his happily ever after with his new family, the most joyous of all holidays arrives. It's Christmas Eve and everyone is filled with holiday cheer – except for Shrek. He isn't exactly the picture of yuletide joy, but for the sake of Fiona and the kids, he tries to get into the spirit of things as only an ogre can. Unfortunately, everyone seems to have their own ideas about what Christmas is all about, so when Donkey, Puss In Boots, Gingerbread Man and the whole gang try to join in on the fun, Shrek's plans for a cozy family celebration end up spiraling into one truly unforgettable Christmas.
Rated PG, streaming on Netflix now.
Netflix
BoJack Horseman Christmas Special: Sabrina's Christmas Wish
2014 │ Animation, Comedy, Drama │ Starring Will Arnett, Amy Sedaris & Alison Brie
"As intentionally hacky as "Sabrina's Christmas Wish" is, it still manages to be a pretty rich, moving philosophical/theological investigation of Christmas, ethics, and family."
– Eric Thurm, The A.V. Club
If you aren't already on the BoJack-train, you really need to question your life choices. Stop reading this immediately and go get acquainted with the miserable washed-up horse-man-hybrid star of 90s TV show Horsin' Around. Then you'll be ready for this fantastic satirical take-down of network TV Christmas specials where BoJack's roomie Todd forces him to watch a very special Christmas episode of Horsin' Around to celebrate the holidays. Yeah, it's a Christmas special hating on Christmas specials via the main characters watching a Christmas special. Meta in every way.
Rated MA, streaming on Netflix now.
Stan
Christmas with the Kranks
2004 | Comedy, Family | Starring Tim Allen, Jamie Lee Curtis & Dan Aykroyd
"Despite what everyone says about this movie being 'awful', 'the worst movie ever', and such, I enjoyed it immensely. I thought it was very funny and the end was extremely heartwarming."
– Fan Review, IMDb
This ridiculous comedy is such an underrated Christmas movie! When their only daughter Blair leaves the family nest, Luther and Nora Krank (Tim Allen and Jamie Lee Curtis) decide to book an island cruise to beat the yuletide blues and just skip the holidays. But their decision to boycott tradition has the whole neighborhood in an uproar, and when Blair calls on Christmas Eve to announce a surprise visit with her new fiancée, the Kranks have just twelve hours to perform a miracle and pull themselves and their neighbors together to throw the best celebration ever.
Rated PG, streaming on Stan now.
Prime Video
Scrooge
1935 | Drama, Family, Fantasy | Starring Seymour Hicks, Donald Calthrop & Robert Cochran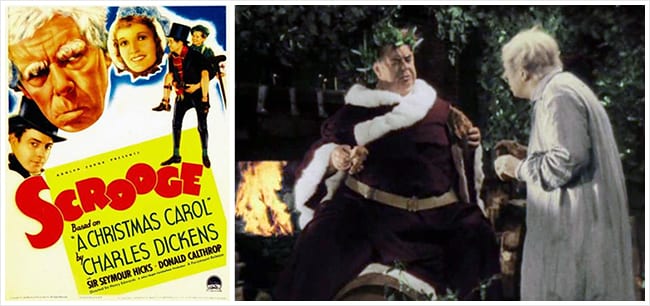 "Sir Seymour Hicks was a consummate Scrooge, so bent over, joyless, disagreeable and ruthless, that we can instantly embrace his dark character."
– Goat, Ruthless Reviews
The 1935 film adaptation of A Christmas Carol is considered the first 'talkie' version of Charles Dickens' 1843 novella. Scrooge, the ultimate Victorian miser and perennial naughty list candidate, hasn't a good word for Christmas, though his impoverished clerk Cratchit and nephew Fred are full of holiday spirit. But in the night, Scrooge is visited by spirits in hopes of encouraging him to change his ways.
Unrated, streaming on Prime Video now.
THE NICE LIST
Stan
It's a Wonderful Life
1947 │ Drama, Family, Fantasy │ Starring James Stewart, Donna Reed & Lionel Barrymore
"It's A Wonderful Life is a story of hope, redemption and kindness, which teaches us that having someone there for you when you need it the most is one of the greatest gifts you can receive."
– Natasha Grice, Virgin Trains & Rethink Mental Illness Campaign
For seventy years we've been immersing ourselves in the bucolic fictional town of Bedford Falls to root for George Bailey (James Stewart), the man who dreams of shaking the dust of "this crummy little town" off his feet and seeing the world. We've felt George's despair when responsibility and circumstances combine to thwart his dreams. And of course, we've rejoiced when the citizens rally to save George from ruin and show him that if love and generosity are true wealth then he is the richest man in town.
Director Frank Capra didn't make just another Christmas movie with It's a Wonderful Life, he also created a lasting message that life is worth living and that every person makes a difference. We lose sight of that every once in while which is probably why it's so easy to get homesick for Bedford Falls.
Rated PG, streaming on Stan now. 
Netflix
The Christmas Chronicles
2018 | Adventure, Comedy, Family | Starring Kurt Russell, Darby Camp & Judah Lewis
"I can't think of a better way to kick off my Christmas viewing and I can guarantee you that this one will be on my list of movies to revisit in the years to come."
– Glenn Cochrane, Screen Realm
Netflix's Christmas Chronicles' broke 20 million streams in the first week it dropped (for reference, that's the equivalent of a $200 million cinema release opening week) and this giant breakout hit is worth every single view. The story of a sister and brother whose Christmas Eve plan to catch Santa Claus (Kurt Russell, as you've never seen him before!) on camera turns into an unexpected journey that most kids could only dream about. After staking out Santa's arrival, they sneak into his sleigh, cause it to crash and nearly derail Christmas. As their wild night unfolds, Kate and Teddy work together with Santa and his loyal Elves to save Christmas before it's too late.
Rated PG, streaming on Netflix now. 
Netflix
Mariah Carey's Merriest Christmas
2015 │ Music, Musical │ Starring Mariah Carey, Lacey Chabert & Kelsey Grammer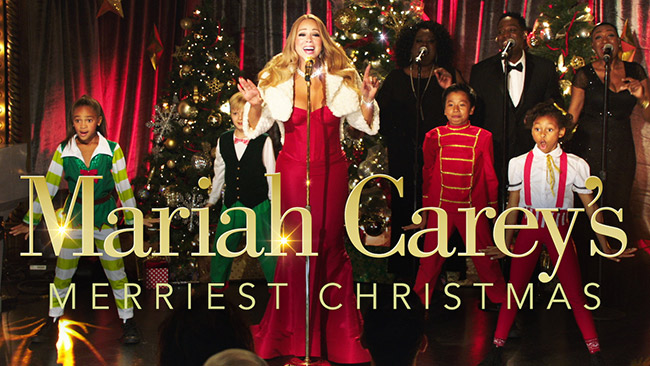 "Perhaps one of the best things about Mariah is that she knows she's a diva, and is perfectly at peace with being seen as an overly-demanding woman of great talent. Even in the batsh*t insane Mariah Carey's Merriest Christmas, she enters the stage riding on a sleigh being pulled by a group of hunky dudes in reindeer outfits."
– Julius Kassendorf, The Solute
Mariah stars as the Queen of Christmas in her very own variety show and it's cheesier than a family-sized block of Bega but that's what makes it so great. She sings all her favourite holiday hits, including the horribly infectious All I Want for Christmas (Is You). She deadest promises a little girl that Santa Claus is coming because she knows him personally. She continues her obsession with Lacey Chabert. She sings a duet with Babyface. Kelsey Grammer is there (because of course he is) churning out a celebrity reading of The Night Before Christmas. This is everything you never knew you wanted from Mariah Carey and she's managed to pack it all into a brief 38 minutes. We hope you have as much fun as the fake live audience who never looked anything less than demented with joy throughout.
Not rated, streaming on Netflix now.
Stan
Elf
2003 │ Comedy, Family, Fantasy │ Starring Will Ferrell, James Caan & Zooey Deschanel
"This is one of those rare Christmas comedies that has a heart, a brain and a wicked sense of humor, and it charms the socks right off the mantelpiece."
– Roger Ebert
It's a scientifically proven fact that this joyful Yuletide comedy is impossible to hate and anyone who tries to claim otherwise is sitting on a throne of lies. Will Ferrell plays Santa's not-so-little helper with such glorious good cheer even the most hardened of hum-buggers would find hard to resist. Of course, the star-studded cast all turn in superb performances of their own, particularly Zooey Deschanel's incredible Christmas carol renditions. Make it a family tradition to play Elf when you put up your holiday decorations to really get a good dose of the festive spirit!
Rated PG, streaming on Stan now.
Streaming Made Easy with Panasonic
Panasonic's range of smart TVs, Blu-ray Players and Blu-ray/HDD recorders make it easy to stream your favourite content from from Stan, Netflix, Prime Video, FreeviewPlus, ABC iview, SBS On Demand, YouTube, Telstra Box Office and more!
*Netflix subscription and internet connection required.