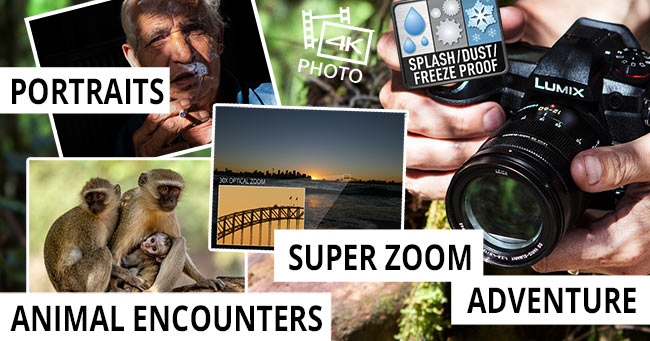 Nothing beats the experience of taking off to a fabulous destinations but one thing comes close, and that's the joy you get from taking photos of your exciting adventures and curating them into a photo album to treasure forever. It's a time-honoured way to relive precious memories, whether you prefer traditional prints or more modern options like Facebook albums, Instagram sharing, or creative photo books.
We've all become pretty reliant on our smartphones for capturing travel photos but these devices have a lot of limitations when it comes to image quality. The smart alternative? Choose a good camera with a compact body that's compatible with your smartphone via Wi-Fi and you'll get the convenience of instant social sharing, along with premium images that will stand the test of time. To find out which Wi-Fi-enabled LUMIX camera is your perfect holiday match, pick the album below that describes your photography style.
Album: Animal Encounters & Wild Adventures
Click on images to enlarge.
The LUMIX G9 takes the outstanding developments that debuted with the GH5 and adds new capabilities for specialised shooting never before seen in this class of camera, to deliver incredible responsiveness, stunning image quality, precise operability and outstanding mobility. In this portable, field-rugged, affordable package you'll find everything you need for capturing incredible wildlife, nature and landscape imagery. Take a walk on the wild side with the ultimate photography camera. In stores in January 2018. Pre-order now from participating retailers.
"This camera will be a very good choice for travellers who enjoy wildlife photography. It's really hard to fault on any level: it's a well-thought-out camera that is built to the highest standards"
– G9 first look by Mogens Johansen, Lead Travel Photographer & Travel Photojournalist for the Seven West Travel Club & The West Australian.
LUMIX G9
Album: Action-Packed Unmissable Moments
Click on images to enlarge.
The rugged and reliable GH5 is built for photographers on a quest to capture once-in-a-lifetime moments. This hybrid mirrorless camera delivers the perfect balance of high quality stills and phenomenal video technology, including a mode that lets you pull 18MP still images out of ultra high-quality video footage so you never miss the 'defining moment' – even is fast-moving environments.
"Picked up my GH5 this week and for me the best just keeps getting better. Never shot log footage until now, the GH5 gives such complete control over the quality of a recording, with it's various formats and bit rates. Well done again Panasonic another winner"
– Customer Review by John from South Australia, Pro Photographer.
LUMIX GH5
Album: Artistic Portraits & Scenic Imagery
Click on images to enlarge.
When you are looking to pair the ease of a 'point and shoot' compact camera with the breathtaking photographic results of a more complex DSLR-style model, the FZ80 all-rounder bridge camera that offers a range of creative controls for artistic results. This impressive camera includes a powerful super zoom lens, advanced image and focus technologies and manual control modes.
"The Panasonic Lumix FZ80 / FZ82 sets itself apart from interchangeable-lens cameras by offering all the controls you need for all types of photography, alongside a lens with a 20-1200mm focal range – and that zoom range alone makes a compelling case for amateur photographers to choose the FZ80 / FZ82 for use at home, on days out or on holiday"
– Techradar review April 2017.
LUMIX DC-FZ80
Album: Globe-Trotting Creative Travel Shots
Click on images to enlarge.
The TZ90 is pocketable camera with a flip-up monitor; perfect for social media savvy travelers who like to be in front of the lens as well as behind it! It also offers 30x optical zoom to get close to the action, a 20 megapixel MOS sensor for excellent image quality and 4K video and photo capabilities to capture fleeting moments.
"With a 30x optical zoom, built-in viewfinder, great continuous shooting, 4k UHD video with PASM exposure control, 4k photo modes, RAW recording, and a wealth of other features, it remains one of the most powerful pocket super-zooms around and comes Highly Recommended"
– CameraLabs review June 2017.
LUMIX TZ90
Bonus eftpos Card with LUMIX G Valued up to $600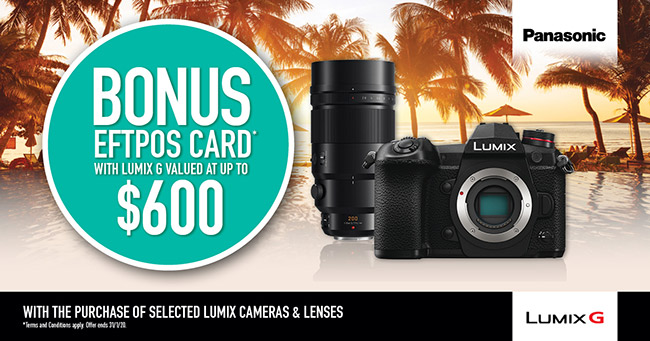 Photographers, here's your chance to score a bonus eftpos card valued at up to $600 with selected LUMIX G Series cameras and lenses purchased before 31/01/2020!
FIND OUT MORE
LUMIX Camera & Video Camera Range