The sensational line-up of Panasonic refrigerators welcomes a new model to the range with our stunning NR-CY54AGSAU 547L French Door Fridge. This premium refrigerator boasts the largest capacity of any French Door Fridge for its size, along with a practical design and stylish glass finish. It also features energy-saving ECONAVI technology, flat touch-panel control and easy access bottom-mount freezer.
Stylish finish and functional twin doors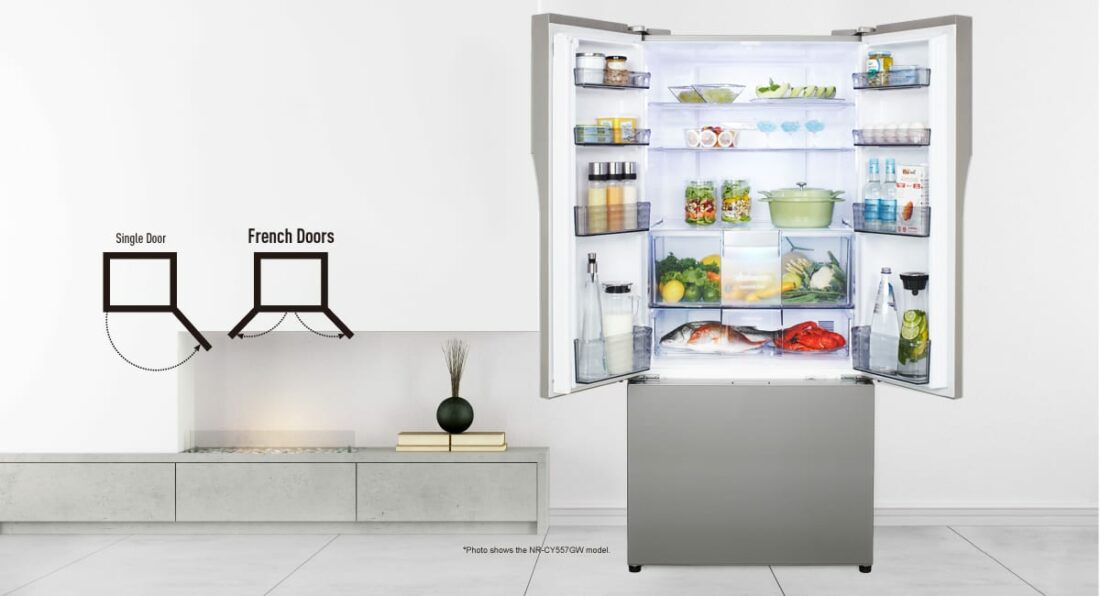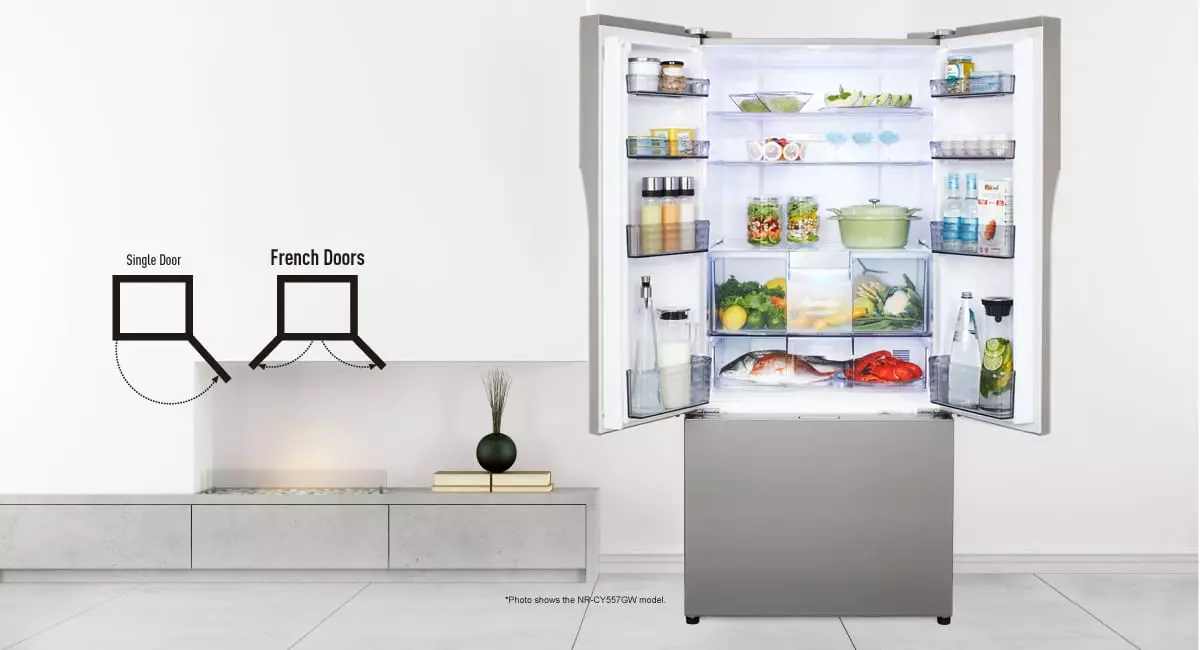 This stylish refrigerator will complement any kitchen with its elegant French doors, transparent glass finish overlaid on stainless steel backing and aesthetically pleasing curved handles. As well as making your kitchen look modern and attractive, the chic French doors are designed for easy use. The doors take up little room when opened, which is ideal where space is limited, and they help prevent cold air escaping so they also contribute to energy savings.
Easy-access interior and 0°C Chilled Case

Our design puts the food you will access most right in your line of sight, including a central vegetable crisper, so you don't need to bend down every time you are preparing a meal or looking for a snack. We've also included a Chilled Case that quickly cools and preserves freshness. By maintaining a temperature of approximately 0°C*, this compartment preserves freshness by chilling food items without freezing them. It's great for meat, dairy and yoghurt products or for quickly cooling beer and wine.
Enjoy fresher produce and a hygienic fridge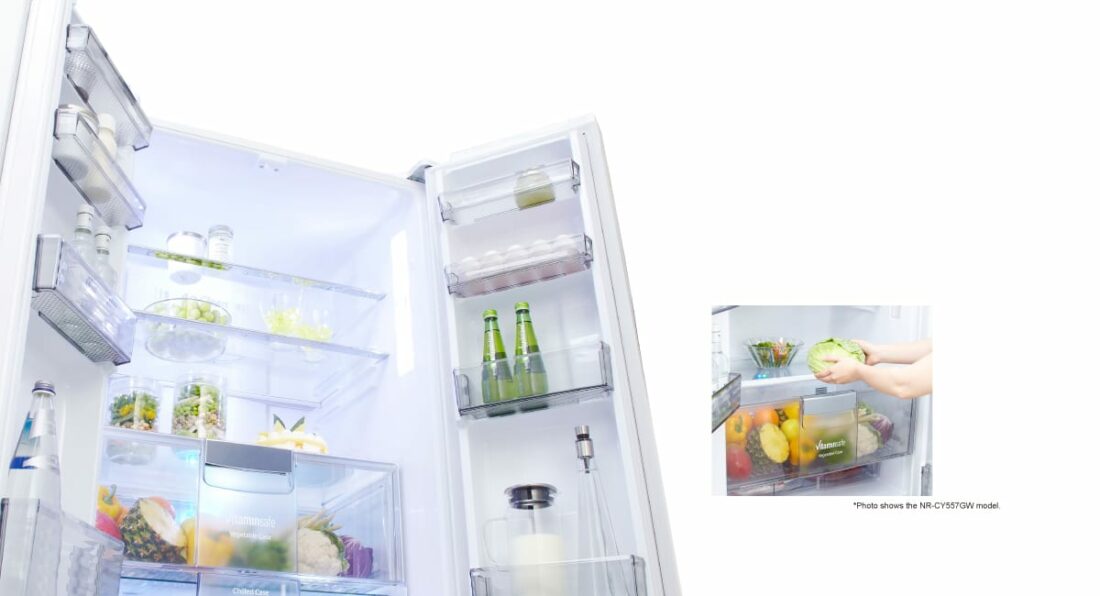 Fruit and vegetables start losing valuable nutrition from the moment they are harvested. That's why we developed Vitaminsafe technology; blue and green LED lights mimic the sun in the vegetable crisper, keeping fruit and vegies fresher for longer. Meanwhile, our French Door Fridge also features a powerful silver-coated filter with anti-bacterial properties. This filter cleans the circulating air to deactivate 99% of mould and bacteria inside the refrigerator, keeping your family healthy, while an active enzyme effectively prevents unpleasant smells from items like fish and strong cheese.
Bottom-mount freezer offers neat storage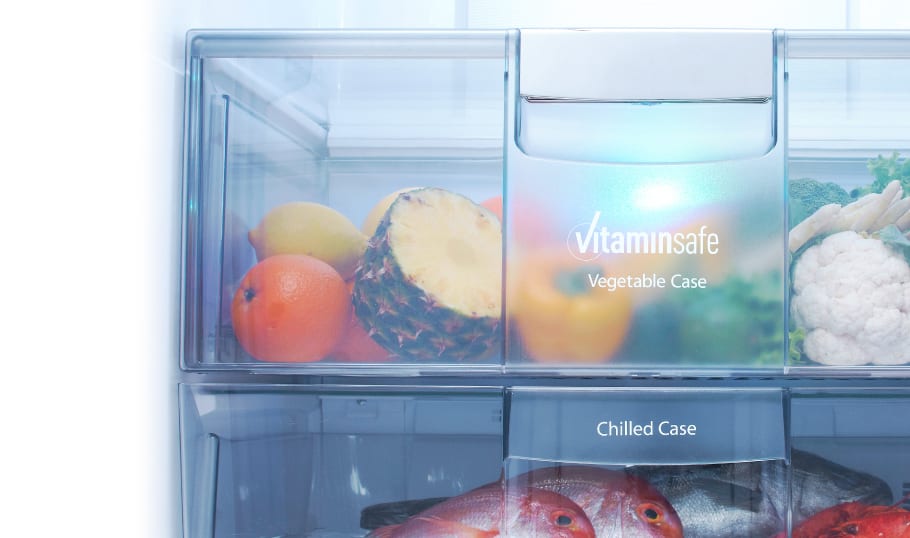 The drawer-type freezer makes it easy to put in and take out even large, heavy items. Also, looking down on items makes it easier than ever to find just what you want. So even when a lot of items are stored, you won't easily forget to use food you've bought or buy something you already have. The freezer drawer is designed with separate cases to allow for neat storage and hygienic separation of food items.
ECONAVI sensors adapt to your lifestyle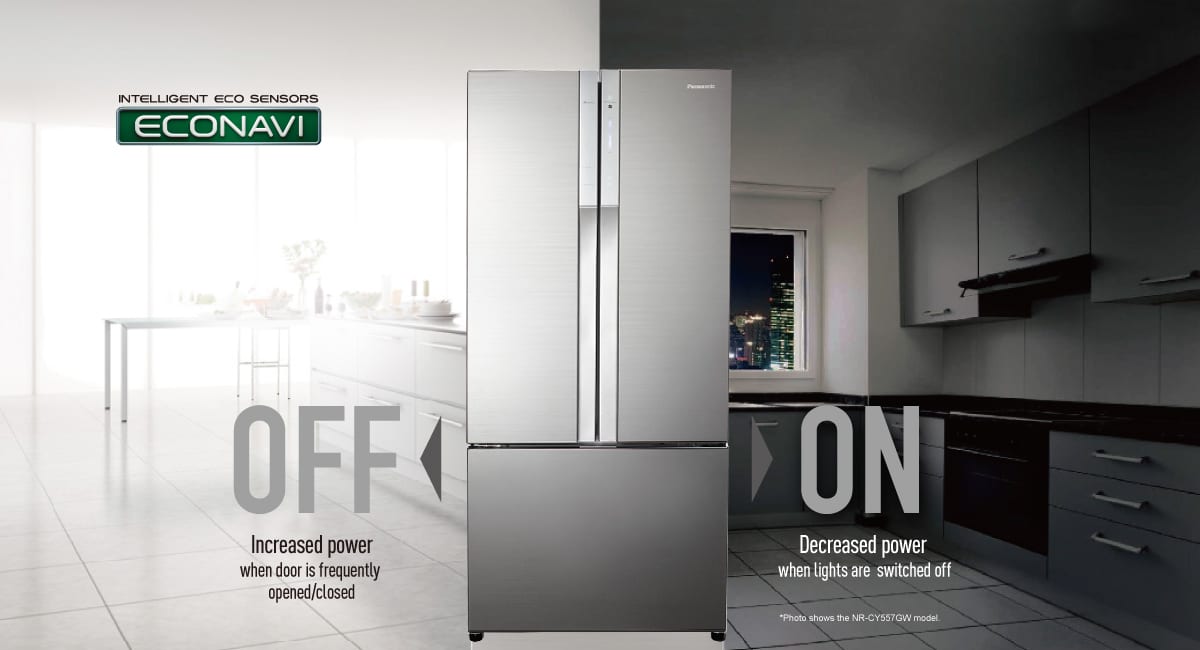 With Panasonic's ECONAVI sensors, living an eco-friendly life has never been easier. This revolutionary technology allows your fridge to monitor the level of lighting and temperature in the room, when and how often the fridge doors are opened, and the fridge's internal temperature. It then analyses and responds to this information to maintain ideal cooling and avoid wasting energy.
Explore NR-CY54AGSAU