Panasonic bottom-mount refrigerators not only stylishly blend in with your lifestyle and kitchen décor, they also integrate a host of technology which preserves the freshness of food for longer and ensures eco-friendly operation.
ECONAVI sensors adapts to your lifestyle
ECONAVI technology uses sensors in the refrigerator to monitor your patterns and then adapts the energy usage around your lifestyle, giving you more power when you need it, minimal power when you don't. By monitoring lights, room temperature, internal temperature and door usage, ECONAVI technology, in conjunction with our Inverter compressor, allows our refrigerators to regulate the temperature and save you energy without compromising on your appliance and usage.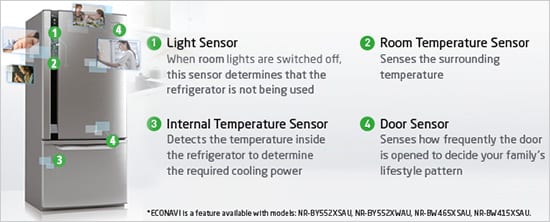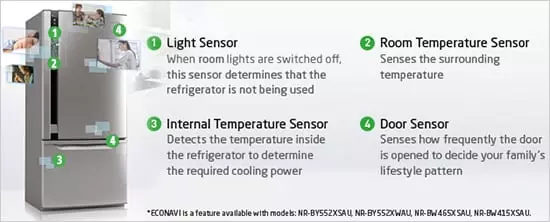 A great design gives you lots of extra space
We have some great features to maximise space in our fridges, like the enormous vegetable crisper which has room for even the biggest vegetables such as celery and shallots. Because most Australians store large amounts of fruit and vegetables in the fridge, we have made sure our crisper is big enough to handle all of it so there is less food wastage.
Our generous door pockets can hold a 3 litre bottle of milk and our glass shelves can be moved in the fridge to create extra room. To make things really convenient, we have put the freezer at the bottom, leaving the fridge section (where you spend the majority of your time) easily accessible.
Clever features make our fridges a 'must-have'
Panasonic fridges are sleek and modern, making them a perfect complement to any kitchen. We also have some exclusive features that make the Panasonic fridges stand out, like our Vitaminsafe technology that uses blue and green LED lights mimic the sun in the vegetable crisper, helping to keep your food fresher for longer.
The range also features Ag Clean, our anti-bacterial and deodorising system. Tiny silver particles keep mould and bacteria at bay, and the deodorising agent helps to keep your fridge smelling lovely by minimising strong smells such as fish and cheese.