Last updated: January 2015
There's something so wholesome about a vegetable crisper that is bursting with delicious fruits and vegetables. The only downside to loading up on fresh produce is that they often lack a decent shelf life and need to be thrown out before you can put them to use. To make sure you get the longest life possible out of the fresh items in your fridge, we have put together a list of ingenious tips that make sure your groceries don't find their way to the bin before they have even hit the plate.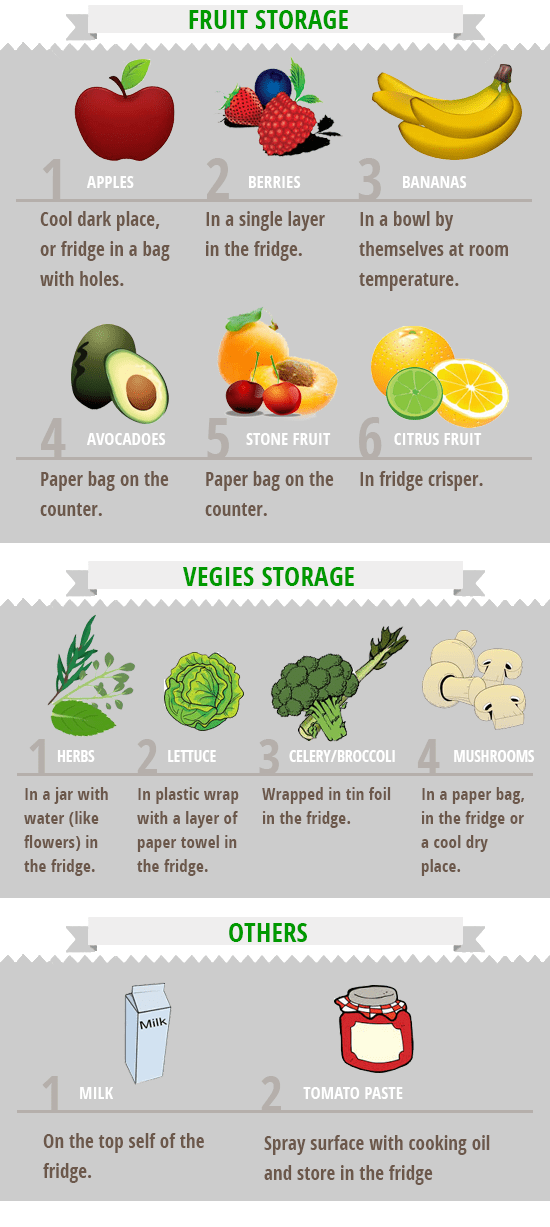 You could always let your fridge do all the hard work!
Panasonic's range of refrigerators feature vegetable crispers that maintain the ideal temperatures and humidity required for storing fresh produce, plus surround cooling airflow to ensure all items in the fridge are gently chilled without becoming dehydrated.
Fresher fruit and vegies with Vitaminsafe
Our Vitaminsafe technology that uses blue and green LED lights mimic the sun in the vegetable crisper, helping to keep your food fresher for longer.
Airtight vegetable crisper promotes freshness
You'll enjoy fresher fruits and vegetables thanks to this clever vegetable crisper that maintains a stable temperature and high humidity; ideal conditions for storing delicate fresh produce. Airtight control is assured by a direct vent type handle, enabling secure locking to shut out cold air and maintain optimum conditions inside the crisper, so your fruit and vegies retain their nutritional content stay fresh for longer. What's more, because the crisper is so spacious, fresh items also benefit from not being squashed.
AG Clean eliminates bacteria and odours
The powerful AG Clean silver-coated filter with anti-bacterial properties cleans the circulating air to inactivate 99% of mould and bacteria inside the refrigerator, keeping your family healthy, while an active enzyme effectively prevents unpleasant smells from items like fish and strong cheese.
Innovative cooling prevents damage
With the Surround Cooling Airflow feature, chilled air from the rear panel rises upwards and to the sides to surround food items rather than using direct cold air. This allows food to be gently chilled without becoming dehydrated.
Together these features combine to create a stable environment your produce will thrive in, helping you to cut down on wastage from spoiled food.