When you think about how many layers of protection us humans need to face the ski slopes and snow fields, imagine how tough your tech has to be to survive those freezing temps.
It's worth investing in a good freezeproof camera to take on your trip to the snow because just about every moment that unfolds is worthy of snapping a picture. From trees branches heavy with fallen snow, to gleaming white mountains or the kids tumbling about and frolicking in the powder, winter wonderlands provide a bounty of photo opportunities.
Equip yourself with a tough freezeproof Panasonic action cam or LUMIX digital camera, and you'll be set to capture every magic moment, even if the temperature drops as low as -10 °C.
HX-A1: the ultra-light, tough Panasonic action cam with night vision
Freezeproof down to -10 °C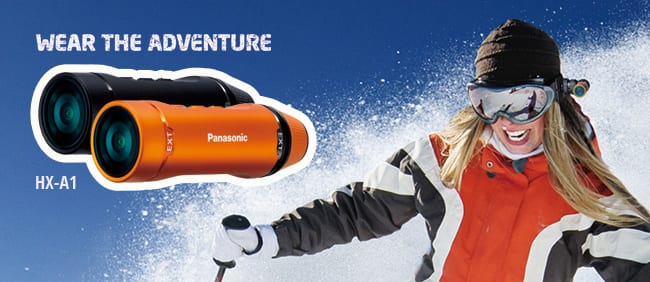 With our HX-A1 Full HD action camera, we're leaving the competition behind. Weighing only 45g, the HX-A1's sturdy unibody design keeps water and dust out and protects against impact and cold temperatures without the need for additional housing. Whether you'll be getting wet while canoeing and rafting, or snowboarding and skiing in the freezing cold, the HX-A1 can handle it all straight out of the box. It also offers night vision mode and even Wi-Fi control, which gives you plenty of bang for your buck.
Read more
The ultra light HX-A1: the first tough action cam with night vision (Panasonic Blog)
HX-A1 Action Cam (Product page)
FT6 & FT30: the thrill-seeking LUMIX camera survivors
Freezeproof down to -10 °C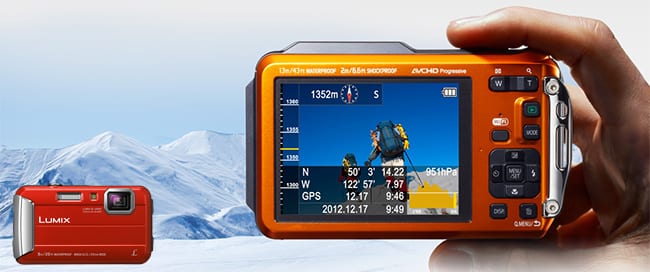 If you can climb it, ski it, jump it or dive it, you should be doing it with an FT6 (awarded Best Rugged Camera at the prestigious TIPA awards in 2015) or FT30. Documenting your adventurous life requires a camera that that is tough enough to survive (and thrive!). The FT6 and FT30 are all-year-round active field players, boasting waterproof, shockproof, freezeproof and dustproof features that let them record stunning images in just about any environment. The flagship FT6 also offers an advanced GPS and a range of Wi-Fi features, so no matter how far you venture, you'll always be connected.
Read More
FT6 awarded Best Rugged Camera at TIPA Awards 2015 (Panasonic Blog)
DMC-FT6 (Product Page)
DMC-FT30 (Product Page)
Now you know what camera to take on your adventure to the snow, have a look at these handy tips and tricks to brush up your photography skills and you'll be snapping pics like a pro:
Top tips for memorable holiday photos with our Lumix cameras.
Turn ordinary family pictures into something so much more special.