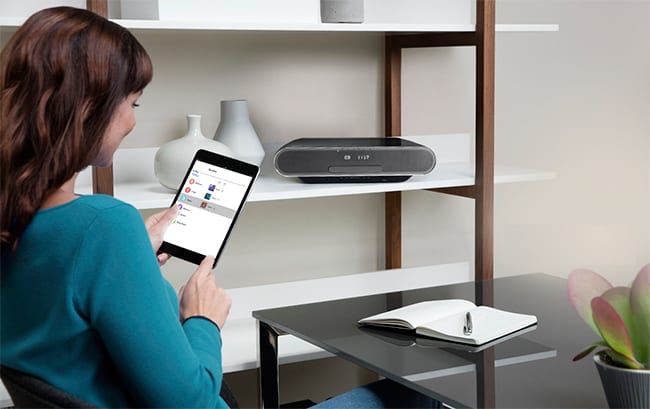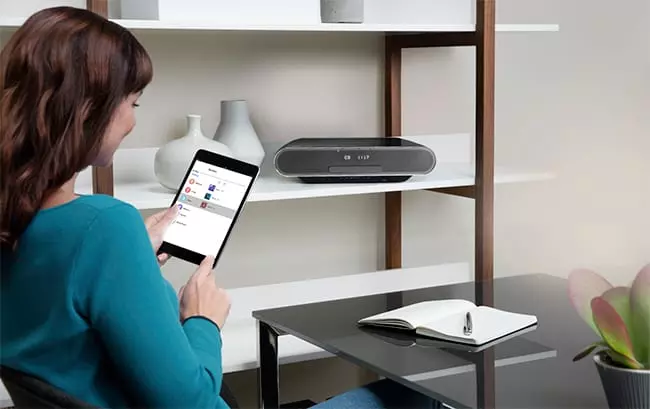 Meet the newest model to join our exceptional ALL Connected Audio line-up, the very clever SC-ALL7CD. A host of impressive features and spectacular sound technologies are housed within this cutting-edge compact wireless speaker, making it the perfect choice for a standalone speaker or as part of a networked audio system. You can restream your music to other ALL Connected Audio speakers and enjoy playback via CD, USB, radio or your favourite digital music services.
If you've got a treasured CD collection, you're going to love the ALL7CD innovative recording features. You can insert your CDs and save them to the 4GB internal memory*, making your compilations accessible with one touch of a button. Then you can shuffle play tracks from up to 25 albums, hear all your recorded music back-to-back and of course re-stream your tunes to connected speakers.
Learn about the rest the ALL Connected Audio family
The Panasonic ALL Connected Audio range is a series of networked speakers that make it easy to stream your music to multiple rooms from an array of different sources. Each model can stand alone as a sensational audio unit, or connect with other products in the lineup to create a dynamic sound system. Read more about each model or watch the video below.
ALL Connected speakers work together to create audio magic
Take a look at just some of the possible configurations you can enjoy at home with Panasonic ALL Connected Audio wireless speakers: http://bit.ly/ALL-Connected-speakers-home-configurations.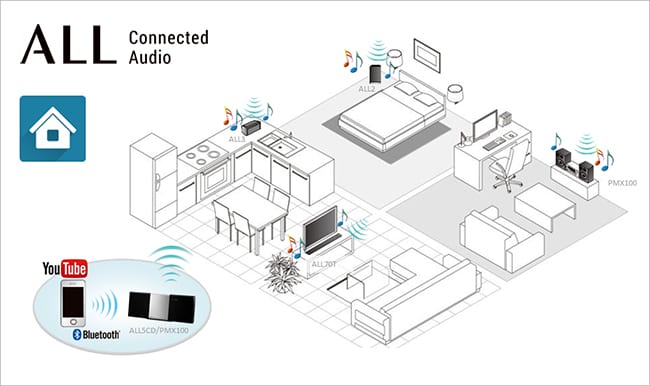 Smart multi-room streaming at your fingertips
Using an existing Wi-Fi network, you can quickly and easily set up a series of networked ALL Connected Audio speakers throughout your home and control them with our intuitive mobile app. The Panasonic Music Streaming App lets you stream music from a wide range of music platforms, including the likes of Spotify and Qualcomm ALL Connected Audio Radio powered by TuneIn. You can stream via Wi-Fi to any ALL Connected Audio device, and then with Panasonic's innovative Bluetooth Re-streaming feature you can share this music to other compatible speakers around the home.
Download the Panasonic Music Streaming App: