Meet the newest model to join our exceptional ALL Connected Audio line-up, the very clever SC-ALL7CD. A host of impressive features and spectacular sound technologies are housed within this cutting-edge compact wireless speaker, making it the perfect choice for a standalone speaker or as part of a networked audio system.
You can restream your music to other ALL Connected Audio speakers and enjoy playback via CD, USB, radio or your favourite digital music services. You'll also love using the 4GB internal memory to record your CDs and play them in a whole new way.
Breathe new life into your CD collection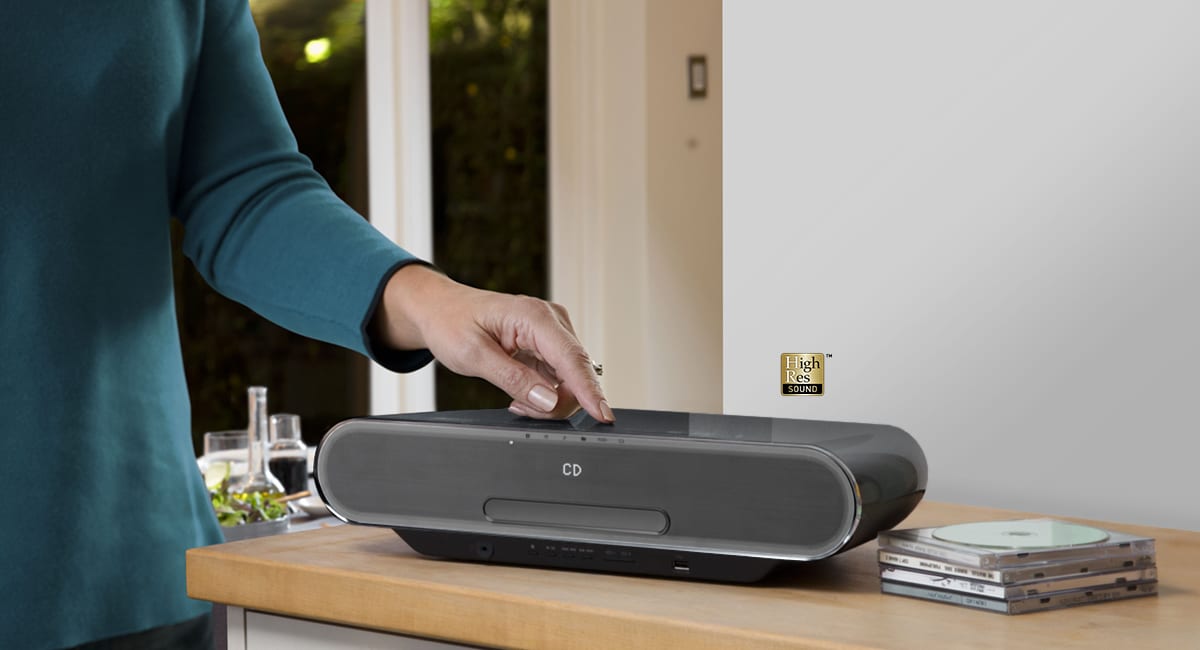 If you've got a treasured CD collection, you're going to love the ALL7CD innovative recording features. You can insert your CDs and save them to the 4GB internal memory*, making your compilations accessible with one touch of a button. Then you can shuffle play tracks from up to 25 albums, hear all your recorded music back-to-back and of course re-stream your tunes to connected speakers.
* Recording and playback on this (or any other) device may require permission from the copyright holder. Panasonic has no authority to and does not grant you that permission and explicitly disclaims any right, ability or intention to obtain such permission on your behalf. It is your responsibility to ensure that your use or intended use of this or any other device complies with applicable copyright law in your country.
Smart multi-room streaming at your fingertips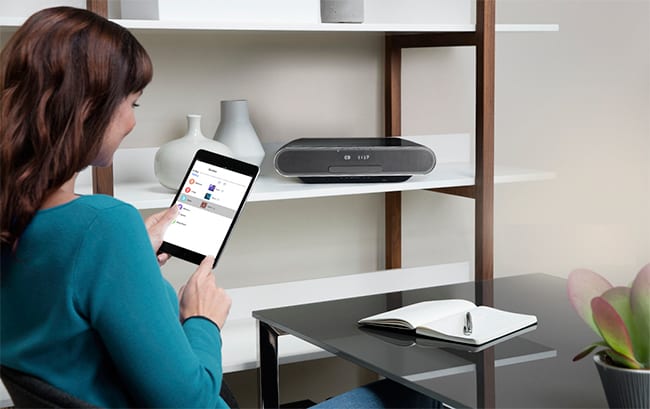 Using an existing Wi-Fi network, you can quickly and easily set up a series of networked ALL Connected Audio speakers throughout your home and control them with our intuitive mobile app. The Panasonic Music Streaming App lets you stream music from a wide range of music platforms, including the likes of Spotify and Qualcomm ALL Connected Audio Radio powered by TuneIn. You can stream via Wi-Fi to any ALL Connected Audio device, and then with Panasonic's innovative Bluetooth Re-streaming feature you can share this music to other compatible speakers around the home.
Download the Panasonic Music Streaming App:
Get ready for spectacular high resolution sound
Don't be fooled by the ALL7CD's compact size; this little baby is packing some serious sound technology. 50kHz tweeters make treble sound crisp and clean and digital amplifier technology achieves clear sounds with minimal noise and distortion, unleashing the full potential of your high-resolution media. You'll be impressed with the ALL7CD's ability to deliver powerful bass, a feat made possible in such a small speaker by incorporating a twisted acoustic port. The ALL7CD can play high-resolution FLAC files, and Bluetooth Re-Master technology is on hand to deliver maximum audio quality from your Bluetooth streams.
Learn more about the new SC-ALL7CD
Learn more about the Panasonic ALL Connected Audio range.