Take smart control of your home entertainment world
Smartphones and tablets are becoming an integrated part of our life and we love it. So we have created free apps that turn your smartphone/tablet into an intuitive remote control for selected models of our 2012 Blu-ray players/recorders, home theatre systems, micro Hi-Fi's and VIERA TVs.
Panasonic DIGA Recorder 2012
Twin tuner technology available on selected Panasonic Blu-ray models* is fantastic because it allows you to record one program and watch another, record two programs and watch something on your hard drive or record two programs and watch a disc. Now thanks to a fantastic new remote app, you can actually utilise both tuners; sending one tuner image directly to the TV and another completely different channel to your mobile device on iOS or Android platforms using Smart Link. This means you can move around the house, watching anything you want on your smartphone or tablet. In addition to watching live broadcasts, you are also able to watch anything that has been stored on the hard drives. Our hard drives are between 500GB and 1TB and if you require extra space, you're now able to register up to eight external hard drives, up to a total of 2TBs in size and then you are able to access any content stored via your portable device.
The Panasonic DIGA Recorder will support both iOS/Android Platforms and will be available for download on Thursday 26th of April.
* Available on BWT820 and BWT720 only
Panasonic Theatre Remote 2012
For the first time ever, Panasonic will be releasing a Blu-ray Home Theatre application for your iOS tablets or your smartphones as well as android based platforms. Of course, the app allows you to perform your basic remote control functionalities plus you can tailor the app's functionality to your own preference. Customise different skins for different purposes, where you are able to choose your inputs, your volume levels, your base levels and more. If you want to experience even more exciting content, you can utilise our VIERA Connect platform. We have applications such as YouTube and Facebook where the ability to utilise the keyboard function of your smart device will be a huge advantage. Another great thing about the home cinema app is its ability to function with our 3D Virtual Cinema feature and show you precisely where the sound is coming from. 3D Virtual Cinema is designed to envelop you in sound and really immerse you as deeply as cinema audio. With this app, you can really make the most of that audio feature by using it to choose your equalisers and your subwoofer levels for the optimum audio experience.
Download for iOS here:
http://itunes.apple.com/au/app/panasonic-theater-remote-2012/id510359526?mt=8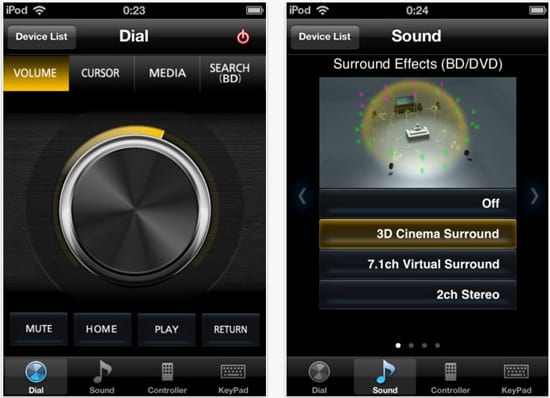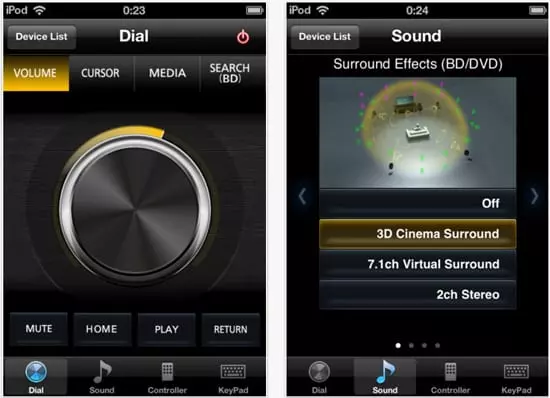 Download for Android:
https://play.google.com/store/apps/details?id=com.panasonic.avc.diga.theaterremote2012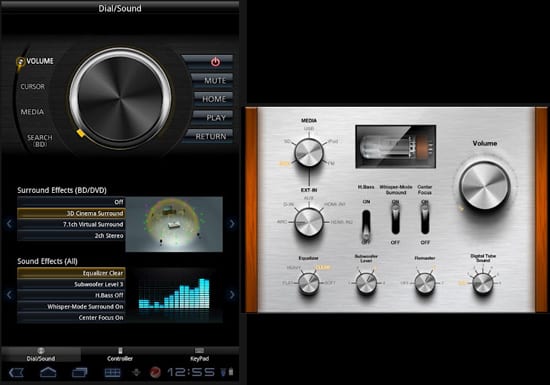 Panasonic Stereo System Remote Control App
With smartphone/tablet apps poised to offer a new level of control across our home entertainment categories, you will be pleased to know that we have now created a remote control app for our premium Micro Hi-Fi, the SC-HC57 and our Wireless Speaker, SC-AP01*. Download the app and you will find that the complete range of remote control functions is available via your smart device. You have the option to control the volume and to change the sound quality, or if you like extra base, or more of a surround sound feeling, you can adjust that via your smart device Using the 'gyros' within the tablet or smartphone you can flip your phone or tablet and you can actually change the colour of the interface and match it to the depending music you are listening to or what mood you in. This app has got another great little trick up its sleeve: you can just swipe your hand across your smartphone and it will automatically slide open the SC-HC57, making easier to access your iPod or to change the CD.
Download for iOS:
http://itunes.apple.com/us/app/panasonic-stereo-system-remote/id489024215?mt=8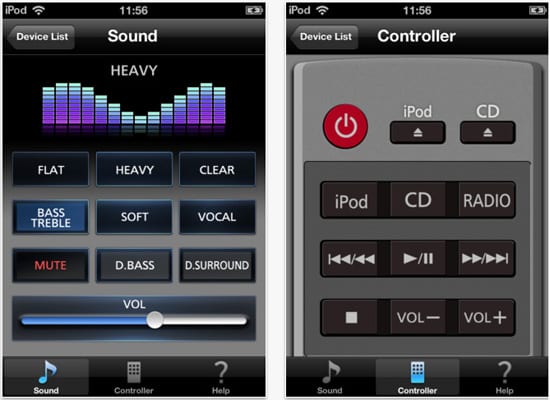 *Please note HC57 & AP01 support Airplay only
** The Panasonic Stereo System Remote 2012 app is not available on the Android Market.
Smart VIERA Remote V2.0
Last year we launched a remote app for VIERA TVs* and this year we are very proud to be offering an even more sophisticated version for selected 2012 VIERA models. In addition to functioning as a complete remote control, this app allows you to access and share stored content in an exciting new way. For instance you can use your smartphone or tablet to access web content and you can even use the app to share content on the big screen. Let's say you have a video stored on your mobile device that you want to share with friends. Sure, you can show them on the device itself but that is a very personal experience, the very nature of the small screen ensures that it is very much one-to-one. Now thanks to our new VIERA remote app, you can touch the screen of your smartphone or tablet and slide the image (web flick) up onto your 2012 VIERA TV, opening up the viewing experience to everyone in the room. Another new function this year is that we now have two-way communication between your television and your mobile device. Imagine you are watching the football and you want to leave the room, using VIERA viewer tab on this app, you can flick the football broadcast onto your mobile device and take it with you anywhere in the home, ensuring you don't miss any of the action.
Download for Android:
https://play.google.com/store/apps/details?id=com.panasonic.pavc.viera.nrc&hl=en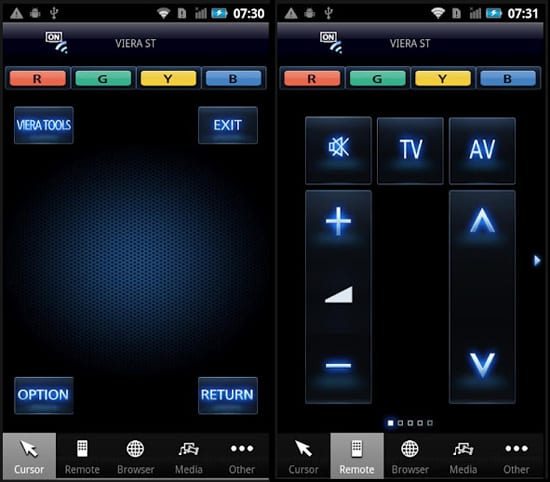 *Smart VIERA Remote App Version 2.0 available on VT50, ST50, UT50, XT50, WT50, DT50, ET50, ET5 and E5 Series. Web Flick not available on E5 Series.
* Smart VIERA Remote App Version 2.0 for iOS will be available soon for download from iTunes