Panasonic VIErA now with Skype gives everyone the chance to show their support for the Wallabies. C'mon Wallabies!

Wallabies fans get ready because this is no ordinary year!!
This year the Wallabies take on the might of the world and together we can make a stand. With 22 million screaming fans it's time to show the world we have arrived. You can help the Wallabies go the distance by sending your message of support.
You could win a fantastic prize each week
The overall best message as judged by Panasonic and the Wallabies will win the Grand Prize including a 50″ Plasma TV with Skype camera, surround sound system, SD Card and signed Wallabies Jersey. Plus you will score the ultimate fan experience chatting live via Skype with the Wallabies in New Zealand.
To start simply click on the Show Your Support & Win tab and follow the directions.
Show your support by voting for the best videos
The overall best message as judged by Panasonic & the Wallabies will win the Grand Prize including:
1 x TH-P50VT30A Panasonic Plasma TV
1 x sc-BTT775GNK Panasonic Home Theatre System
1 x TY-CC10W Panasonic Skype Camera
1 x RP-SDW16G Panasonic 16GB SD Card
1 x 2011 Signed Wallabies Jersey
1 x Private Skype Call with the Wallabies
on (date to be advised).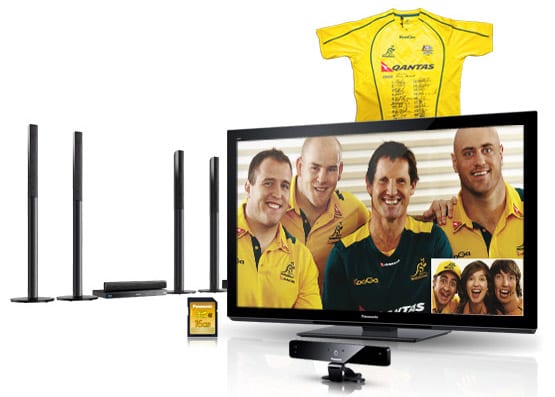 The videos with the most votes each week will win the weekly prize:
Thank you and congratulations to our weekly winners who have submitted their videos of support for the Wallabies.
Week 1 Aug 19th – 26th: Wallabies Players Training Cap
Week 2 Aug 26th – Sept 2nd: Wallabies Reversible Jacquard Scarf
Troy Simpson – Finalist
Neil Stollznow – Finalist
Frau Anna
Finn Hoegh-Guldberg
Week 3 Sept – Sept 9th: Wallabies Rib Knit Beanie
David Tran – Finalist
Catherine Pitt
Gillian Harridge
Mohit Harikisun
Week 4 Sept 9th – Sept 16th: Wallabies Replica Beach Ball
Week 5 Sept 16th – Sept 23rd: 26cm Plush Wallaby Mascot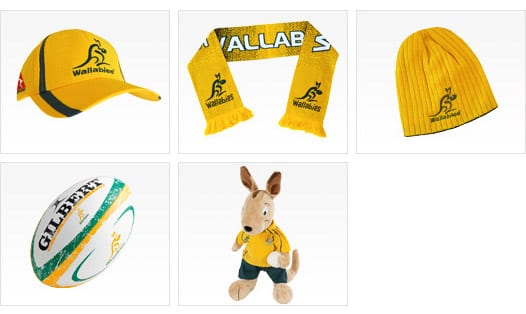 Please see Terms and Conditions for full details.
Final entries close 8:59am AEST on 23/9/2011
Insider news from Camp Wallaby
Panasonic are also taking you inside Camp Wallaby for all the latest action and behind the scenes news. Catch up on video and images from the team as they prepare to take on the might of the world.
Use the calendar to view all the news updates from the Wallaby camp here
Panasonic VIErA and Skype lets you watch the game with your friends – no matter where they are
Panasonic VIErA TVs are perfect for watching fast-moving Wallabies games thanks to advanced technology that clearly renders even the fastest play. The newly introduced Skype feature made possible by VIErA Connect is going to make every game even more exciting. You will be able to enjoy real-time video calls with other Wallabies fans during the game, so no matter where your family and friends are it will be like they are right there in the living room with you as every play unfolds.
Big-screen Skype calls made simple
By using a Panasonic-compatible Skype camera, you can enjoy video calls from your VIErA TV while you watch the Wallabies play. The Panasonic Skype camera features four multi-directional microphones and can capture video and audio from up to five metres and the unit is made for simple operation via your VIErA remote. Check out the Skype camera
Never miss another video call

This year, Skype on Panasonic VIErA Connect TV's also offers a fantastic 'video answering machine' feature by combining a Panasonic Skype camera with selected Panasonic Blu-ray Recorders. So if you aren't home (or the Wallabies game is too exciting to interrupt), your friends will be able to leave a Skype message. You can record a personalised voice or video message, which plays automatically when a call cannot be answered, and then incoming callers can record video messages, which can be watched at your leisure. Check out the new Blu-ray range
We are all in. Are you?