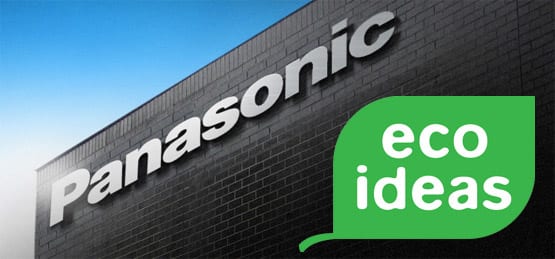 Panasonic made the seventh annual list of the world's 100 most sustainable companies as it earned high marks for integrating sustainability challenges into its business strategy.
Osaka, Japan – Panasonic Corporation today announced that it has been named in the 2011 Global 100 Most Sustainable Corporations in the World, one of the highly-recognized indexes for corporate sustainability. It marks the fourth time since the company received the recognition in 2006, 2008 and 2009. The global ranking was launched in 2005.
The Global 100 is compiled annually by Corporate Knights, a Canadian magazine focused on responsible corporate practices, which collaborates with its strategic partners to rate corporations worldwide based on a thorough analysis of their environmental, social and governance (ESG) performance. The Global 100 is announced each year at the World Economic Forum in Davos.
Panasonic made the seventh annual list of the world's 100 most sustainable corporations as it earned high marks for integrating sustainability challenges into its business strategy.
Panasonic announced last May its business vision, aiming to become the No.1 Green Innovation Company in the Electronics Industry by 2018, the 100th anniversary of its founding. While it has been striving to achieve the goal, Panasonic developed in October last year an environmental action plan called Global Plan 2018 to facilitate the company to achieve its environmental goals and business growth by placing the environment at the center of all its business activities.
Panasonic has been addressing a wide range of corporate social responsibility issues, including environmental issues, human rights, safe and hygienic working environment and corruption. The company has been practicing good corporate citizenship and socially responsible procurement on a global basis as well. For example, to ensure fair and transparent business practices at Panasonic Group companies worldwide, the company has developed a compliance program with specific clauses to prevent bribery of public officials and suspicion-inducing behaviors by its employees. For procurement and supply chain management, Panasonic has been conducting in a fair and appropriate manner, in accordance with its Clean Procurement Declaration, and has further extended its CSR guidelines throughout its supply chain down to the raw materials towards the non-use of "conflict minerals."
As a "public entity of society," Panasonic strives to fulfill its responsibilities to help build a sustainable society, while continuing to make contribution to society through its business activities.
*The content in the following news releases is accurate at the time of publication but may be subject to change without notice. Please note therefore that these documents may not always contain the most up-to-date information.
Global environmental responsibility
"We are firmly committed, as a public entity of society, to making concerted efforts to implement our unchanging management philosophy around the world.
It is not enough for us to come up with ideas for better living with new and better products.  Panasonic wants to contribute to a mature society in which individuals and the community grow together, where everyone enjoys a fulfilling life that is both safe and secure. We also envisage a sustainable society that is in harmony with nature.  With these goals in mind, we at Panasonic will ever more closely align our business with the views of customers, incorporating those views into our manufacturing activities."
"Living in harmony with the global environment is everyone's responsibility"
There is no place for a company that does not fully embrace this spirit.  Panasonic is working to reduce environmental impact in all its business activities.
In 2018 Panasonic celebrates its 100th anniversary.  By then, we aim to be the number one "Green Innovation" company.
We will make the environment central to all of our business activities, and take the lead in promoting the so-called green revolution which is taking place around the world. Specifically, we will work to realise our vision with these two innovations.
Green Life Innovation
Panasonic aims to provide people around the world with a sense of security, comfort and joy in a sustainable way.  That's our corporate definition of 'better living'.
In real terms, we see this as:
Living with virtually zero CO2 emissions for the home and other buildings
Living with, and using recyclable products
Living with the evolution and increased use of 'eco cars'
The green life is within our reach by creating innovative businesses, products and services, one after the other, and offer them to the community.
Green Business Innovation
A commonly accepted goal of manufacturing is "zero cost, zero time, zero inventory".  To this ideal goal, we would also like to add "zero emissions (of CO2 and other waste). We consider this to be of equal importance to the other ideal zeroes.
Panasonic aims to achieve this 'new zero' by:
Minimising CO2 emissions throughout the entire manufacturing, administration and distribution process
Minimise waste by implementing recyclable manufacturing techniques
Sharing our experience and knowledge in these areas with the community
Design
Following function with form is no longer enough if we are to commit to our "zero impact" ideals.
As the 'practical dreamers' of the technological world, Panasonic observes the way its customers live now and how all of us want to live in the future.  The result is a drive towards eco-friendly, universal design that is innovative and always one step ahead, at the same time as it delivers our product principles of security, safety and reliability.
Panasonic's approach to design is to combine our customers' immediate need for life-enhancing products with the bigger picture of sustainability.  This simultaneous 'big-picture, small detail' thinking results in, for example, the linking of our home digital AV products with TV as the core.  A seamless blend of creativity, technology, design and function to enhance daily life is part every new Panasonic product.
Design values
As Panasonic continues to pursue its brand values of vision, refinement and trust, particular aims and goals become apparent.
One step ahead innovation
Achieving remarkable product features through innovative, unified designs.
The satisfaction of using a premium product
Pursuing high quality design that will be appreciated by users around the world.
Low-impact usability

In its aim for zero emissions, Panasonic pursues environmentally-friendly goals not just in manufacture and distribution of its products, but also in the way its customers use them.
Panasonic's Eco Ideas Strategy
The Panasonic group strives to be a green innovation company with a global perspective, taking the lead in the green revolution within its own manufacturing and business operations, and in the design of products for consumers who want to live a more environmentally-conscious life.