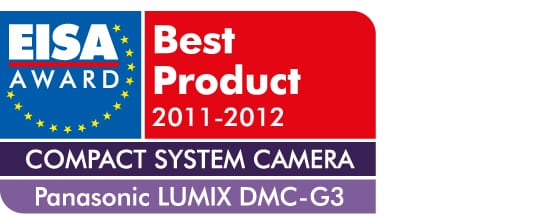 SYDNEY, 15 August 2011 – Panasonic Australia today announced that the company has been awarded a prestigious EISA Award for the Lumix DMC-G3 Micro Four Thirds camera – the smallest and lightest model in its class.1
The LUMIX DMC-G3 digital camera has been named 'European Compact System Camera of the Year 2011-2012' for its stunning image quality and exceptional range of features packed into a compact and lightweight design.
According to the EISA jury: "The LUMIX DMC-G3 is a very small, interchangeable-lens camera which, as it is fitted with a built-in flash and electronic viewfinder, is as easy to use indoors as it is outside on a sunny day. The camera offers excellent image quality and it is capable of resolving very fine details and working in low light without producing excessive image noise."
The LUMIX DMC-G3 camera features a new 16 megapixel Live MOS sensor, Light Speed AF, as well as 1920 x 1080 Full HD AVCHD video recording, providing exceptional image quality in a small sleek design. This digital camera's intuitive shooting modes and full range of advanced features mean that both experienced and new users have the scope to create unique images.
Alistair Robins, Group Marketing Manager – LUMIX, Panasonic Australia, said: "We are very proud of Panasonic's leadership and innovation in the Micro Four Thirds platform and have seen our range become increasingly successful in the Australian market," he said.
"The DMC-G3 camera provides stunningly clear and sharp images, with impressive high-speed, accurate focusing and shooting. It is a compelling offering, with the downsized body, easy control over creative features, and outstanding imaging that have become hallmarks of the LUMIX G Micro System range," he added.
The official EISA Awards Ceremony will be held on 2nd September, 2011, at the Adlon Kempinski Hotel in Berlin.
European Imaging Sound Association (EISA)
Established in 1982, the European Imaging Sound Association (EISA) is a multimedia association that tests consumer electronic products. With a membership including 50 audio, mobile, video and photo magazines from 19 European countries, EISA's awards are known as one of the most prestigious consumer recommendations that products can receive and a key indication for the best consumer purchasing decisions.
For more information about the LUMIX DMC-G3 digital camera call Panasonic on 132 600 or visit www.panasonic.com.au.
1
For an interchangeable lens system camera with a viewfinder, as of May 12, 2011.