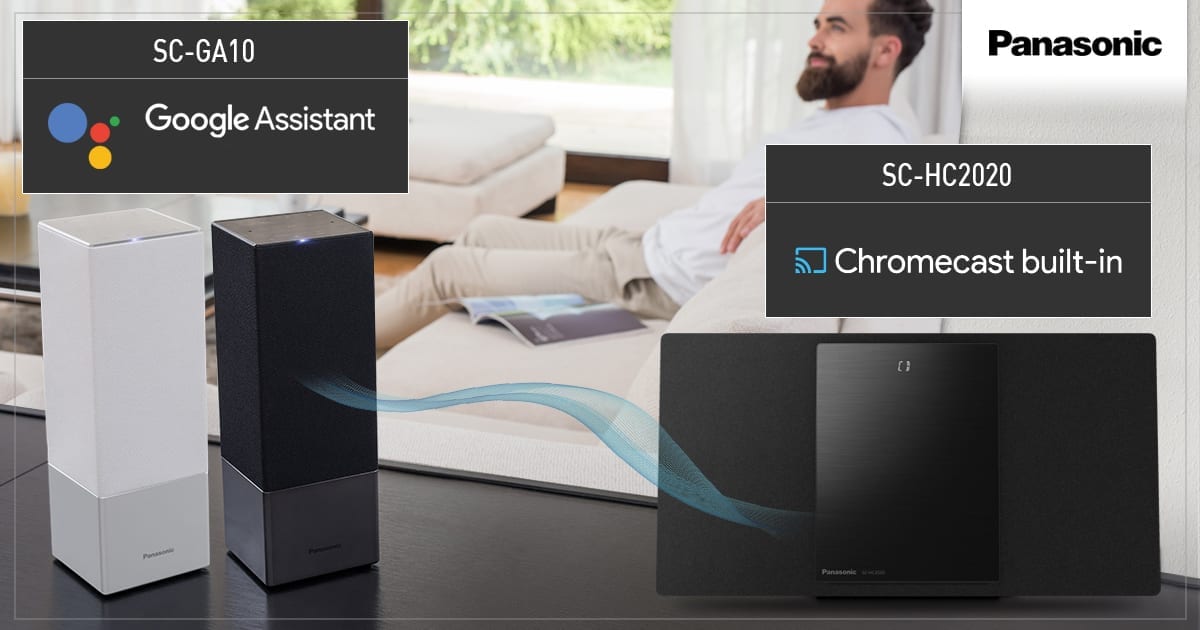 Panasonic's first GA10 speaker with built-in Google Assistant gives you pristine audio and full voice activated control, plus it networks with our new HC2020 Chromecast built-in micro hi-fi.
Panasonic GA10 Google Assistant Speaker
Meet the GA10, one of the world's first smart speakers with Google Assistant built in. The GA10 speakers will incorporate all of Google Assistant's voice assisted operations and support all of the major music streaming apps. What's more, Panasonic's premium audio technology has been fully incorporated to achieve extremely rich, robust bass, despite its compact size – filling any room with impressive sound. In addition, SC-GA10's simple yet sleek, modern design blends seamlessly and unobtrusively into any room interior.
Panasonic HC2020 Chromecast Hi-Fi
With Chromecast built-in, the HC2020 lets you enjoy not only CD and radio but gives you access to an incredibly wide range of music apps. Outstanding sound quality is achieved as Chromecast built-in streams directly from services like Spotify, Google Play Music or TuneIn. While Multi-room sync lets you play the same song across Chromecast compatible speakers in your house at the same time. When combined with a Google Assistant Speaker, the HC2020 can even be voice-controlled!
SC-GA10 | Google Assistant Speaker
SC-HC2020 | Chromecast Hi-Fi
Read more on Panasonic Blog
Watch the Panasonic Google Assistant Speaker in action. Just say "Ok Google" to start a conversation. Click here to watch videos.