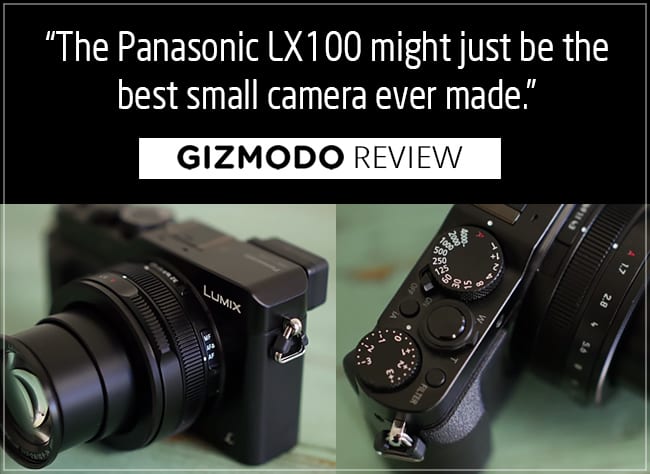 The powerful LUMIX DMC-LX100 creative compact offers an outstanding feature set for the enthusiast including a multi-aspect 4/3-inch high sensitivity MOS Sensor, a newly-developed LEICA lens AND 4K video recording.
This sixth-generation model is designed in line with the LX Series philosophy of providing high quality imaging, superior responsiveness and creative ease. It's been crafted with the most exacting photographers in mind, which is why it also features a 2.7 million-dot Live View Finder (LVF) and a 4K Photo mode allowing 8-megapixel still images to be captured from 4K videos.
Photography aficionados have been well catered for with the LX100's intuitive manual control options with dedicated rings and dials, including aperture ring, control ring, aspect ratio switch, shutter speed dial and exposure compensation dial.
With all these amazing attributes, it's little wonder that the LX100 is raking in the accolades from respected camera reviewers, nabbing editor's choice awards, 5 out of 5 stars and topping critics lists in a number of categories.
Gizmodo
Review number one sees Gizmodo calling the LX100 "A Small Camera So Good At So Many Things", while the second labels this little beauty "The Best Camera for Every Parent".
"It's one of the best options for taking great pics and video in a compact package. Whether you're a pro looking for a companion cam, an ardent traveler, or just a parent looking to beautify your kid pics, this is one of the best you can buy."
ePHOTOzine
ePHOTOzine gave the LX100 5 out 5 stars after rating the camera across a wide range of categories, including features, handling, performance and value for money.
"If you are looking for a 'serious compact' with a large sensor, then there are no other cameras available that offer everything that the LX100 offers."
ePHOTOzine – 5 out of 5 stars, Editor's Choice.
CNET
CNET called the LX100 an advanced compact that hits all the right notes and even said it is one of their 'favorite compact cameras ever'.
"The Panasonic LX100 delivers really good photo and video quality, a great set of features, and class-leading performance."
Cybershack
Cybershack described the design of the LX100 as beautifully retro, likening it to the iconic aesthetic of a 70s camera but updated with a modern edge. The reviewer loved the camera so much he didn't want to give it back, praising its compact form, picture quality and manual creative controls.
"Panasonic's Lumix LX100 is one of those products I just don't want to give back… The design is stunning, it doesn't make too many compromises, its versatile, and takes great looking photos."
Cybershack – 4.5 out of 5 stars.
Techradar
Techradar loved the LX100's ability to provide the best of both worlds: a high-end compact camera that will fit in your jacket pocket, a large Micro Four Thirds sensor so image quality isn't sacrificed for the camera's smaller footprint.
"There may be smaller interchangeable lens cameras, but the LX100 is a joy to use. It gives you bags of control and produces high quality images. Just beware of flare when the sun is near the edge of the frame."