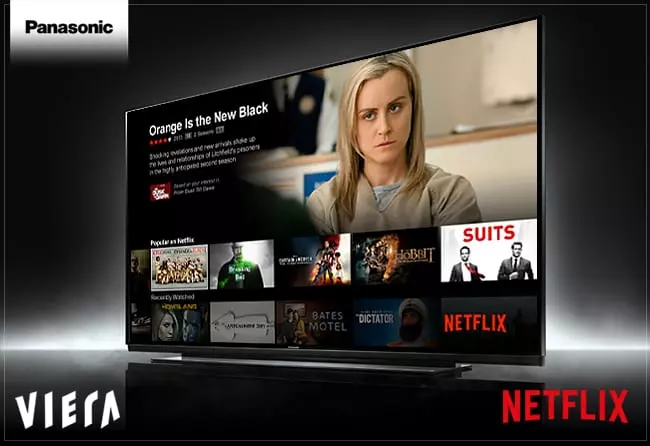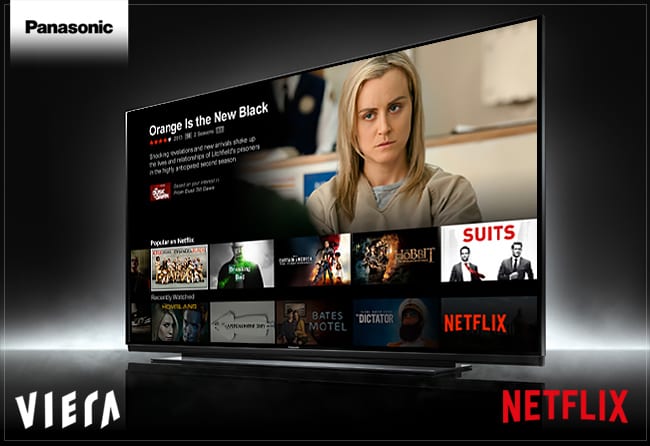 Updated on 25th March, 2015
With the exciting launch of Netflix internet TV and movie streaming in Australia, we are delighted to announce that the Netflix App is available now on our 2014/2015 range of Panasonic VIERA Smart TVs, and models on our 2012/2013 and 2013/2014 range will be Netflix-capable via network upgrade on 31st May 2015 (click here to see the list of current range of Netflix-capable TVs and Blu-ray Players).
What's more, Netflix is also supported by selected models in the current Panasonic Blu-ray range and via our upcoming 2015/2016 range of VIERA Smart TVs, Smart Blu-ray Players and Recorders.
Internet-connected Aussie entertainment lovers will no longer be forced to watch from the sidelines as their favourite shows premiere overseas and slowly make their way to our shores. Now we all have the best seat in the house, with a curated selection of popular movies and TV shows (in high-definition or even 4K where available) at our fingertips.
HOW TO VIEW NETFLIX CONTENT ON YOUR PANASONIC TV OR BLU-RAY PLAYER*
*Only available on selected 2014/2015 models as per 25 March 2015
To view Netflix content on your Panasonic TV or Blu-ray Player, a Netflix subscription is required. Follow these simple steps to start watching now:
1. Go to https://www.netflix.com/au
2. Subscribe to one of the three plans available
3. Then go to the Apps Screen on your Panasonic TV or Blu-ray Player
4. Select Netflix and follow the instruction to login to your Netflix account
Please note that your TV or Blu-ray Player must be connected to the Internet.
NETFLIX-CAPABLE TVS AND BLU-RAY PLAYERS
2015 range of Panasonic VIERA Smart TVs, Blu-Ray Players and Recorders plus:
VIERA TVS
TH-85X940A
TH-65AX900A
TH-65AX800A
TH-58AX800A
TH-60AS800A
TH-55AS800A
TH-60AS740A
TH-55AS740A
TH-60AS700A
TH-55AS700A
TH-50AS700A
TH-42AS700A
TH-55AX670A
TH-55AS670A
TH-60AS640A
TH-50AS640A
TH-42AS640A
TH-32AS610A
TH-L32E6A
TH-L42DT50A
TH-L42E5A
TH-L42E6A
TH-L42ET50A
TH-L42ET5A
TH-L42ET60A
TH-L47DT50A
TH-L47ET50A
TH-L47ET5A
TH-L47WT50A
TH-L47WT60A
TH-L50DT60A
TH-L50E6A

TH-L50ET60A
TH-L55DT50A
TH-L55DT60A
TH-L55ET5A
TH-L55ET60A
TH-L55WT50A
TH-L55WT60A
TH-L60DT60A
TH-L60E55A
TH-L65WT600A
TH-P42ST50A
TH-P50GT50A
TH-P50ST50A
TH-P50ST60A
TH-P50UT50A
TH-P50XT50A
TH-P55VT60A

TH-P60GT50A
TH-P60ST50A
TH-P60ST60A
TH-P60UT50A
TH-P65ST50A
TH-P65ST60A
TH-P65VT50A
TH-P65VT60A
TH-P55GT50A
TH-P55UT50A
TH-P55VT50A
BLU-RAY PLAYERS
DMP-BDT460GN
DMP-BDT360GN
DMP-BDT160GN
DMP-BD81GN-K

Check our current range of Panasonic VIERA TVs.
Check our current range of Blu-Ray Players and Recorders.