Updated 12 May 2015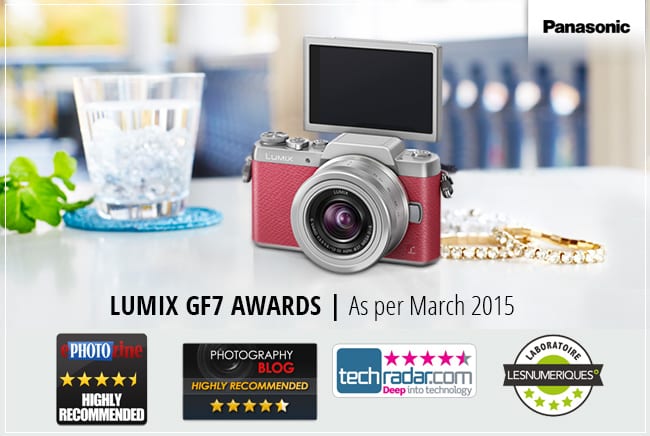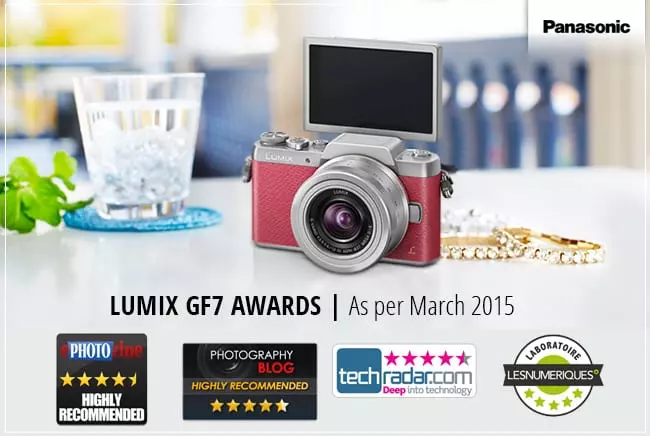 Our stylish DMC-GF7 is a feature-rich package and it's already racking up some very good reviews! Critics are loving the 180-degree touch screen monitor that makes the DMC-GF7 is ideal for shooting selfies, along with the modes which let users automatically take their shot when the camera is out of arm's reach or when using a selfie stick.
Also turning heads is the GF7's high-performance sensor that provides the excellent image quality users have come to expect from our LUMIX G Series cameras.
Australian Financial Review
When this reviewer first got a hold of the GF7, he was opposed to selfies on an "ideological level" but after playing with our latest G series model, he came to realise that part of his problem was not feeling like he looked very good in a selfie. As it turns out, the GF7's ability to produce great self-portraits boosted his "selfie esteem" so much that he warns readers the camera "might promote morbid vanity".
"Panasonic's DMC-GF7 takes selfie masterpieces" – Australian Financial Review.
Stuff.TV
The folks at Stuff.TV recommended the GF7 as an excellent entry point into interchangeable lens territory for anyone looking to make the step up into more "serious" photography. Stuff.TV found the GF7 to be a beautifully compact camera, and easy to use while still offering enough advanced features to keep adventurous photographers happy.
"With simple controls, an unbelievably compact body and a wallet-friendly price tag… this could be the ultimate "my first system camera"" – Stuff.TV Review.
ePHOTOzine
With a highly recommended verdict and 4.5 stars out of 5 awarded, it's clear that ePHOTOzine were impressed with the GF7. The camera's great image quality, compact body and stylish design, and high-resolution tilting touch-screen were among the top features to be called out favourably in this review.
"The Panasonic Lumix GF7 packs a wealth of great features into a stylish and compact body, and delivers excellent images" – 4.5 out of 5 stars, Highly Recommended – ePHOTOzinr Review.
Photography Blog
The reviewers at Photography Blog really put the GF7 through its paces, subjecting it to an exhaustive round of tests across ease of use and image quality, including testing the camera's ability with a sample photo shoot. The conclusion was that the GF7 is a feature-rich camera that takes excellent pictures and is particularly well-suited to smartphone/entry-level compact camera owners looking for better image quality and more features.
"The GF7's increased focus on taking better selfies is no gimmick, with the tilting screen and a range of genuinely useful modes on offer to make it easier to take them, improve them and share them. If selfies aren't your thing, the Panasonic Lumix GF7 also has a wealth of other functionality that has trickled down from models much higher up the range, while the 16 megapixel sensor (as used in the GX7) offers excellent image quality." – 4.5 out of 5 stars, Highly Recommended – Photography Blog Review.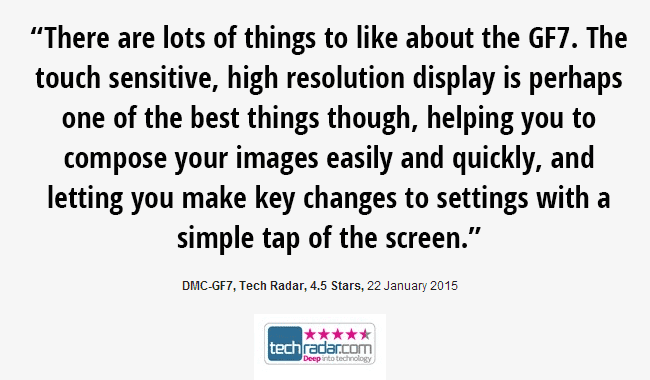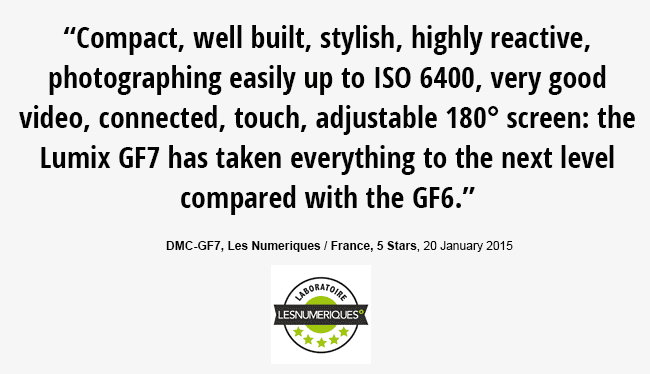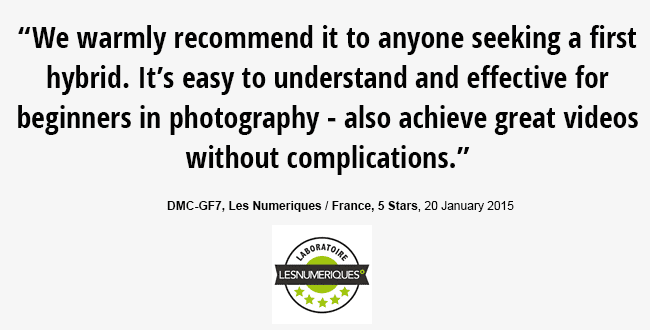 Related articles
Tag your buddy in a moment made to share and win a LUMIX GF7.
The GF7's self-shot modes are so simple – check out this tutorial.
The new LUMIX GF7 will take your selfie game to the next level.
The wonderful world of Wi-Fi supercharges our latest cameras and camcorders.
Related pages
DMC-GF7 single lens kit 12-32mm lens (H-FS12032E-S): RRP $699.
DMC-GF7 twin lens kit (H-FS12032E-S) and 35-100mm lens (H-FS35100E-S): RRP $999.
Read the GF7 press release.