For many of us, the function of a microwave oven in the kitchen is usually limited to one or two tasks along the lines of warming up food before you eat it or defrosting food before you cook it using other means. Beyond that, microwave ovens may be overlooked for serious cooking tasks in favour of other appliances particularly when precise temperature control is required whilst preserving the integrity of the food.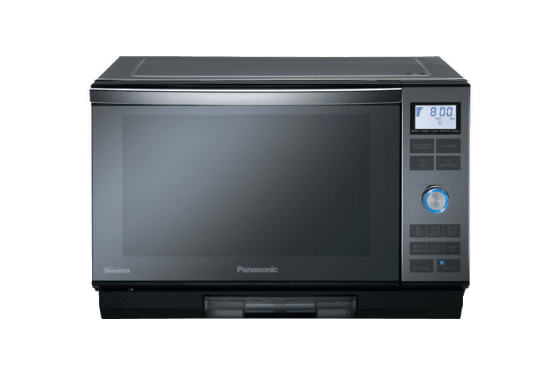 No doubt, the microwave is a convenient appliance but some are more capable than others such as the Panasonic NN-DS592B steam double grill microwave oven.
First up, this microwave includes Panasonic's inverter technology which allows a true level of control over the energy used to heat food. Traditional microwave ovens will operate in one of two power states – on or off.  However, attempting to average the energy used to heat food to simulate a lower level of heating can lead to unevenly cooked or defrosted food with cold spots or burnt edges. In contrast, inverter microwaves allows for a more precise level of cooking energy allowing you to gradually heat up food to the optimal temperature.
Another key differentiator that sets this microwave apart from others is the presence of a flatbed instead of a turntable. Perhaps strange for those who grew up watching their food spin around in conventional microwaves you do realise the benefit of increased internal capacity similar to a normal 44L microwave with no increase in footprint. This also makes it possible to fit larger dishes inside which can provide added flexibility when cooking in larger quantities and the pull down door makes this a snap.
Let's not forget that there are various ways to prepare food such as grilling, roasting and steaming and the NN-DS592B will have you covered. Using the appropriate tray or rack (bundled with the microwave) and the water reservoir underneath the microwave oven you can cook a wider variety of foods including roasts, sponge puddings and pizza. There's also a stack of pre-programmed cooking modes allowing you to adjust the weight of food inside the microwave and the desired food temperature to achieve the best cooking results.
So how does this microwave oven actually perform?
Having used the Panasonic NN-ST651W 32L 1100W inverter microwave oven I had some frame of reference at least for the base microwave functionality. The sensor reheating and automatic defrosting functionality in the NN-DS592B works in a similar fashion with the added ability to choose a temperature when kicking things off. This really does take the guesswork out of warming up your food while allowing you to tailor the resultant heat to your preference.
I've also had a delicious time with other foods to try out the other cooking modes including pizza and dumplings. When using the oven functionality, the pizza ended up cooked perfectly with a crisp, golden brown crust and the toppings had cooked through evenly – a job done just as well as the conventional kitchen oven. Using the auto cook menu was straightforward and the oven will let you know once it is suitably preheated with three beeps which means you don't have to hover nearby to check if it is at the right temperature.
I'm a big fan of dumplings so this was a great way to try out the steaming function. Whilst there isn't a specific auto cook menu for dumplings, I experimented with the one for steamed fish found that it worked a charm if you rounded up the weight to the 125 gram increment while avoiding putting too many dumplings inside (always a great temptation). It's potentially safer than attempting to steam food using a small bowl of water on the same plate containing your dumplings and avoiding the risk of scalding yourself as well as being more controlled in terms of cooking.
In a nutshell, NN-DS592B is definitely more than your regular microwave oven but makes it very easy to achieve fantastic cooking results time and time again whichever way you use it.
Words: Panasonic Insider, Boyd Chan.