I have to say that it was interesting to be offered the chance to review Panasonic's ES-LV81 electric shaver particularly after I had forgone shaving for the best part of two years. While I do try my best to look presentable this wasn't a fashion decision by any means! Prior to giving up, I shaved at the start of each work week mainly because I found shaving a bit of a chore with either an electric shaver or a multi-blade razor.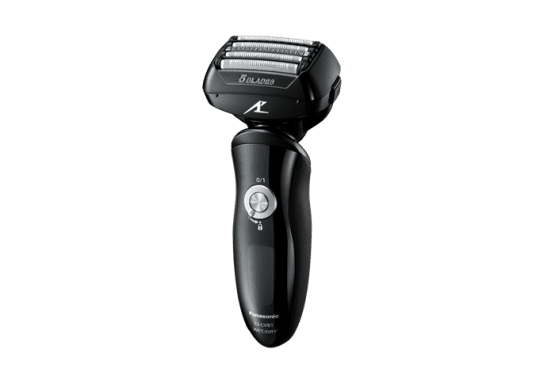 That said, it has been about ten years since I've routinely used an electric shaver with which I was most disappointed. I wanted a close shave but I didn't want to stand forever at the sink or under the shower to get the desired result. Furthermore, the included gel inside the last electric shaver I used did more to gunk it up than facilitate a smooth and efficient shaving experience. Needless to say, my experience turned me off electric shavers.
Time has passed and, generally speaking, technology advances and matures with time so I was willing to give electric shavers another shot. The only real downside was my wife lamenting a temporary loss of my facial hair but nothing time couldn't eventually fix!
Charging up the electric shaver is simple enough. You can simply dock it in the cleaning station and it will charge up without having to manually plug it into the wall. You do have the option of plugging the power cord straight into the shaver which might be handy if you are travelling and you've left the cleaning station at home. You'll get around forty five minutes of shaving time per charge which should be more than enough for several shaves but you can keep track of how much juice is left thanks to the built in display. However, if you use the cleaning station after every use then power should not be an issue.
The shaving head is quite prominent which is unsurprising given that the head packs in five blades to help tackle different types of hair be it stubble or longer. The head also pivots back and forth as well as left and right to improve shaving around your neck, chin and jaw. You can also lock the head in place by engaging the lock just behind it if you prefer more direct control of the shaving head. Pushing the lock up another notch pops up a trimmer which you might find handy when you require more precision such as trimming sideburns.
However, the shaving performance is what is going to make or break a decision – so how did it fare?
A light beard is perhaps an extreme usage scenario even for an electric shaver. I opted for a wet shave (which is my preference) to help soften the hair a bit and to see how this Panasonic electric shaver coped with residue build up. I was impressed that with little work this shaver provided a very close shave even around my chin and neck. Keeping the shaver clean was very simple by rinsing under the tap every few passes and even when I checked under the foils there was very little in the way of residue. Subsequent wet shaving experiences produced the same fantastic results. The results were also consistent when dry shaving where the shaver made very light work of any stubble it came across. Despite feeling a bit odd (as I've rarely undertaken a dry shave) I didn't have to apply much pressure at all to my skin to achieve a close shave but making certain that you keep the shaving head perpendicular to your skin however you use it will go a long way.
In a nutshell, this has really changed my opinion of electric shavers and the ES-LV81 should not leave you disappointed in terms of its efficiency and effectiveness.
Words: Panasonic Insider, Boyd Chan.