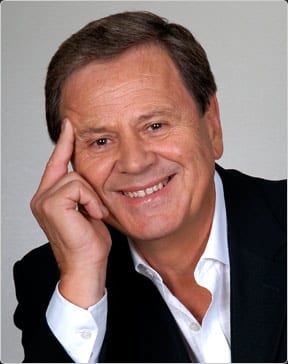 Ray Martin has been a journalist for 45 years, mostly in television and radio, starting his career as an ABC cadet. He's been seriously taking photographs- some would say 'obsessively' – almost as long. As well as five Gold Logies for his televison work on news shows such as ' A Current Affair', and 'Sixty Minutes', Martin was awarded an Order of Australia (A.M) in the 2010 Australia Day honours list for his work in journalism and for numerous charities.
The following are images and captions from Ray's five day trip through Tasmania for Lumix Life taking in Russell Falls, Richmond Bridge, Port Arthur, Hobart, Mt. Wellington, King Island and Freycinet Peninsula. Ray was using the LUMIX DMC-GF1 , LUMIX DMC-L1 and lenses, LUMIX DMC-TZ7 and his trusty LUMIX DMC-FZ20.
"So, I headed down for a five-day jaunt, deciding to concentrate on the south-east corner – driving through the Derwent and Huon valleys, with a side trip out to wild and woolly Bruni Island.
I wanted to treat the assignment much like a tourist – have camera will travel! Although I was shadowed by rain clouds much of the way I kept going, putting up with the inclement Autumn conditions. It was quite beautiful anyway. I figured that a tourist would not have the luxury of time, the way a professional photographer might. There was simply no time to wait for better light, for the rain to stop or anything else beyond about an hour. Then I drove on. Still, it was a delightful journey -through time.
Tasmania makes you stop and think about Australia's colonial past and beyond that, much earlier, to the grandeur of mountains and rivers and coastal scenery. And always, it seems, the 'reflections' – in rivers, lakes and harbours. Dropping in to newsagents and book stores en route I was reminded just how many picture, coffee table books have been devoted to Tasmania. And how good many of them are. I just had to live with the crowded photo field, much like the weather.
I filled a couple of 4GB memory cards on my Lumix cameras with photos . What you have here is a tiny selection. I hope you enjoy them as much as I enjoyed my camera safari."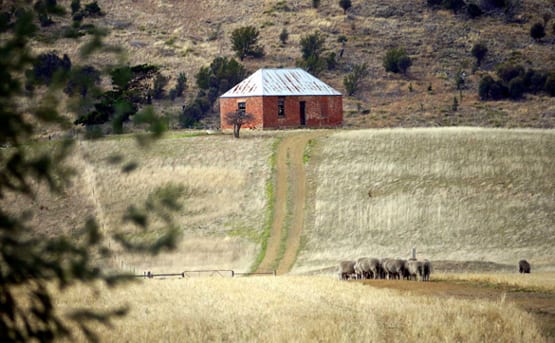 Colonial Cottage with Sheep
Panasonic DMC GF1, 1/320s, Focal length – 200 mm, F5.6, ISO100, 35m equiv. of 400mm
"I just loved the loneliness & isolation of this old stone house, at the end of the paddock. The rich, red sandstone block contrasts strongly with the stark-white grass, while the sheep cluster like stones, off to one side. I smile at the single, independent rebel sheep off on his own. The pattern of the dirt track, fringed with green grass, sliding up the hill also draws your eyes to the front door of the cottage. The rocky hillside behind and the dry grass in the foreground leaves the impression it must have been a tough scrabble existence. You can't look at this picture without thinking of all the stories, the lives, the pleasure and heartache that must have been part of its history. Although it's a simple cottage, it must have been a prominent marker, with a broad outlook, high above the main road from Hobart to Launceston.
I had to use the full 400mm lens, holding it on the fence post to steady it. I also had to wait for about an hour for the afternoon sun to highlight the cottage, because it was quite a cloudy day."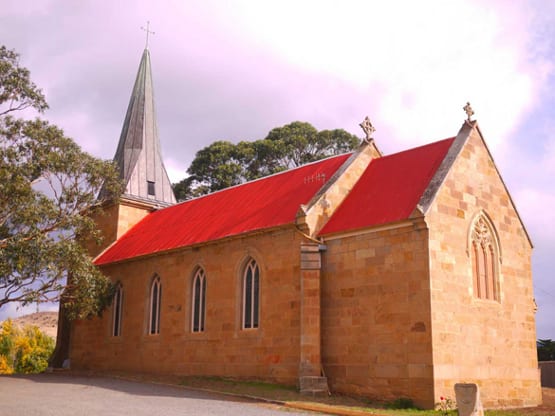 The Richmond Catholic Church
Panasonic DMC GF1, 1/1600s, Focal Length – 20 mm, F2.2, ISO 100, 35mm equiv. of 40mm
"This is the oldest Catholic Church in Australia, sitting high on a high overlooking Richmond. Obviously the bright-red, corrugated roof is not original although the honey-coloured sandstone is as fresh as the day the masons finished their work in 1830's. I used the Lumix fixed 20mm lens, opening it almost as wide as I could, because the sun was low and heading down quickly. This is probably my favourite, of the three lenses I own. I haven't used a fixed lense for maybe ten years and I find I'm enjoying moving to a good framing position, rather than standing still and zooming. It's also fast and so small that people mistake the GFI for a 'point and shoot' camera. It's much, much more than that.
What struck me about the beautiful old church was that, at the front entrance it was in deep shadow and lifeless. But, by slipping to the rear of the car park the late afternoon light really embellished the stonework, making it almost glow. I was amused by the TV aerial on the roof, surrounded by the three crosses. There was a light rain shadow slipping across, which gave that soft, purple edging – not quite the full-Cardinal's colours but still the colour of stained glass.
Because we consider ourselves such a young nation I sometimes think we overlook how old some of our glorious public buildings are – the churches, railway stations and court- houses especially. I find them quite magnificent."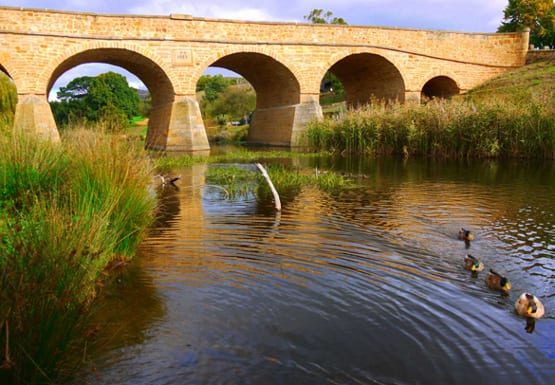 Old Richmond Bridge
Panasonic DMC GF1, 1/350s, Focal Length – 14.00mm, F5.00, ISO 180, 35mm equiv. of 28mm
"What to do with such an iconic bridge, Australia's oldest? It seems every artist has painted this bridge, while all the great photographers have pondered angles and light and weather. I must have taken fifty shots of the bridge that afternoon. I was conscious that I wanted my filming assignment to be more like a tourist, rather than a professional waiting for the perfect shot. I was conscious that I had to keep moving & do the best I could under the circumstances.
At one point, I tried shooting the sandstone arches from underneath, making it look like the entrance to a cathedral, highlighting the long, sweeping architectural curves. (A bit like the entrance to the Cathedral up on the hill). But that didn't quite work.
I even tried linking the bridge and cathedral in one shot, trying to underline their sandstone connection. That didn't work for me either.
Finally, with the light fading and a rain-shower brewing, I went back to basics. The soft stone, the symmetry of the arches, the thick clump of reeds and the world's hungriest ducks. It's such a beautifully tranquil place that I decided to let it just tell its own story – past and present.
I took the Lumix 14-45mm lens, finally preferring the widest-angle on this lovely, versatile lens. (I use it all the time for portrait shots and it doubles as a perfect panorama/landscape lens. The anti-shake capabilities make taking photos in the 'magic hour' of early morning/late afternoon easy – even without a tripod.)"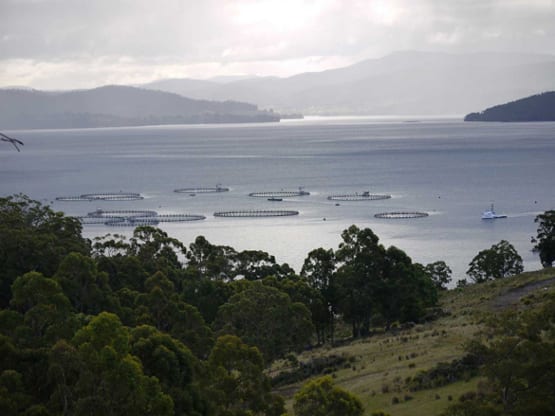 Grey Salmon Pens
Panasonic DMC GF1, 1/400s, Focal Length – 45mm, F5, ISO 125, 35mm equiv. of 90 mm
"Again in May a grey, rainy afternoon at the estuary of the Huon River. Still, I was quite happy when I spied these filegris, circular patterns of the salmon ponds, with the layers of grey mountains, folding towards the horizon. The dark gum trees in the foreground, I think, provided a wonderful contrast, especially from this high-road perspective. They balance the frame, giving the picture a base.
There were almost one hundred of these pens, scattered along the river edge and capturing a flare of light on the water. The little fishing boat drifting into frame on the bottom right was a bit of a bonus, too. Again the Lumix 14/45 mm lens was perfect for this shot – almost at a portrait length of 90mm.
I think so many photographs, especially landscapes are about colours and patterns. I find this pleasing to the eye."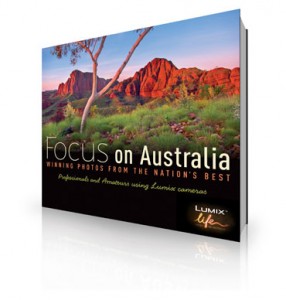 For more information about Ray and to see more of his great shots visit his gallery on Lumix Life here
Lumix Life: Focus on Australia is Panasonic's latest project for Australian LUMIX photographers, giving them the opportunity to submit their images capturing the heart and soul of Australia in a rich online gallery. Professional photographers from around the nations, including Ray Martin, are also actively contributing their own shots in what will culminate in a professionally published book combining photos from both experts and selected public entries. The book will be available in stores throughout the country will all proceeds going to charity.
See the Lumix Life website for more details, along with monthly prizes and video tutorials from the likes of iconic Australian photographer Ken Duncan.