PC World Good Gear Guide reviews Panasonic's PT-AE8000 home theatre projector, starting the review by firstly acknowledging Panasonic's solid history in the home theatre projector market with a constantly evolving product. The PT-AE8000 is noted as significantly increasing overall brightness from the previous model, while maintaining and improving the already-excellent contrast and colour capabilities of its 3LCD panel setup.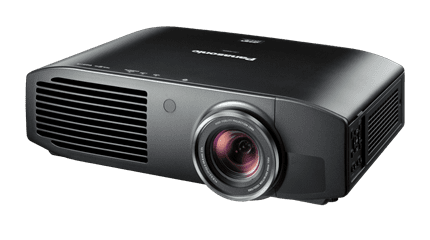 The reviewer praises the PT-AE8000 as one of the best home theatre projectors they have tested in terms of image quality. Its huge contrast range is praised with its ability to display "bright white areas with impressive gradation of detail alongside equally detailed shadows and darker screen areas."
Sharpness is seen as being equally good but where the PT-AE8000 really excels is in the brightness it can deliver with 3D video. The 3D mode "delivers impressively realistic depth of field, has no flickering, and just generally looks great — mostly thanks to the extra brightness that Panasonic's held in reserve.
With a rating of 4 ½ out of 5 stars, the review concludes by saying, "If you're looking for a high quality projector to flatter your high quality movies in a home cinema…this is the one that you should give serious consideration to."
Read the full review here.
Find out more about the PT-AE8000 here.