UCLA's famous Pauley Pavilion has completed 30 months of renovations to again host men's and women's college basketball games. As part of the comprehensive overhaul, which was designed to provide better facilities for players and patrons and boost seating numbers, the master control room and cabled TV were both upgraded to HD standards. The cameras selected to bring live HD broadcast quality to Pauley Pavilion's centre-hung HD video display were four Panasonic AG-HPX370 cameras.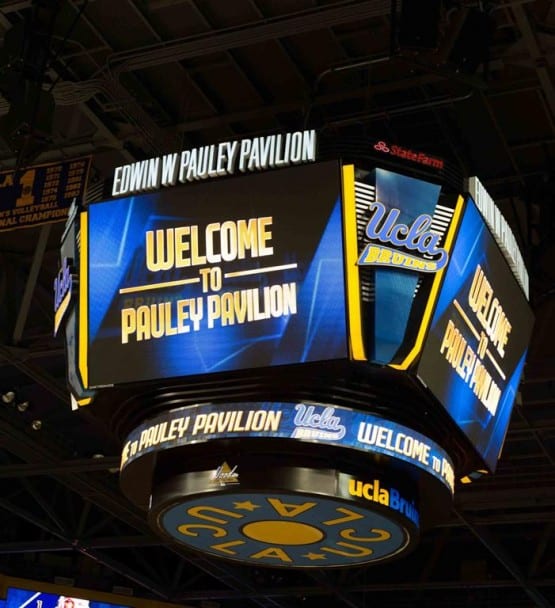 Van Wagner Big Screen Network Productions (VWBSNP) provides video systems integration and in-stadium production for UCLA and when it came time to upgrade the SD cameras, which were 15 years old, the decision was a simple one. The AG-HPX370s are used as cable mobile units and are shoulder mountable. They come equipped with a 1/3-inch 2.2-megapixel 3-chip imager which provides 10-bit, 4:2:2 1920 x 1080 video resolution, and record to Panasonic P2 memory cards.
UCLA's Athletics department was one of Panasonic's earliest P2 customers in the college sports market. Today the AG-HPX370 has become the most popular camcorder in the college sports market due to its ruggedness, lens flexibility and price tag. It also performs well in both mobile and fixed applications.
In fact, the lightweight, moderate-sized AG-HPX370's ability to move around is incredibly important in creating basketball content as the camera needs to capture the atmosphere and buzz in the stands along with the action taking place on court. The crew needs to be able to move around quickly and easily without getting in the way of the game.
In Australia, the equivalent model is the AG-HPX372EN and features the same high performance features to deliver superb HD resolution.