Putting Panasonic cameras under the microscope can take reviewers to locations far and wide as they try to establish how each product performs under a variety of conditions. In the case of a waterproof camera, the HX-WA30 full HD camcorder, Chris Griffith from The Australian found himself in the cold waters of Gulf St Vincent off the Adelaide coast.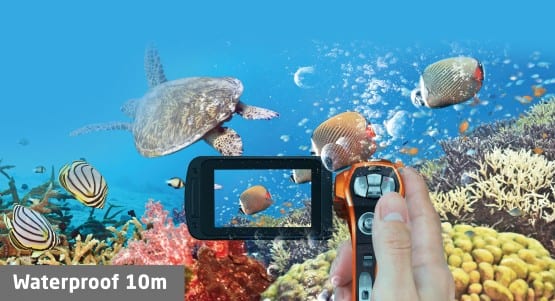 After putting the camcorder through its paces, he can "testify that the WA30 is a hardy $399 consumer camcorder that's probably hardier than me."
Griffith found the camcorder simple to operate with one hand and easy to start and stop shooting sequences. He says, "Pressing buttons to shoot video, stills and to zoom can be done easily with your thumb while gripping it in one hand. Your thumb also can just reach another set of buttons that switches it on and off, chooses record or play mode, and triggers 'intelligent auto' shooting – a pre-programmed mode."
Griffith goes on to highlight a range of the camcorder's features including being waterproof to 10m, shockproof for drops of up to 1.5m, freeze-proof to minus 10C, as well as being dustproof – the kind of rugged and durable qualities that mean you can take this camera anywhere.
Also called out are the camcorder's WiFi capabilities which offer a range of benefits from remote control of the camera using a smart phone through to connecting it to your home network so you can stream video directly to a network-connected television or display.
While the conditions in the icy South Australian waters were tough, the HX-WA30 came through with flying colours and the review ends with a very strong score of 8/10.